Chapter 73
Tao Te Ching (Dao De Jing)
Classic of the Way and Virtue

道德經



By Lao Tzu (Laozi)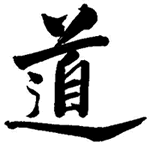 Chapter 73
Tao Te Ching (Dao De Jing) by Lao Tzu

Avoiding Striving and Daring Actions, The Way of Heaven is Quiet, Naturalness,
Tao Way, Courage, Freedom, Non-Competition, Wu Wei, Death, Heaven's Net is Vast, 任為
"He whose boldness appears in his daring to do wrong, in defiance of the laws is put to death;
He whose boldness appears in his not daring to do so lives on.
Of these two cases the one appears to be advantageous, and the other to be injurious.
When Heaven's anger smites a man,
Who the cause shall truly scan?
On this account the sage feels a difficulty as to what to do in the former case.
It is the way of Heaven not to strive, and yet it skillfully overcomes;
Not to speak, and yet it is skilful in obtaining a reply;
Does not call, and yet men come to it of themselves.
Its demonstrations are quiet, and yet its plans are skilful and effective.
The meshes of the net of Heaven are large; far apart, but letting nothing escape."
- Translated by James Legge, 1891, Chapter 73
"Courage, if carried to daring, leads to death;
Courage, if not carried to daring, leads to life.
Either of these two things is sometimes beneficial, sometimes harmful.
"Why is it by heaven rejected,
Who has the reason detected?"
Therefore the holy man also regards it as difficult.
The Heavenly Reason strives not, but it is sure to conquer.
It speaks not, but it is sure to respond.
It summons not, but it comes of itself.
It works patiently, but is sure in its designs.
Heaven's net is vast, so vast.
It is wide-meshed, but it loses nothing."
- Translated by D. T. Suzuki and Paul Carus, 1913, Chapter 73
"One who shows bravery by being daring will get killed one who shows bravery by not being daring will survive.
But in both these cases: "Sometimes it helps, sometimes it harms.
What Heaven picks to hate - who knows the reason?
And so the Wise Person: Treats things as difficult.
Heaven's Way: Not contending, but excels at overcoming not speaking, but excels in getting answers not summoning, but people come of themselves lax, but excels at organization.
Heaven's net is very wide - loosely woven, but it lets nothing slip by."
- Translated by Michael LaFargue, 1992, Chapter 73
"Reckless bravery leads to death;
careful bravery leads to life.
One leads to good, the other harm.

Heaven hates what it hates:
who knows the reason?
Not even those who are enlightened know why.

The Dao of heaven
does not contend yet overcomes with ease,
does not speak yet communicates with ease,
does not summon yet attracts things naturally,
seems unhurried yet plans with ease.

The net of Heaven is vast.
Its meshes may be wide,
but not a thing slips through."
- Translated by Tim Chilcott, 2005, Chapter 73
Tao Te Ching Annotated translation by Victor Mair
"Daring to act means death
daring not to act means life
of these two one benefits
one harms what Heaven hates who knows the reasons
the Way of Heaven wins easily without a fight
answers wisely without a word
comes quickly without a summons
plans ingeniously without a thought
the Net of Heaven is all-embracing
its mesh is wide but nothing escapes."
- Translated by Bill Porter (Red Pine), 1996, Chapter 73
"That courage which is manifest by bravado and foolhardiness,
Leads to disaster and death.
That which is not so manifest,
Leads to life.
Between these two,
One benefits - one does not.
Even the Sage has difficulty in knowing why one of these brings destruction from above.

It is the way of nature -
- Not to compete, yet to achieve victory.
- Not to ask, yet to obtain an answer.
- Not to summon, yet be supplied all needs.
- Not to overtly plan, yet to achieve results.

Truly - the net of nature is cast far and wide.
Tho' its mesh be coarse,
Yet nothing escapes."
- Translated by Alan B. Taplow, 1982, Chapter 73
Dao Te Ching by Lao Tsu, Posts to the Cloud Hands Blog
Tao Te Ching Translated by Arthur Waley
Tao - The Way Translated by Lionel and and Herbert Giles
"One who's fearless in being brave will be killed.
One who's fearless in being cautious remains alive.
One of these is useful, the other harmful.
Heaven disdains what it disdains
Who knows the reasons why?
Even the wise find these things difficult.
The way of heaven
Overcomes easily without contention,
Replies though it does not speak,
Invites though it does not summon,
Obeys the laws though it seems free.
The net of heaven is vast.
The mesh is wide
But nothing slips through."
- Translated by A. S. Kline, 2003, Chapter 73
"Courage carried to daring leads to death.
Courage restrained by caution leads to life.
These two things, courage and caution, are sometimes beneficial and sometimes harmful.
Some things are rejected by heaven, who can tell the reason?
Therefore the wise man deems all acting difficult.
The Tao of heaven does not quarrel, yet it conquers.
It speaks not, yet its response is good.
It issues no summons but things come to it naturally because its devices are good.
Heaven's net is vast, indeed! its meshes are wide but it loses nothing."
- Translated by Dwight Goddard, 1919, Chapter 73
Tao Te Ching
Translated by Stephen Addiss and Stanley Lombardo
Lao Tzu: Tao Te Ching
Translated by John C. Wu
Lao-Tzu and the Tao-Te-Ching
Translated by Livia Kohn
Dao De Jing: The Book of the Way
Translated by Moss Roberts
"Who is brave in daring you kill,
Who is brave in not daring you let live.
In these two,
There is some advantage and some disadvantage.
Even if Heaven dislikes certain people,
Who would know why?
Therefore even the Sage regards it as a difficult question.
Heaven's Way is good at conquest without strife,
Rewarding vice and virtue without words,
Making its appearance without call,
Achieving results without obvious design.
The heaven's net is broad and wide.
With big meshes, yet letting nothing slip through."
- Translated by Lin Yutang, 1955, Chapter 73
"When one is brave at acting bold then one will be killed.
When one is braveat not acting bold then one will live.
Of these two, one may involve benefit and one may involve injury.
Who knows the reason for what Heaven hates.
The Dao of Heaven does not contend and yet is good at winning,
does not speak and yet is good at responding,
does not summon yet things come to it of their own accord,
is in repose and yet good at laying plans.
The vast net of Heaven is coarse, yet nothing escapes it."
- Translated by Patrick E. Moran, Chapter 73

Next Chapter of the Tao Te Ching #74
Previous Chapter of the Tao Te Ching #72
Chapter and Thematic Index to the Tao Te Ching
Tao Te Ching
Commentary, Interpretations, Research Tools, Resources
Chapter 73
Tao Te Ching: The Definitive Edition
By Jonathan Star. Translation, commentary and research tools. New York, Jeremy P. Tarcher, Penguin, 2001. Concordance, tables, appendices, 349 pages. A new rendition of the Tao Te Ching is provided, then a verbatim translation with extensive notes. Detailed tables for each verse provide line number, all the Chinese characters, Wade-Giles romanization, and a list of meanings for each character. An excellent reference tool!

Yellow Bridge Dao De Jing Comparison Table, Chapter 73 Provides side by side comparisons of translations of the Tao Te Ching by James Legge, D. T. Suzuki, and Dwight Goddard. Chinese characters for each paragraph in the Chapter are on the left; place your cursor over the Chinese characters to see the Pinyin romanization of the Chinese character and a list of meanings.

Center Tao. Includes a commentary on each Chapter.

The Complete Works of Lao Tzu: Tao Teh Ching & Hua Hu Ching
Translation and elucidation by Hua Ching Ni.

Tao Te Ching Commentaries - Google Search

Translators' Index, Tao Te Ching Translators Sorted Alphabetically by Translator, Links to Books and Online Versions

Tao Te Ching: A Bibliography and Index of Translations on the Web

Chapter 73 in the Rambling Taoist Commentaries by Trey Smith. The Rambling Taoists are Trey Smith and Scott Bradley.
The Philosophy of the Daodejing
By Hans-Georg Moeller. Columbia University Press, 2006, 176 pages.


Valley Spirit, Gu Shen, Concept, Chapter 6


Das Tao Te King von Lao Tse The largest collection of very nicely formatted complete versions of the Tao Te Ching. The collection includes 209 complete versions in 27 languages, plus 28 Chinese versions. There are 112 English language versions of the Tao Te Ching available at this website. A variety of search methods and comparison methods are provided, as well a a detailed index.


Lao-tzu's Taoteching
Translated by Red Pine (Bill Porter). Includes many brief selected commentaries for each Chapter draw from commentaries in the past 2,000 years. Provides a verbatim translation and shows the text in Chinese characters. San Francisco, Mercury House, 1996, Second Edition, 184 pages. An invaluable resource for commentaries.

Reading Lao Tzu: A Companion to the Tao Te Ching with a New Translation
By Ha Poong Kim. Xlibris, 2003, 198 pages.

Chapter 73, Line by Line Comparisons of 27 Translations of the Tao Te Ching Compiled by the St. Xenophon Wayist Seminary

Ripening Peaches: Taoist Studies and Practices

Dao De Jing: A Philosophical Translation
By Roger T. Ames and David T. Hall. Ballantine, 2003, 256 pages.

Thematic Index to the 81 Chapters of the Tao Te Ching

Lao Tzu: Te-Tao Ching - A New Translation Based on the Recently Discovered Ma-wang-tui Texts (Classics of Ancient China)
Translated with and introduction and detailed exposition and commentary by Professor Robert G. Henricks. New York, Ballantine Books, 1992. Includes Chinese characters for each chapter. Bibliography, detailed notes, 282 pages.

Revealing the Tao Te Ching: In Depth Commentaries on an Ancient Classic. By Hu Huezhi. Edited by Jesse Lee Parker. Seven Star Communications, 2006. 240 pages.

Cloud Hands Blog Mike Garofalo writes about Taoism, Gardening, Taijiquan, Walking, Mysticism, Qigong, and the Eight Ways.

Tao Te Ching: A New Translation and Commentary. By Ellen Chen. Paragon House, 1998. 274 pages.

The Tao and Method: A Reasoned Approach to the Tao Te Ching. By Michael Lafargue. New York, SUNY Press, 1994. 660 pages.

The Whole Heart of Tao: The Complete Teachings from the Oral Tradition of Lao-Tzu. By John Bright-Fey. Crane Hill Publishers, 2006. 376 pages.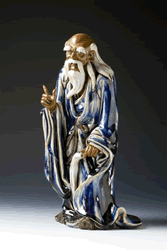 ---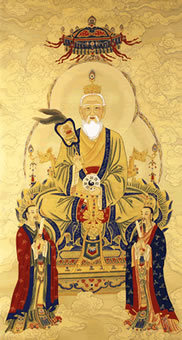 Gushen Grove Notebooks for the Tao Te Ching
Research by
Michael P. Garofalo
Green Way Research, Valley Spirit Grove, Gushen Grove Notebooks, Red Bluff, California
This webpage was last updated on January 18, 2012.
This webpage was first distributed online on February 2, 2011

Brief Biography of Michael P. Garofalo, M.S.
Valley Spirit Grove, Red Bluff, California
Weekend Qigong Workshops with Mike Garofalo in Beautiful Red Bluff, California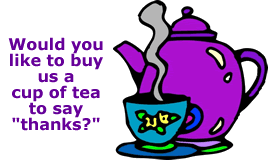 Ripening Peaches: Daoist Studies and Practices
Taoist Perspectives: My Reading List
One Old Druid's Final Journey: Notebooks of the Librarian of Gushen Grove
Index to Translators of the Tao Te Ching
The Tao Te Ching (Dao De Jing) by Lao Tzu (Laozi) circa 500 BCE