Chapter 17
Tao Te Ching (Dao De Jing)
Classic of the Way and Virtue

道德經



By Lao Tzu (Laozi)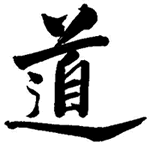 Chapter 17
Tao Te Ching (Dao De Jing) by Lao Tzu
Simplicity of Habits, Faith in Rulers, Independence of People, 淳風
"In the highest antiquity, the people did not know that there were rulers.
In the next age they loved them and praised them.
In the next they feared them.
In the next they despised them.
Thus it was that when faith in the Dao was deficient in the rulers a want of faith in them ensued.
How irresolute did those earliest rulers appear, showing by their reticence the importance which they set upon their words!
Their work was done and their undertakings were successful, while the people all said, 'We are as we are, of ourselves!' "
- Translated by James Legge, 1891, Chapter 17
Tao Te Ching Annotated translation by Victor Mair
"When great men rule, subjects know little of their existence.
Rulers who are less great win the affection and praise of their subjects.
A common ruler is feared by his subjects, and an unworthy ruler is despised.
When a ruler lacks faith, you may seek in vain for it among his subjects.
How carefully a wise ruler chooses his words.
He performs deeds, and accumulates merit!
Under such a ruler the people think they are ruling themselves."
- Translated by Dwight Goddard, 1919, Chapter 17
Tao Te Ching
Translated by Stephen Addiss and Stanley Lombardo
Lao Tzu: Tao Te Ching
Translated by John C. Wu
Lao-Tzu and the Tao-Te-Ching
Translated by Livia Kohn
Dao De Jing: The Book of the Way
Translated by Moss Roberts
"The greatest rulers are the ones whose existence the people do not notice at all,
The rulers who are inferior to them are the ones whom the people honor and praise,
And inferior to those are the ones of whom they are afraid,
And inferior to those are the ones whom they despise.
When there is a lack of faith in the ruler,
No one believes in his rule.
Now, learn how much importance must be attributed to words."
- Translated by Chou Wing Chohan, Chapter 17

"Of great rulers the subjects do not notice the existence.
To lesser ones people are attached; they praise them.
Still lesser ones people fear, and the meanest ones people despise.
For it is said: 'If your faith be insufficient, verily, you will receive no faith.'
How reluctantly the great rulers considered their words!
Merit they accomplished; deeds they performed; and the hundred families thought: 'We are independent.' "
- Translated by D. T. Suzuki and Paul Carus, 1913, Chapter 17
Tao Te Ching Translated by Arthur Waley
Tao - The Way Translated by Lionel and and Herbert Giles
"The wise leader does not intervene unnecessarily. The leader's presence is felt, but often the group runs itself.
Lesser leaders do a lot, say a lot, have followers, and form cults.
Even worse ones use fear to energize groups to overcome resistance.
Only the most dreadful leaders have bad reputations.
Remember that you are facilitating another person's process. It is not your process. Do not intrude. Do not control. Do not force your own needs and insights into the foreground.
If you do not trust a person's process, that person will not trust you.
Imagine that you are a midwife; you are assisting at someone else's birth. Do good without show or fuss. Facilitate what is happening rather than what you think ought to be happening. If you must take the lead, lead so that the mother is helped, yet still free and in charge.
When the baby is born, the mother will rightly say: "We did it ourselves!""
- Translated by John Heider, 1985, Chapter 17
"Of the best rulers
The people (only) know that they exist;
The next best the love and praise;
The next they fear;
And the next they revile.

When they do not command the people's faith,
Some will lose faith in them,
And then they resort to oaths!
But (of the best) when their task is accomplished,
their work done,
The people all remark, "We have done it ourselves.""
- Translated by Lin Yutang, 1955, Chapter 17
Walking the Way: 81 Zen Encounters with the Tao Te Ching
by Robert Meikyo Rosenbaum
The Tao of Zen
by Ray Grigg
Tao Te Ching: Zen Teachings on the Taoist Classic
by Takuan Soho
Buddhism and Taoism Face to Face: Scripture, Ritual, and Iconographic Exchange in Medieval China
by Christine Mollier
"The Ruler of the People ...
As for him who is highest,
The people just know he is there.
His deputy's cherished and praised;
Of the third, they are frightened;
The fourth, they depise and revile.
If you trust people less than enough,
Some of them never trust you.
He is aloof, as if his talk
Were priced beyond the purchasing;
But once his project is contrived,
The folk will want to say of it:
"Of course! We did it by ourselves!""
- Translated by Raymond Blackney, 1955, Chapter 17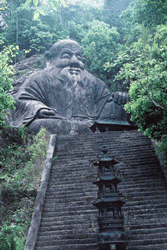 Next Chapter of the Tao Te Ching #18
Previous Chapter of the Tao Te Ching #16
Chapter and Thematic Index to the Tao Te Ching
Tao Te Ching
Commentary, Interpretations, Research Tools, Resources
Chapter 17
Tao Te Ching: The Definitive Edition
By Jonathan Star. Translation, commentary and research tools. New York, Jeremy P. Tarcher, Penguin, 2001. Concordance, tables, appendices, 349 pages. A new rendition of the Tao Te Ching is provided, then a verbatim translation with extensive notes. Detailed tables for each verse provide line number, all the Chinese characters, Wade-Giles romanization, and a list of meanings for each character. An excellent reference tool!


Yellow Bridge Dao De Jing Comparison Table, Chapter 17 Provides side by side comparisons of translations of the Tao Te Ching by James Legge, D. T. Suzuki, and Dwight Goddard. Chinese characters for each paragraph in the Chapter are on the left; place your cursor over the Chinese characters to see the Pinyin romanization of the Chinese character and a list of meanings.


The Complete Works of Lao Tzu: Tao Teh Ching & Hua Hu Ching
Translation and elucidation by Hua Ching Ni.

Tao Te Ching Commentaries - Google Search

Translators' Index, Tao Te Ching Translators Sorted Alphabetically by Translator, Links to Books and Online Versions

Tao Te Ching: A Bibliography and Index of Translations on the Web

Chapter 17 in the Rambling Taoist Commentaries by Trey Smith. The Rambling Taoists are Trey Smith and Scott Bradley.
Revealing the Tao Te Ching: In-Depth Commentaries on an Ancient Classic
By Hu Xuzehi. Seven Star Communications, 2006, 240 pages.


The Philosophy of the Daodejing
By Hans-Georg Moeller. Columbia University Press, 2006, 176 pages.

Valley Spirit, Gu Shen, Concept, Chapter 17

Das Tao Te King von Lao Tse The largest collection of very nicely formatted complete versions of the Tao Te Ching. The collection includes 209 complete versions in 27 languages, plus 28 Chinese versions. There are 112 English language versions of the Tao Te Ching available at this website. A variety of search methods and comparision methods are provided, as well a a detailed index. Offline on 5/12/2013.

Tao Te Ching English Translations from Terebess Asia Online. Over 30 translations.

Lao-tzu's Taoteching
Translated by Red Pine (Bill Porter). Includes many brief selected commentaries for each Chapter draw from commentaries in the past 2,000 years. Provides a verbatim translation and shows the text in Chinese characters. San Francisco, Mercury House, 1996, Second Edition, 184 pages. An invaluable resource for commentaries.

Reading Lao Tzu: A Companion to the Tao Te Ching with a New Translation
By Ha Poong Kim. Xlibris, 2003, 198 pages.

Chapter 16, Line by Line Comparisons of 27 Translations of the Tao Te Ching Compiled by the St. Xenophon Wayist Seminary

Dao De Jing: A Philosophical Translation
By Roger T. Ames and David T. Hall. Ballantine, 2003, 256 pages.

Thematic Index to the 81 Chapters of the Tao Te Ching

Lao Tzu: Te-Tao Ching - A New Translation Based on the Recently Discovered Ma-wang-tui Texts (Classics of Ancient China)
Translated with and introduction and detailed exposition and commentary by Professor Robert G. Henricks. New York, Ballantine Books, 1992. Includes Chinese characters for each chapter. Bibliography, detailed notes, 282 pages.
---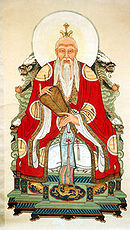 Gushen Grove Notebooks for the Tao Te Ching
Research by
Michael P. Garofalo
September 28, 2011
Green Way Research, Valley Spirit Grove, Gushen Grove Notebooks, Red Bluff, California
This webpage was last modified or updated on May 10, 2013.
This webpage was first distributed online on February 7, 2011.

Brief Biography of Michael P. Garofalo, M.S.
Valley Spirit Grove, Red Bluff, California
Weekend Qigong Workshops with Mike Garofalo in Beautiful Red Bluff, California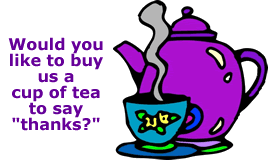 Ripening Peaches: Daoist Studies and Practices
One Old Druid's Final Journey: Notebooks of the Librarian of Gushen Grove
Index to Translators of the Tao Te Ching
The Tao Te Ching (Dao De Jing) by Lao Tzu (Laozi) circa 500 BCE
Vacation and Learn in Beautiful Red Bluff, California
Beginning T'ai Chi Ch'uan Options: Yang 24, Chen 18, Sun 24, Cane 18
Beginning Chi Kung Options: Eight Brocades, Magic Pearl, Dragon Rain

Lectures, Private Lessons, Classes, Consulting, Questions and Answers
Reasonable Hourly Rates
Instructor: Michael P. Garofalo, M.S.
Excellent Recreational Opportunities for Persons of All Ages in the North Sacramento Valley
The Perfect Weekend Getaway for You, Friends and Family
Beautiful Scenery, Pleasant Weather, and Clear Skies for the Outdoor Enthusiast
Activities: Sight Seeing, Reading, Relaxing, Walking, Shopping, Spas, Antiques
The Valley Spirit Center includes extensive gardens for Tai Chi practice and a Sacred Circle
A Full Array of Services and Excellent Accommodations in Redding or Red Bluff
Contact Mike: Email or Phone 530-200-3546
My Daily Tai Chi Chuan and Chi Kung Training Program