Chapter 14
Tao Te Ching (Dao De Jing)
Classic of the Way and Virtue

道德經



By Lao Tzu (Laozi)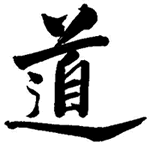 Chapter 14
Tao Te Ching (Dao De Jing) by Lao Tzu
In Praise of the Profound; It is Colorless, Silent, and Subtle; The Manifestation of the Mystery,
Form of the Formless, Something Shapeless, Elusive and Evasive, Nameless, 贊玄
"We look at Reason and do not see it; its name is Colorless.
We listen to Reason and do not hear it; its name is Soundless.
We grope for Reason and do not grasp it; its name is Bodiless.
These three things cannot further be analyzed.
Thus they are combined and conceived as a unity which on its surface is not clear and in its depth not obscure.
Forever and aye Reason remains unnamable, and again and again it returns home to non-existence.
This is called the form of the formless, the image of the imageless.
This is called the transcendentally abstruse.
In front its beginning is not seen.
In the rear its end is not seen.
By holding fast to the Reason of the ancients, the present is mastered and the origin of the past understood.
This is called Reason's clue."
- Translated by D. T. Suzuki and Paul Carus, 1913, Chapter 14
"That which may be looked for, but proves invisible, is called the Distant.
That which may be listened for, but proves inaudible, is called Vacancy.
That which may be clutched at, but proves intangible, is called the Subtle.
Words are inadequate thoroughly to examine these three properties; therefore they blend together and become One.
Above, it is not bright; below, it is not dim.
Continuous in endurance, it cannot be named.
In reverting to vacuity it may be called the Form of Formlessness, the Image of the Non-existent; for which reasons it is unsearchable.
Standing opposite to it, one cannot see its head; following it, one cannot perceive its back.
Obtaining the Tao of ancient times, and applying it as an aid to the methods in vogue at the present day, so that one is able to arrive at a knowledge of its long-past origin, may be called 'Getting the Germ, or Clue, of Tao' "
- Translated by Frederick Henry Balfour, 1884, Chapter 14
"Looked at, but cannot be seen -
That is called the Invisible (yi).
Listened to, but cannot be heard -
That is called the Inaudible (hsi).
Grasped at, but cannot be touched -
That is called the Intangible (wei).
These three elude our inquiries
And hence blend and become One.

Not by its rising, is there light,
Nor by its sinking, is there darkness.
Unceasing, continuous,
It cannot be defined,
And reverts again to the realm of nothingness.

That is why it is called the Form of the Formless,
The Image of Nothingness.
That is why it is called the Elusive:
Meet it and you do not see its face;
Follow it and you do not see its back."
- Translated by Lin Yutang, 1955, Chapter 14
Tao Te Ching Translated by Arthur Waley
Tao - The Way Translated by Lionel and and Herbert Giles
"What you don't see when you look
is called the unobtrusive.
What you don hear when you listen
is called the rarefied.
What you don't get when you grasp
is called the subtle.
These three cannot be completely fathomed,
so they merge into one:
above is not bright, below is not dark.
Continuous, unnameable, it returns again to
nothing.
This is called the stateless state,
the image of no thing;
this is called mental abstraction.
When you face it you do not see its head,
when you follow it you do not see its back.
Hold the ancient Way
so as to direct present existence:
only when you can know the ancient
can this be called the basic cycle of the Way."
- Translated by Thomas Cleary, 1991, Chapter 14
"Look for it, you won't see It;
It is called 'fleeting.'
Listen for It, you won't hear It;
It is called 'thin.'
Grasp at It, You can't get It;
It is called 'subtle.'
These three lines
Are about something that evades scrutiny.
Yes, in it everything blends and becomes one.
Its top is not bring
Its underside is not dim.
Always unnamable,
It runs back to nothingness.
This is the shape of something shapeless
The form of a nothing
This is elusive and evasive.
Encountering it, you won't see the front
Following it, you won't see its back.
Keep to the Tao of the ancients
And so manage things happening today.
The ability to know the ancient sources
This is the main thread of Tao."
- Translated by Michael LaFargue, 1992, Chapter 14
Tao Te Ching Annotated translation by Victor Mair

"We look at it, and we do not see it, and we name it 'the Equable.'
We listen to it, and we do not hear it, and we name it 'the Inaudible.'
We try to grasp it, and do not get hold of it, and we name it 'the Subtle.'
With these three qualities, it cannot be made the subject of description;
Hence we blend them together and obtain The One.
Its upper part is not bright, and its lower part is not obscure.
Ceaseless in its action, it yet cannot be named, and then it again returns and becomes nothing.
This is called the Form of the Formless, and the Semblance of the Invisible;
This is called the Fleeting and Indeterminable.
We meet it and do not see its Front; we follow it, and do not see its Back.
When we can lay hold of the Dao of old to direct the things of the present day,
And are able to know it as it was of old in the beginning,
This is called unwinding the clue of Dao."
- Translated by James Legge, 1891, Chapter 14
"We look but don't see it and call it indistinct we listen but don't hear it and call it faint
we reach but don't grasp it and call it ethereal
three failed means to knowledge I weave into one
with no light above and no shade below too fine to be named returning to nothing
this is the formless form the immaterial image this is the waxing waning we meet without seeing its face
we follow without seeing its back
holding onto this very Way we rule this very realm and discover its ancient past this is the thread of the Way."
- Translation by Red Pine (Bill Porter), 1996, Chapter 14
Tao Te Ching
Translated by Stephen Addiss and Stanley Lombardo
Lao Tzu: Tao Te Ching
Translated by John C. Wu
Lao-Tzu and the Tao-Te-Ching
Translated by Livia Kohn
Dao De Jing: The Book of the Way
Translated by Moss Roberts
"Look at it, it cannot be seen
It is called colorless
Listen to it, it cannot be heard
It is called noiseless
Reach for it, it cannot be held
It is called formless
These three cannot be completely unraveled
So they are combined into one
Above it, not bright
Below it, not dark
Continuing endlessly, cannot be named
It returns back to nothingness
Thus it is called the form of the formless
The image of the imageless
This is called enigmatic
Confront it, its front cannot be seen
Follow it, its back cannot be seen
Wield the Tao of the ancients
To Manage the existence of today
One can know the ancient beginning
It is called the Tao Axiom."
- Translated by Derek Lin, 2006, Chapter 14
Walking the Way: 81 Zen Encounters with the Tao Te Ching
by Robert Meikyo Rosenbaum
The Tao of Zen
by Ray Grigg
Tao Te Ching: Zen Teachings on the Taoist Classic
by Takuan Soho
Buddhism and Taoism Face to Face: Scripture, Ritual, and Iconographic Exchange in Medieval China
by Christine Mollier
"They call it elusive, and say
That one looks
But it never appears.
They say that indeed it is rare,
Since one listens,
But never a sound.
Subtle, they call it, and say
That one grasps it
But never gets hold.
These three complaints amount
To only one, which is
Beyond all resolution.

At rising, it does not illumine;
At setting, no darkness ensues;
It stretches far back
To that nameless estate
Which existed before the creation.

Describe it as form yet unformed;
As shape that is still without shape;
Or say it is vagueness confused:
One meets it and it has no front;
One follows and there is no rear.

If you hold ever fast
To that most ancient Way,
You may govern today.
Call truly that knowledge
Of primal beginnings
The clue to the Way."
- Translation by Raymond B. Blakney, 1955, Chapter 14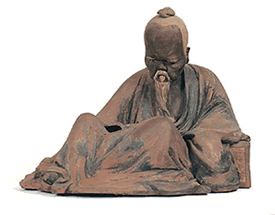 Next Chapter of the Tao Te Ching #15
Previous Chapter of the Tao Te Ching #13
Chapter and Thematic Index to the Tao Te Ching
Tao Te Ching
Commentary, Interpretations, Research Tools, Resources
Chapter 14
Tao Te Ching: The Definitive Edition
By Jonathan Star. Translation, commentary and research tools. New York, Jeremy P. Tarcher, Penguin, 2001. Concordance, tables, appendices, 349 pages. A new rendition of the Tao Te Ching is provided, then a verbatim translation with extensive notes. Detailed tables for each verse provide line number, all the Chinese characters, Wade-Giles romanization, and a list of meanings for each character. An excellent reference tool!


Yellow Bridge Dao De Jing Comparison Table, Chapter 14 Provides side by side comparisons of translations of the Tao Te Ching by James Legge, D. T. Suzuki, and Dwight Goddard. Chinese characters for each paragraph in the Chapter are on the left; place your cursor over the Chinese characters to see the Pinyin romanization of the Chinese character and a list of meanings.


The Complete Works of Lao Tzu: Tao Teh Ching & Hua Hu Ching
Translation and elucidation by Hua Ching Ni.

Tao Te Ching Commentaries - Google Search

Translators' Index, Tao Te Ching Translators Sorted Alphabetically by Translator, Links to Books and Online Versions

Tao Te Ching: A Bibliography and Index of Translations on the Web

Chapter 14 in the Rambling Taoist Commentaries by Trey Smith. The Rambling Taoists are Trey Smith and Scott Bradley.
Revealing the Tao Te Ching: In-Depth Commentaries on an Ancient Classic
By Hu Xuzehi. Seven Star Communications, 2006, 240 pages.


The Philosophy of the Daodejing
By Hans-Georg Moeller. Columbia University Press, 2006, 176 pages.

Valley Spirit, Gu Shen, Concept, Chapter 14

Das Tao Te King von Lao Tse The largest collection of very nicely formatted complete versions of the Tao Te Ching. The collection includes 209 complete versions in 27 languages, plus 28 Chinese versions. There are 112 English language versions of the Tao Te Ching available at this website. A variety of search methods and comparision methods are provided, as well a a detailed index. Offline as of 5/14/2013.

Tao Te Ching English Translations from Terebess Asia Online. Over 30 translations.

Lao-tzu's Taoteching
Translated by Red Pine (Bill Porter). Includes many brief selected commentaries for each Chapter draw from commentaries in the past 2,000 years. Provides a verbatim translation and shows the text in Chinese characters. San Francisco, Mercury House, 1996, Second Edition, 184 pages. An invaluable resource for commentaries.

Reading Lao Tzu: A Companion to the Tao Te Ching with a New Translation
By Ha Poong Kim. Xlibris, 2003, 198 pages.

Chapter 14, Line by Line Comparisons of 27 Translations of the Tao Te Ching Compiled by the St. Xenophon Wayist Seminary

Dao De Jing: A Philosophical Translation
By Roger T. Ames and David T. Hall. Ballantine, 2003, 256 pages.

Thematic Index to the 81 Chapters of the Tao Te Ching

Lao Tzu: Te-Tao Ching - A New Translation Based on the Recently Discovered Ma-wang-tui Texts (Classics of Ancient China)
Translated with and introduction and detailed exposition and commentary by Professor Robert G. Henricks. New York, Ballantine Books, 1992. Includes Chinese characters for each chapter. Bibliography, detailed notes, 282 pages.
Comments on Chapter 14 by Michael P. Garofalo
"I saw Master Chang San-Feng
Enter the Sidhe, Fairies by his side,
Crossing over the pond at dawn.
Astonished I was!
On the teahouse table by the pond I later found
Some of his neatly printed notes
Folded in a well worn tome
Of the Tao Te Ching, in Chapter 14.
He had written:
ĒEven for an Immortal, the Past is the Key.
The Future
Grasp at it, but you canít get it,
Colorless as an invisible crystal web,
Unformed, thin, a conundrum of ideas,
The Grand White Cloud Temple of Possibilities,
Flimsy as a maybe, strong as our hopes,
Silent as eternal Space.
When you meet it, you canít see its face.
You want to stand for it, but cannot find a place.
The Present
It appears and disappears through the moving ten thousand things,
Quick as a wink, elusive as a hummingbird,
Always Now with no other choice,
Moving ground, unstable Plates,
Real as much as Real gets to Be,
This Day has finally come,
Room for something, for the moment, waits
Gone in a flash, assigned a date,
Gulp, swallowed by the future.
Unceasing, continuous, entering and leaving
The vast empty center of the Elixir Field.
The Past
Becoming obscurer, fading, falling apart,
A mess of memories in the matrix of brains;
Some of it written, fixed in ink, chiseled in stone,
Most of it long lost in graves of pure grey bones.
Following it you cannot see its back,
Only forms of the formless, stories, tales,
Images of imageless, fictions, myths.
A smattering of forever fixed facts,
Scattered about the homes of fading ghosts.
The twists and turns of millions of tongues
Leaving us languages, our passports to the past.
The future becomes past, the present becomes past,
Every thing lives, subtracting but seconds for Nowness, in the Past.
The Realms of the Gods, the kingdoms of men,
The Evolutionary Tree with roots a million years long
Intertwined with turtles, dragons, trees, stars and toads;
crickets, coyotes, grasses, tigers, bears, monkeys and men.
These profoundest Three of Time
An unraveled red Knot of Mystery,
Evading scrutiny in the darkness of days
Eluding capture in the brightness of nights,
In beginnings and endings are only One, the Tao,
Coming from Nowhere, Returning to Nothing.
What dimension of Time
Does your mind dwell within?
Future, Present or Past
Where is your homeland?
The Past holds the accomplishments, the created, the glories, and the Great.
The Present is but a thin coat of ice on the Pond of Fate.
The Future is an illusion, a guess, a plethora of possible states.
Recreate the Past
By playing within the Present.
Twisting and reeling oneís silky reality
From the Black Cocoons of the Acts
From which we create our Pasts.
Follow the Ancient Ways.
The Past is the Key.Ē
- Michael P. Garofalo, Meetings with the Taoist Master Chang Sang-feng
---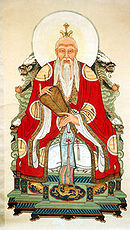 Gushen Grove Notebooks for the Tao Te Ching
Research by
Michael P. Garofalo
Green Way Research, Valley Spirit Grove, Gushen Grove Notebooks, Red Bluff, California
This webpage was last modified or updated on May 11, 2013.
This webpage was first distributed online on February 7, 2011.

Brief Biography of Michael P. Garofalo, M.S.
Valley Spirit Grove, Red Bluff, California
Weekend Qigong Workshops with Mike Garofalo in Beautiful Red Bluff, California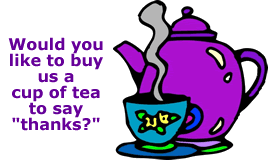 Ripening Peaches: Daoist Studies and Practices
One Old Druid's Final Journey: Notebooks of the Librarian of Gushen Grove
Index to Translators of the Tao Te Ching
The Tao Te Ching (Dao De Jing) by Lao Tzu (Laozi) circa 500 BCE
Vacation and Learn in Beautiful Red Bluff, California
Beginning T'ai Chi Ch'uan Options: Yang 24, Chen 18, Sun 24, Cane 18
Beginning Chi Kung Options: Eight Brocades, Magic Pearl, Dragon Rain

Lectures, Private Lessons, Classes, Consulting, Questions and Answers
Reasonable Hourly Rates
Instructor: Michael P. Garofalo, M.S.
Excellent Recreational Opportunities for Persons of All Ages in the North Sacramento Valley
The Perfect Weekend Getaway for You, Friends and Family
Beautiful Scenery, Pleasant Weather, and Clear Skies for the Outdoor Enthusiast
Activities: Sight Seeing, Reading, Relaxing, Walking, Shopping, Spas, Antiques
The Valley Spirit Center includes extensive gardens for Tai Chi practice and a Sacred Circle
A Full Array of Services and Excellent Accommodations in Redding or Red Bluff
Contact Mike: Email or Phone 530-200-3546
My Daily Tai Chi Chuan and Chi Kung Training Program