Chapter 2
Tao Te Ching (Dao De Jing)
Classic of the Way and Virtue

道德經



By Lao Tzu (Laozi)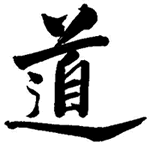 Chapter 2
Tao Te Ching (Dao De Jing) by Lao Tzu
Self-Development, The Idea of Comparisons, Working on the Self, 養身
"All in the world know the beauty of the beautiful, and in doing this they have the idea of what ugliness is;
They all know the skill of the skilful, and in doing this they have the idea of what the want of skill is.
So it is that existence and non-existence give birth the one to the idea of the other;
That difficulty and ease produce the one the idea of the other;
That length and shortness fashion out the one the figure of the other;
That the ideas of height and lowness arise from the contrast of the one with the other;
That the musical notes and tones become harmonious through the relation of one with another;
That being before and behind give the idea of one following another.
Therefore the sage manages affairs without doing anything, and
Conveys his instructions without the use of speech.
All things spring up, and there is not one which declines to show itself;
They grow, and there is no claim made for their ownership;
They go through their processes, and there is no expectation of a reward for the results.
The work is accomplished, and there is no resting in it as an achievement.
The work is done, but how no one can see;
'Tis this that makes the power not cease to be."
- Translated by James Legge, 1891, Chapter 2
"It is because every one under Heaven recognizes beauty as beauty, that the idea of ugliness exists.
And equally if every one recognized virtue as virtue, this would merely create fresh conceptions of wickedness.
For truly, Being and Not-being grow out of one another;
Difficult and easy complete one another.
Long and short test one another;
High and low determine one another.
Pitch and mode give harmony to one another.
Front and back give sequence to one another.
Therefore the Sage relies on actionless activity,
Carries on wordless teaching,
But the myriad creatures are worked upon by him; he does not disown them.
He rears them, but does not lay claim to them,
Controls them, but does not lean upon them,
Achieves his aim, but does not call attention to what he does;
And for the very reason that he does not call attention to what he does
He is not ejected from fruition of what he has done."
- Translated by Arthur Waley, 1934, Chapter 2
Tao Te Ching Translated by Arthur Waley
Tao - The Way Translated by Lionel and and Herbert Giles
"When every one recognizes beauty to be only a masquerade, then it is simply ugliness.
In the same way goodness, if it is not sincere, is not goodness.
So existence and non-existence are incompatible.
The difficult and easy are mutually opposites.
Just as the long and the short, the high and the low, the loud and soft, the before and the behind, are all opposites and each reveals the other.
Therefore the wise man is not conspicuous in his affairs or given to much talking.
Though troubles arise he is not irritated.
He produces but does not own; he acts but claims no merit,
He builds but does not dwell therein,
Because he does not dwell therein he never departs."
- Translated by Dwight Goddard and Henri Borel, 1919, Chapter 2
"Tian xia jie zhi mei zhi wei mei,
si e yi;
jie zhi shan zhi wei shan,
si bu shan yi.
Gu you wu xiang sheng,
nan yi xiang cheng,
chang duan xiang xing,
gao xia xiang qing,
yin sheng xiang he,
qian hou xiang sui.
Shi yi sheng ren
chu wu wei zhi shi,
xing bu yan zhi jiao;
wan wu zuo er fu shi,
sheng er fu you,
wei er bu shi,
gong cheng er fu ju.
Fu wei fu ju,
shi yi bu qu."
-
Pinyin
Romanized transliteration, Chapter 2
"When the people of the Earth all know beauty as beauty, there arises the recognition of ugliness.
When the people of the Earth all know the good as good, there arises the recognition of evil.
Therefore:
Being and non-being interdependent in growth;
Difficult and easy interdependent in completion;
Long and short interdependent in contrast;
High and low interdependent in position;
Tones and voice interdependent in harmony;
Front and behind interdependent in company.
Therefore the Sage:
Manages affairs without action;
Preaches the doctrine without words;
All things take their rise, but he does not turn away from them;
He gives them life, but does not take possession of them;
He acts, but does not appropriate;
Accomplishes, but claims no credit.
It is because he lays claim to no credit
That the credit cannot be taken away from him."
- Translated by Lin Yutang, 1948, Chapter 2
Tao Te Ching Annotated translation by Victor Mair
"The Beautiful being once recognized as such by the world, the Repulsive appears as its converse.
Goodness being once recognized as such, Evil appears in like manner.
Thus, existence and non-existence produce each other;
The difficult and the easy bring about each other;
The long and the short impart form to each other;
The high and low comply or change places with each other;
Sounds and voices harmonize with each other;
Priority and sequence alternate with each other.
Wherefore the Sage pursues a policy of inaction, and teaches men in silence he conforms to the Course of Nature.
He proceeds silently and spontaneously, and thus the people learn to govern themselves by his example without needing the interferences of legislation.
He forms all things without shrinking from the labor; produces them without claiming the possession of virtue; acts without presuming on his ability.
He completes his achievements without taking any credit to himself.
It is only he who thus does not stand upon his merit; and therefore his merit does not depart from him."
- Translated by Frederic H. Balfour, 1884, Chapter 2
Tao Te Ching
Translated by Stephen Addiss and Stanley Lombardo
Lao Tzu: Tao Te Ching
Translated by John C. Wu
Lao-Tzu and the Tao-Te-Ching
Translated by Livia Kohn
Dao De Jing: The Book of the Way
Translated by Moss Roberts
"All men know that beauty and ugliness are correlatives, as are skill and clumsiness;
one implies and suggests the other.
So also existence and non-existence pose the one the other;
so also is it with ease and difficulty, length and shortness; height and lowness.
Also Musick exists through harmony of opposites; time and space depend upon contraposition.
By the use of this method, the sage can fulfil his will without action, and utter his word without speech.
All things arise without diffidence; they grow, and none interferes; they change according to their natural order, without lust of result.
The work is accomplished; yet continueth in its orbit, without goal.
This work is done unconsciously; this is why its energy is indefatigable."
- Translated by Aleister Crowley, 1918, Chapter 2
Walking the Way: 81 Zen Encounters with the Tao Te Ching
by Robert Meikyo Rosenbaum
The Tao of Zen
by Ray Grigg
Tao Te Ching: Zen Teachings on the Taoist Classic
by Takuan Soho
Buddhism and Taoism Face to Face: Scripture, Ritual, and Iconographic Exchange in Medieval China
by Christine Mollier
"People through finding something beautiful
Think something else unbeautiful,
Through finding one man fit
Judge another unfit.
Life and death, though stemming from each other, seem to conflict as stages of change,
Difficult and easy as phases of achievement,
Long and short as measures of contrast,
High and low as degrees of relation;
But, since the varying of tones gives music to a voice
And what is the was of what shall be,
The sanest man
Sets up no deed,
Lays down no law,
Takes everything that happens as it comes,
As something to animate, not to appropriate,
To earn, not to own,
To accept naturally without self-importance:
If you never assume importance
You never lose it."
- Translated by Witter Bynner, 1944, Chapter 2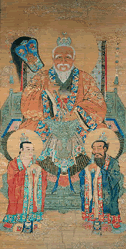 Next Chapter of the Tao Te Ching #3
Previous Chaper of the Tao Te Ching #1
Chapter and Thematic Index to the Tao Te Ching
Tao Te Ching
Commentary, Interpretations, Research Tools, Resources
Chapter 2
Tao Te Ching: The Definitive Edition
By Jonathan Star. Translation, commentary and research tools. New York, Jeremy P. Tarcher, Penguin, 2001. Concordance, tables, appendices, 349 pages. A new rendition of the Tao Te Ching is provided, then a verbatim translation with extensive notes. Detailed tables for each verse provide line number, all the Chinese characters, Wade-Giles romanization, and a list of meanings for each character. An excellent reference tool!


Yellow Bridge Dao De Jing Comparison Table, Chapter 2 Provides side by side comparisons of translations of the Tao Te Ching by James Legge, D. T. Suzuki, and Dwight Goddard. Chinese characters for each paragraph in the Chapter are on the left; place your cursor over the Chinese characters to see the Pinyin romanization of the Chinese character and a list of meanings.


The Complete Works of Lao Tzu: Tao Teh Ching & Hua Hu Ching
Translation and elucidation by Hua Ching Ni.

Tao Te Ching Commentaries - Google Search

Tao Te Ching: A Bibliography and Index of Translations on the Web

Chapter 2 in the Rambling Taoist Commentaries by Trey Smith. The Rambling Taoists are Trey Smith and Scott Bradley.

Chapter 2, Chinese language research database for the Tao Te Ching with detailed and extensive hyperlinks.

Das Tao Te King von Lao Tse The largest collection of very nicely formatted complete versions of the Tao Te Ching. The collection includes 209 complete versions in 27 languages, plus 28 Chinese versions. There are 112 English language versions of the Tao Te Ching available at this website. A variety of search methods and comparision methods are provided, as well a a detailed index. Offline on 5/12/ 2013.

Tao Te Ching English Translations from Terebess Asia Online. Over 30 translations.

Lao-tzu's Taoteching
Translated by Red Pine (Bill Porter). Includes many brief selected commentaries for each Chapter draw from commentaries in the past 2,000 years. Provides a verbatim translation and shows the text in Chinese characters. San Francisco, Mercury House, 1996, Second Edition, 184 pages. An invaluable resource for commentaries.

Chapter 2, Line by Line Comparisons of 27 Translations of the Tao Te Ching Compiled by the St. Xenophon Wayist Seminary

Thematic Index to the 81 Chapters of the Tao Te Ching

Lao Tzu: Te-Tao Ching - A New Translation Based on the Recently Discovered Ma-wang-tui Texts (Classics of Ancient China)
Translated with and introduction and detailed exposition and commentary by Professor Robert G. Henricks. New York, Ballantine Books, 1992. Includes Chinese characters for each chapter. Bibliography, detailed notes, 282 pages.

Tao Te Ching
Annotated translation by Victor Mair. Bantam, 1990, 168 pages. Based on the Ma-Wang-tui manuscripts.
---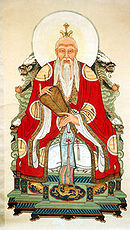 Gushen Grove Notebooks for the Tao Te Ching
Research by
Michael P. Garofalo
Green Way Research, Valley Spirit Grove, Gushen Grove Notebooks, Red Bluff, California
This webpage was last modified or updated on May 12, 2013.
This webpage was first distributed online on February 6, 2011.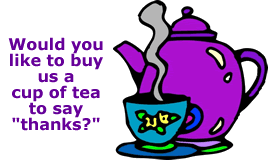 Brief Biography of Michael P. Garofalo, M.S.
Valley Spirit Grove, Red Bluff, California

Ripening Peaches: Daoist Studies and Practices
One Old Druid's Final Journey: Notebooks of the Librarian of Gushen Grove
The Tao Te Ching (Dao De Jing) by Lao Tzu (Laozi) circa 500 BCE
Vacation and Learn in Beautiful Red Bluff, California
Beginning T'ai Chi Ch'uan Options: Yang 24, Chen 18, Sun 24, Cane 18
Beginning Chi Kung Options: Eight Brocades, Magic Pearl, Dragon Rain

Lectures, Private Lessons, Classes, Consulting, Questions and Answers
Reasonable Hourly Rates
Instructor: Michael P. Garofalo, M.S.
Excellent Recreational Opportunities for Persons of All Ages in the North Sacramento Valley
The Perfect Weekend Getaway for You, Friends and Family
Beautiful Scenery, Pleasant Weather, and Clear Skies for the Outdoor Enthusiast
Activities: Sight Seeing, Reading, Relaxing, Walking, Shopping, Spas, Antiques
The Valley Spirit Center includes extensive gardens for Tai Chi practice and a Sacred Circle
A Full Array of Services and Excellent Accommodations in Redding or Red Bluff
Contact Mike: Email or Phone 530-200-3546
My Daily Tai Chi Chuan and Chi Kung Training Program