Chapter 64
Tao Te Ching (Dao De Jing)
Classic of the Way and Virtue

道德經



By Lao Tzu (Laozi)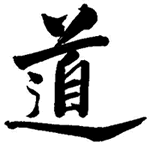 Chapter 64
Tao Te Ching (Dao De Jing) by Lao Tzu
Consider the Insignificant, Don't Cling, The Journey of a Thousand Miles Begins with a Single Step,
Remain Careful to the End, Great Things Have Humble Beginnings, Guard the Minute, 守微
"When sitting still, they are easy to hold down
No omens yet, it is easy to plan
When fragile, they are easy to break
When small, they are easy to scatter.
Work on it when it isn't yet
Put it in order when it is not yet disordered.
A tree you can barely get your arms around grows from a tiny shoot
A nine-story tower begins as a heap of earth
A thousand mile journey begins under your feet.
Working ruins, grasping loses.
The wise person does not work, so does not ruin
Does not grasp, so does not lose.
'When the people are engaged in some task,
They are always on the point of finishing when they ruin it.'
Careful at the end just as at the beginning,
Then there will be no ruining of the work.
The wise person desires to be desireless
Does not prize goods hard to come by
Learns to be un-learned
Turns back to the place all others have gone on from.
So as to help the naturalness
Of the thousands of things
Without presuming to be a worker."
- Translated by Michael LaFargue, 1992, Chapter 64
"It is easy to sustain what is at rest.
It is easy to plan for that of which there is not even a sign.
What is fragile is easily broken.
What is minute is easily dispersed.
Act upon it before it exists.
Regulate it before it becomes chaos.
A massive tree grows from a little sprout.
A nine-story building rises from a clod of earth.
A thousand fathoms begin with a single step.
Those who impose action upon it will fail.
Thos who cling to it will loose it.
So the sage, through non-action, does not fail.
Not clinging, he does not lose.
The common people's engagement in affairs fails prior to success.
So the saying goes,
"give as much careful attention to the end as to the beginning: then the affairs will not fail"
It is on that account that the sage desires not to desire and does not value goods that are hard to get.
He learns not to learn and restores the common people's losses.
He is able to support the nature of all things and , not by daring, to impose action."
- Translated by Edward Brennan and Tao Huang, 2002, Chapter 64
"That which is at rest is easily kept hold of;
Before a thing has given indications of its presence, it is easy to take measures against it;
That which is brittle is easily broken;
That which is very small is easily dispersed.
Action should be taken before a thing has made its appearance;
Order should be secured before disorder has begun.
The tree which fills the arms grew from the tiniest sprout;
The tower of nine stories rose from a small heap of earth;
The journey of a thousand li commenced with a single step.
He who acts with an ulterior purpose does harm;
He who takes hold of a thing in the same way loses his hold.
The sage does not act so, and therefore does no harm;
He does not lay hold so, and therefore does not lose his bold.
But people in their conduct of affairs are constantly ruining them when they are on the eve of success.
If they were careful at the end, as they should be at the beginning, they would not so ruin them.
Therefore the sage desires what other men do not desire, and does not prize things difficult to get;
He learns what other men do not learn, and turns back to what the multitude of men have passed by.
Thus he helps the natural development of all things, and does not dare to act with an ulterior purpose of his own."
- Translated by James Legge, 1891, Chapter 64
"What is still at rest is easily kept quiet.
What has not as yet appeared is easily prevented.
What is still feeble is easily broken.
What is still scant is easily dispersed.
Treat things before they exist.
Regulate things before disorder begins.
The stout tree has originated from a tiny rootlet.
A tower of nine stories is raised by heaping up bricks of clay.
A thousand miles' journey begins with a foot.
He that makes mars.
He that grasps loses.
The holy man does not make; therefore he mars not.
He does not grasp; therefore he loses not.
The people when undertaking an enterprise are always near completion, and yet they fail.
Remain careful to the end as in the beginning and you will not fail in your enterprise.
Therefore the holy man desires to be desireless, and does not prize articles difficult to obtain.
He learns, not to be learned, and seeks a home where multitudes of people pass by.
He assists the ten thousand things in their natural development, but he does not venture to interfere."
- Translated by D. T. Suzuki and Paul Carus, 1913, Chapter 64
Tao Te Ching Annotated translation by Victor Mair
"Tackle difficulties when they are easy,
Accomplish great things when they are small.
Handle what is going to be rough
when it is still smooth.
Control what has not yet formed its force.
Deal with a dangerous situation while it is safe.
Manage what is hard while it is soft.
Eliminate what is vicious
before it becomes destructive.
This is called "attending to great things at small beginnings.
A tree so big it can fill the span of a man's arms
grows from a tiny sprout.
A terrace nine stories high
rises from a shovel-full of earth.
A journey of a thousand miles
begins with a single step.
Thus, one of integral virtue
never sets about grandiose things,
yet is able to achieve great things.
Lightly made promises inspire little confidence.
Making light of things at the beginning,
one will meet with failure in the end.
Being prepared for hardship,
one will not be overcome by it.
In handing their affairs, people often ruin them
just as they are on the verge of success.
With heedfulness in the beginning
and all the way through to the end,
nothing is ruined."
- Translation by Hua-Ching Ni, 1979, Chapter 64
The Complete Works of Lao Tzu: Tao Teh Ching and Hua Hu Ching.
"That which has balance is easy to maintain.
That which has not arisen is easy to forestall.
That which is brittle is easy to shatter.
That which is minuscule is easy to scatter.
Therefore, manage problems before they arise;
Create order before disorder sets in.
A tree as large as the arms' embrace grows from a downy shoot.
A terrace nine stories high rises from a shovelful of earth.
A journey of a thousand miles begins with a single step.
One who acts from the delusion of grandiosity fails.
One who clings to the delusion of grandiosity loses.
The sage does not act from delusion, and therefore he does not fail,
Nor does he cling to delusion, and therefore he does not lose.
Because of the delusion of grandiosity,
On the verge of success, people often fail.
If they would take as much care at the end as at the beginning,
They would not fail in their affairs.
The sage does not desire what the masses desire;
He does not treasure what the masses treasure.
He studies what the masses do not study;
He returns to the source of knowledge ignored by the masses.
Thus, without acting in delusion,
The sage supports all beings as they naturally exist."
- Translated by Yasuhiko Genku Kimura, Chapter 64
Chapter 64 of the Dao De Jing by Laozi
Commentary, Study Aides, Resources, Related Thoughts, Reflections
"Precisely the least, the softest, lightest, a lizard's rustling, a breath, a flash, a moment - a little makes the way of the best happiness."
- Frederich Nietzsche, Thus Spake Zarathustra
Tao Te Ching Translated by Arthur Waley
Tao - The Way Translated by Lionel and and Herbert Giles
"Before it move, hold it,
Before it go wrong, mould it,
Drain off water in winter before it freeze,
Before weeds grow, sow them to the breeze.
You can deal with what has not happened, can foresee
Harmful events and not allow them to be.
Though-- as naturally as a seed becomes a tree of arm-wide girth-
There can rise a nine-tiered tower from a man's handful of earth
Or here at your feet a thousand-mile journey have birth,
Quick action bruises,
Quick grasping loses.
Therefore a sane man's care is not to exert
One move that can miss, one move that can hurt.
Most people who miss, after almost winning,
Should have 'known the end from the beginning.'
A sane man is sane in knowing what things he can spare,
In not wishing what most people wish,
In not reaching for things that seem rare.
The cultured might call him heathenish,
This man of few words, because his one care
Is not to interfere but to let nature renew
The sense of direction men undo."
- Translated by Witter Bynner, 1944, Chapter 64
"That which lies still is easy to hold;
That which is not yet manifest is easy to forestall;
That which is brittle (like ice) easily melts;
That which is minute easily scatters.
Deal with a thing before it is there;
Check disorder before it is rife.
A tree with a full span's girth begins from a tiny sprout;
A nine-storied terrace begins with a clod of earth.
A journey of a thousand li beings at one's feet.

He who acts, spoils;
He who grasps, lets slip.
Because the Sage does not act, he does not spoil,
Because he does not grasp, he does not let slip.
The affairs of men are often spoiled within an ace of
completion.
By being careful at the end as at the beginning
Failure is averted.

Therefore the Sage desires to have no desire,
And values not objects difficult to obtain.
Learns that which is unlearned,
And restores what the multitude have lost.
That he may assist in the course of Nature
And not presume to interfere."
- Translated by Lin Yutang, 1955, Chapter 64
Tao Te Ching
Translated by Stephen Addiss and Stanley Lombardo
Lao Tzu: Tao Te Ching
Translated by John C. Wu
Lao-Tzu and the Tao-Te-Ching
Translated by Livia Kohn
Dao De Jing: The Book of the Way
Translated by Moss Roberts
"What is secure is easy to hold
What has yet to begin is easy to plan for
What is thin is easy to break up
What is minute is easy to scatter
Attend to things before they come to be
Arrange things before they entangle
A tree which fills the joined embrace
Has grown from a slender shoot
A tower which reaches nine stories
Begins as a basket of earth
A journey of a thousand li
Begins from beneath the feet
Those who interfere spoil things
Those who grab lose things
This is why wise ones do not interfere and so do not spoil
Do not grab and so do not lose
People in their pursuits & affairs
(are) ever on the verge of achieving and still ruin things
Take care at the end as well as at the beginning
And then there will be no ruined affairs
This is why wise ones desire to have no desires
Do not prize goods which are hard to obtain
Learn to unlearn
And return to what everyone else has passed by
Thus helping the myriad beings to realize themselves
While not presuming to interfere"
- Translated by Bradford Hatcher, 2005, Chapter 64
"What's stable is easy to secure,
The unmanifest to plan against,
The fragile to splinter,
The incipient to dissolve.
Act before events occur:
Decision can prevent disorder.
A tree of girth
Grows from a twig.
A nine-tier tower
From a basket of earth;
And a thousand-mile journey
Begins where one stands.
Those who take the lead shall fail.
Those who cling lose hold.
This is why men of wisdom,
Taking no lead, do not fail,
Not clinging, do not lose hold.
How often do people, assuming a task,
Ruin it at the verge of success?
Hence the saying,
"Careful at the end as at the start,
And your task shall not abort."
This is why the worldly wise
Seek what others do not seek,
"Prize not goods hard to find,"
Learn what others do not learn:
Redeem the wrongs many have done.
In this way support and sustain
The self-becoming of the myriad,
And do not presume to act upon them."
- Translated by Moss Roberts, 2001, Chapter 64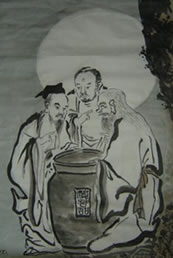 Next Chapter of the Tao Te Ching #65
Previous Chapter of the Tao Te Ching #63
Chapter and Thematic Index to the Tao Te Ching
Tao Te Ching
Commentary, Interpretations, Research Tools, Resources
Chapter 64
Tao Te Ching: The Definitive Edition
By Jonathan Star. Translation, commentary and research tools. New York, Jeremy P. Tarcher, Penguin, 2001. Concordance, tables, appendices, 349 pages. A new rendition of the Tao Te Ching is provided, then a verbatim translation with extensive notes. Detailed tables for each verse provide line number, all the Chinese characters, Wade-Giles romanization, and a list of meanings for each character. An excellent reference tool!

Yellow Bridge Dao De Jing Comparison Table, Chapter 64 Provides side by side comparisons of translations of the Tao Te Ching by James Legge, D. T. Suzuki, and Dwight Goddard. Chinese characters for each paragraph in the Chapter are on the left; place your cursor over the Chinese characters to see the Pinyin romanization of the Chinese character and a list of meanings.

Center Tao. Includes a commentary on each Chapter.

The Complete Works of Lao Tzu: Tao Teh Ching & Hua Hu Ching
Translation and elucidation by Hua Ching Ni.

Tao Te Ching Commentaries - Google Search

Translators' Index, Tao Te Ching Translators Sorted Alphabetically by Translator, Links to Books and Online Versions

Tao Te Ching: A Bibliography and Index of Translations on the Web

Chapter 64 in the Rambling Taoist Commentaries by Trey Smith. The Rambling Taoists are Trey Smith and Scott Bradley.
The Philosophy of the Daodejing
By Hans-Georg Moeller. Columbia University Press, 2006, 176 pages.


Valley Spirit, Gu Shen, Concept, Chapter 6


Das Tao Te King von Lao Tse The largest collection of very nicely formatted complete versions of the Tao Te Ching. The collection includes 209 complete versions in 27 languages, plus 28 Chinese versions. There are 112 English language versions of the Tao Te Ching available at this website. A variety of search methods and comparison methods are provided, as well a a detailed index.


Lao-tzu's Taoteching
Translated by Red Pine (Bill Porter). Includes many brief selected commentaries for each Chapter draw from commentaries in the past 2,000 years. Provides a verbatim translation and shows the text in Chinese characters. San Francisco, Mercury House, 1996, Second Edition, 184 pages. An invaluable resource for commentaries.

Reading Lao Tzu: A Companion to the Tao Te Ching with a New Translation
By Ha Poong Kim. Xlibris, 2003, 198 pages.

Chapter 64, Line by Line Comparisons of 27 Translations of the Tao Te Ching Compiled by the St. Xenophon Wayist Seminary

Ripening Peaches: Taoist Studies and Practices

Dao De Jing: A Philosophical Translation
By Roger T. Ames and David T. Hall. Ballantine, 2003, 256 pages.

Thematic Index to the 81 Chapters of the Tao Te Ching

Lao Tzu: Te-Tao Ching - A New Translation Based on the Recently Discovered Ma-wang-tui Texts (Classics of Ancient China)
Translated with and introduction and detailed exposition and commentary by Professor Robert G. Henricks. New York, Ballantine Books, 1992. Includes Chinese characters for each chapter. Bibliography, detailed notes, 282 pages.

Revealing the Tao Te Ching: In Depth Commentaries on an Ancient Classic. By Hu Huezhi. Edited by Jesse Lee Parker. Seven Star Communications, 2006. 240 pages.

Cloud Hands Blog Mike Garofalo writes about Taoism, Gardening, Taijiquan, Walking, Mysticism, Qigong, and the Eight Ways.

Tao Te Ching: A New Translation and Commentary. By Ellen Chen. Paragon House, 1998. 274 pages.

The Tao and Method: A Reasoned Approach to the Tao Te Ching. By Michael Lafargue. New York, SUNY Press, 1994. 660 pages.

The Whole Heart of Tao: The Complete Teachings from the Oral Tradition of Lao-Tzu. By John Bright-Fey. Crane Hill Publishers, 2006. 376 pages.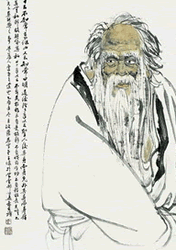 ---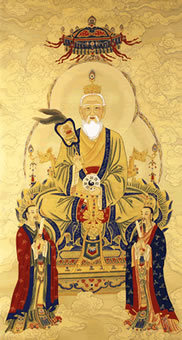 Gushen Grove Notebooks for the Tao Te Ching
Research by
Michael P. Garofalo
Green Way Research, Valley Spirit Grove, Gushen Grove Notebooks, Red Bluff, California
This webpage was last updated on May 3, 2012.
This webpage was first distributed online on February 2, 2011

Brief Biography of Michael P. Garofalo, M.S.
Valley Spirit Grove, Red Bluff, California
Weekend Qigong Workshops with Mike Garofalo in Beautiful Red Bluff, California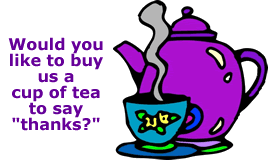 Ripening Peaches: Daoist Studies and Practices
Taoist Perspectives: My Reading List
One Old Druid's Final Journey: Notebooks of the Librarian of Gushen Grove
Index to Translators of the Tao Te Ching
The Tao Te Ching (Dao De Jing) by Lao Tzu (Laozi) circa 500 BCE