Qigong (Chi Kung) Classes
Instructor: Mike Garofalo, M.S.
Red Bluff, California
Mike Garofalo retired on July 1, 2016.
He will no longer be teaching Tai Chi in the North Sacramento Valley.
He will be moving to Vancouver, Washington in April of 2017.
Mondays: 5:30 p.m. - 7:00 p.m.
Saturdays: 9:30 a.m. - 11 a.m.

Tehama Family Fitness Center
2498 South Main Street
South of the Interstate 5 and South Main Street Exit
Adjacent to the St. Elizabeth's Hospital and Medical Complex

Red Bluff, California
530-528-8656

This class is free for members of the Tehama Family Fitness Center (TFFC).
TFFC non-members can pay $5.00 for one T'ai Chi Ch'uan class; or, TFFC
non-members can take all classes and use the entire TFFC facility for $10 per day.


Instructor
Michael P. Garofalo
M.S., B.A. Philosophy

I began learning Yang Style Taijiquan and Qigong in 1986, and have taught
Taijiquan and Qigong since 2000. I also teach Hatha and Vinyasa Yoga,
and have earned a YogaFit Level Four Yoga Teacher Certification.
I also teach the Chen Style of Taijiquan.
All T'ai Chi Ch'uan Classes Include Some Qigong (Chinese Yoga) Practices
All of my Yoga classes include some Qigong Practices
Personal Fitness Trainer
Aerobics and Fitness Association of America Certified, 2007-2009

Private Lessons are Available by Arrangement (530-200-3546)

Hatha and Vinyasa Yoga Class Schedule - Instructor: Mike Garofalo

Index to my Taijiquan and Qigong Research
Qigong

Chinese Vital Inner Energy Cultivation Methods
Ch'i Training, Body-Mind Energetics, Qi Development Exercises
Chinese Yogic Practices, Chi Kung, Qi-Yi-Shen Self-Cultivation, Dao Yin,
導引

,

Tao Yin, Chi Gong, Tui Na
Life Nourishing Ways: Yangsheng Zhi Dao,

養生

, Daoyin Yangsheng Gong
Daoist Yoga, Taoist Body-Mind-Spirit Cultivation, Daoist Exercises and Longevity Practices
Traditional Chinese Medicine Exercises and Therapy


Valley Spirit Qigong
Red Bluff, California

Guides, Bibliographies, Links, Resources, Lessons, Lore, Research



Research by
Michael P. Garofalo

January 16, 2011
© Valley Spirit Qigong, Green Way Research, Red Bluff, California, 2003-2011
By Michael P. Garofalo, M.S., All Rights Reserved.
Disclaimer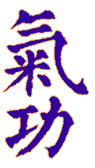 Qigong: Links and Bibliography
Green Paths in the Valley Blog
Five Animal Frolics Qigong (Wu Qin Xi)
Taoist Perspectives: Qigong, Philosophy, Arts, Alchemy, Mysticism
Taiji Ball, Ball Qigong, Medicine Ball
Luohan (Eighteen Buddha Hands) Qigong
Zhan Zhuang (Standing Like a Tree)
Qigong Classes - Mike Garofalo, M.S., Instructor
Yi Jin Jing Qigong (Muscle-Tendon Changing Qigong)
Lifestyle Advice for Wise Persons
Self-Massage, Acupressure, and Chinese Massage
Silk Reeling, Spiral and Twisting Energy, Circles
Eight Trigrams of the I Ching (Book of Changes)
Chen Taijiquan 18 Movement Chen Zhenglei Form
Yang Taijiquan Beijing Standard 24 Form
Animal Frolics Exercises Qigong/Yoga/Exercises
Sung - Loose, Relaxed, Open, Yielding, Responsive
Taijiquan: Links and Bibliography
Tips and Suggestions for Qigong Practice
Shifu Miao Zhang's Teahouse by the Pond
Fitness, Vitality and Good Health
Taoism, Nature Mysticism, Alchemy
Index for the Cloud Hands Website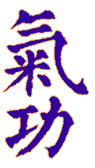 © Green Way Research, Valley Spirit Qigong, Red Bluff, California, 2011
Wuji Standing (Zhan Zhuang) Meditation
Taoism: Bibliography, Links, Resources
Green Paths in the Valley Blog
Alphabetical Index to the Cloud Hands Website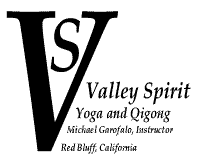 Valley Spirit Center - Red Bluff, California

Red Bluff, Tehama County, North Sacramento Valley, Northern California, U.S.A.
Cities and small towns in the area: Oroville, Paradise, Durham, Chico, Hamilton City,
Corning, Rancho Tehama, Los Molinos, Vina, Tehama, Proberta, Gerber,
Manton, Cottonwood, Olinda, Cloverdale, Dairyville, Bend, Centerville, Summit City
Anderson, Shasta Lake, Palo Cedro, Igo, Ono, Redding, Shasta, Colusa, Willows,
Richfield, Fall River, Montgomery Creek, Alturas, McCloud, Dunsmuir, Yreka, Happy Camp,
Shingletown, Burney, Mt. Shasta City, Weaverville, Williams, Chester, Orland,
Susanville, Weed, Gridley, Marysville, Yuba City, NorCalifia, CA, California.

January 16, 2011