Animal Frolics

Animal Frolics Qigong: The Deer
An Ancient Chinese Exercise Regimen for Nourishing Life (Yangsheng)
For Fitness, Fun, Increased Vitality, Liveliness, Good Health and Longevity

Qigong (Chi Kung) Internal Energy Cultivation Method, Chinese Yoga, Chinese Healing Exercises (Daoyin)

Wu Qin Xi: Five Animal Frolics


Introduction Bibliography Links Movement Names Lessons



Research by
Michael P. Garofalo

© Valley Spirit Qigong, Green Way Research, Red Bluff, California, 2003-2012
By Michael P. Garofalo, M.S., All Rights Reserved.
Disclaimer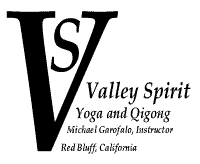 五禽戲
Frolics of the Five Animals

Animal Frolics Qigong (Daoyin): Deer Crane Monkey Tiger Bear Dragon
Deer
Animal Frolics Qigong

Introduction
Deer Frolic

Bibliography, Links and Resources
Deer Frolic
A Note to Readers: The Cloud Hands webpages have been online continuously since 2001. In 2009, over 1,350,000 webpages (excluding graphics) were served to readers around the world from the egreenway.com websites: Cloud Hands T'ai Chi Ch'uan, Valley Spirit Chi Kung, Walking, Taoism, Yoga, etc. Since 2005, I have also provided information about Taijiquan, Qigong, Walking, Gardening, Mysticism, and the Eight Ways at my Cloud Hands Blog. Since the these mind-body arts websites are very well-established and stable websites, they provide readers with a good and secure starting point for their online research into Chi Kung, Taijiquan, Walking, Meditation, and the Daoist-Druid matrix. The Cloud Hands websites are funded entirely by Green Way Research, with volunteer efforts by Michael P. Garofalo.
Unfortunately, as everyone knows, many other websites and webpages, documents, and videos appear and then disappear from the Internet scene. Authors do not pay to keep up their web hosting services, loose a "free hosting" option, change filenames, recode away from HTML, or decide to remove the webpages for various reasons. Consequently, links to some good webpages or videos become invalid and the files are no longer found on the Internet. You may find a some of these "dead links" to nonexistent webpages or videos cited below; and, there is no way to avoid this troublesome situation. For this reason, when you do find a good and useful webpage, be sure to save the webpage to a folder on your hard drive or server.
I welcome your suggestions for how to improve this webpage. Your comments, ideas, contributions, and constructive criticism are encouraged. Send your suggestions to my email box.
Ancient Way to Keep Fit. Compiled by Zong Wu and Li Mao. Translated by Song Luzeng, Liu Beijian, and Liu Zhenkai. Paintings by Zhang Ke Ren. Foreword by Kumar Frantzis. Bolinas, California, Shelter Publications, 1992. 211 pages, glossary. ISBN: 0679417893. Outstanding illustrations by Zhang Ke Ren. The Five Animal Frolics are beautifully illustrated on pages 68-80.

Animal Frolics Qigong: Bibliography, Links, Lessons, Resources, Quotations, History

Spring: Poems, Quotes, Sayings, Lore

Chinese Healing Exercises: The Tradition of Daoyin. By Livia Kohn. University of Hawaii Press, 2008. 268 pages. ISBN: 0824832698. History of Daoist health practices.

Cloud Hands Website: Taijiquan and Qigong

Connotations of "Deer Show" of Wu Qin Xi Chinese Health Qigong Association, 2009.

Correspondences and Alchemical Associations of the Deer

Correspondences and Alchemical Associations of the Animals of the Five Animal Frolics Qigong

Daoyin, Qigong, Chi Kung, Yangshenggong: Bibliography, Links, Resources, Lessons, Lore

Deer Frolic. UTube Video, 2:04 minutes. Performed by Anson Rathbone, 2007. As taught by Deguang at NESA's Medical Qigong Class.

Drawing Silk: Masters' Secrets for Successful Tai Chi Practice. By Paul B. Gallagher. Third Edition. Fairview, North Carolina, Total Tai Chi, 2007, 1988. 245 pages. ISBN: 9781419663127. The Five Animal Frolics are covered on pp. pp. 214-215. An instructional DVD is available from Master Gallagher.

Eight Section Brocade Chi Kung Ba Duan Jin.

Five Animal Frolics Qigong: Bibliography, Resources, Lessons, Links, Quotations, History

Five Animal Frolics: A Form Workbook. A Complete Qigong Program for High Energy, Vitality and Well Being. By John Du Cane. St. Paul, Minnesota, Dragon Door Publications, 2002. Second Edition, 2002. 121 pages. Spiral bound notebook. 100 photographs. No ISBN. VSCL.

Green Way Research. Red Bluff, California.

Hatha Yoga: The Hidden Language; Symbols, Secrets and Metaphor. By Swami Sivananda Radha. Foreward by B.K.S. Iyengar. Spokane, Washington, Timeless Books, 1987, 1995. Index, 308 pages. ISBN: 0931454743. MGC. A delightful book filled with lore, myths, symbols, stories, and metaphors about various yoga postures. Yoga postures that embody aspects of birds (pp. 180-225) include the Swan (Hamsasana), Crane (Bakasana), Eagle (Garudasana), Peacock (Mayurasana), and Cock (Kukkutasana).

History of the Five Animal Frolics

Qigong Essentials for Health Promotion. By Jiao Guorui. Beijing, China Reconstructs Press, 1988. A lengthy description of the Five Animal Frolics can be found on pages 190-236. VSCL.

Relaxation (Sung, Song, Shoong), Effortless Action, and Qigong Links, bibliography, quotes, and notes. By Mike Garofalo.

Ripening Peaches: Daoist Studies and Practices. Taoist scriptures, bibliography, Quanzhen Dragon Gate (Longmen) Daoism, Neidan, readings, etc.

Shaolin Qigong 18 Lohan Qigong

Standing Meditation (Zhan Zhuang)

Taoist Qigong for Health and Vitality. A Complete Program of Movement, Meditation, and Healing Sounds. By Sat Chuen Hon. Foreword by Philip Glass. Boston, MA, Shambhala Pubs. Inc., 2003. Notes, 174 pages. ISBN: 1590300688. VSCL. The healing sound for the Heart in this book is "Ho" and is described on pp. 71-83.

Valley Spirit Qigong, Red Bluff, California. Instructor: Mike Garofalo, M.S.

The Way of Qigong: The Art and Science of Chinese Energy Healing. By Kenneth S. Cohen. Foreword by Larry Dossey. New York Ballantine Books, 1997. Index, notes, appendices,
427 pages. ISBN: 0345421094. One of my favorite books: comprehensive, informative, practical, and reasonable.

Ways of Walking: Poems, Quotes, Sayings, Bibliography, Links, Lessons, Resources

Wild Goose Qigong: Links, Bibliography, Quotes, Notes

Wu Qin Xi (Five Animal Frolics): Chinese Health Qigong. Compiled by the Chinese Health Qigong Association. Beijing, Chine, Foreign Languages Press, 2007. 102 pages, includes an instructional DVD. ISBN: 9787119047799. VSCL.

Yi Jin Jing Qigong (Muscle/Tendon Changing Qigong): Bibliography, Links, Resources, Lessons. By Mike Garofalo.

Postures, Routines, Names of Movements
Deer Frolic

Lessons, Instructions, Suggestions, Comments
Deer Frolic

Quotations
Deer Frolic and Deer Lore
"The Deer Play is to imitate the shape and movement of a deer hoping to attain long life and pure soul like a deer. The features of a deer are its gentle disposition, swift movement, love to push with horns, and good at running. When it stands it likes to stretch its neck to glance at things afar. The deer also likes looking at left and right and its rear foot. It is also good at moving its tail bones (sacrum). The tail bone is the place where the Jen and Du meridians meet. Thus, during practice, the practitioner not only needs to imitate the attitude of a deer with swift movement and calm spirit, but also need to focus attention on the tail bone. This will guide Qi to the whole body, open meridians, circulate blood, relax tendons and bones, and benefit kidney and strengthen waist. It can also enhance blood circulation in the abdomen. This play is suitable for curing dysfunctional nerves in the internal organs, chronicle infections of the internal organs in the abdomen, fatigue in the waist muscles, nerve pain in the pelvis, deteriorated thigh bones, and the lack of sex drives."
- Five Animal Frolics
"To learn and practice "Deer Show", it is indispensable to understand the fitness functions of it. In the first place, it can strengthen the waist and kidney. The traditional Chinese medicine claims that the Du meridian has close relationship with brain, marrow and kidney, which can prevent from the pathological changes for the above three organs. By means of turning waist as well as twisting coccygeal end, it is conductive to clear the meridians, improve blood circulation, and strengthen the exchange of congenital and acquired blood. All the above functions can control and prevent from the symptoms such as waist virtual cold, pain, enuresis and diarrhea, exert a strong efficacy of kidney. In the second place, it can play the role of arousing the Yang-Energy. By means of gravity moving backward, the whole spine bending, the coccygeal end folder, Ming Men protruding backward, clearing the Da Zhui to raise the Yang-Energy. Furthermore, it is positive to promote the blood transmission to the body meridians, nourishing the body from top to bottom, from inside to outside, so that it can contribute greatly to restore normal physiological and psychological functions. In the third place, it can fully rotate the spine, enhance muscle strength and prevent from the disorders of waist. The arms with the state of internal rotation, the shoulder and back muscles with the state of free stretch, can exert favorable effects on preventing from the neck and shoulder syndromes."
- Connotations of "Deer Show" of Wu Qin Xi, Chinese Health Qigong Association

Information, Facts, Lore, Artwork
Deer

Table of Correspondences, Associations, Symbolism
Deer Frolics
Correspondences and Alchemical Associations for the Deer:
Attributes: Grace, Relaxation.
Element: Wood
Direction: East
Organ: Liver
Season: Spring
Color: Green
Yin Organ: Liver
Yang Organ: Gall Bladder
Healing Sound: "Shhhh" "Shu" At the end of the shhhh, form your mouth into the U shape.
Energetic Movements: Generating, Rising, Expanding
Temporal Associations: Morning of the Day, Youth, Spring, Planting Season, Age: 10-20 years old
Bodily Healing: Kidneys and Bladder; Tendons, Ligaments, Small Muscles, Eyes
Release: Anger, Indecisiveness, Meanness
Encourage: Decisiveness (Yang); Kindness (Yin)

The assignment of alchemical and magickal correspondences to the Deer vary amongst practitioners of the Five Animal Frolics, qigong theorists, and Taoist Alchemists. The following authors have provided tables of correspondences: Kenneth Cohen, Franklin Fick, Mike Garofalo, Alan Graham, Livia Kohn, Joseph Morales, Ken Morgan, Nancy Seeber, Yang Jwing-Ming, and Oberon Zell-Ravenheart.
Readers should keep in mind that knowledge of these alchemical and magickal correspondences is of some usefulness to most practitioners. The true Adepts and playful Wizards will need to pay very close attention to correspondences. Theses associations have a long history in China and their meanings are part of the mental aspects of the Five Animals Frolics Daoyin practice. Daily practice of the Frolics, often outdoors, is essential to embody these cosmic principles.
A wise person will always try to understand the cosmic forces that influence and/or rule our lives: the air we breathe, the sun that warms the earth, the water that sustains all living beings, the plants and animals of our world, the human technology that makes our lifestyles possible, the ideas and values that constitute our spirit. These forces are symbolized by Air (breath, energy), Fire (sun, hearth), Water (rain, snow, lakes, sea, ponds, wells), Wood (plants, trees, fruit, grains, food), Animals (Deer, Crane, Monkey, Tiger, Bear, Dragon, etc., domesticated animals, food, humans), Metal (technology, science, agriculture, earthly resources), Humanity (persons, family, village, state, society, culture), Spirit (mind, wisdom, Shen, Dao), and the Unbounded (imagination, fantasy, spirits, divine, Wu, Heaven).
In China, the Five Elements (Phases, Processes, Cycles) are: Earth, Fire, Water, Wood, and Metal. In the West, the Five Elements (Materials, Substances, Components) are Earth, Fire, Water, Air, and Spirit (Aether).
Here is my current table of correspondences for the Five Animal Frolics Daoyin:
Animal

Element

Season
Time

Direction
Weather

Organs
Body


Mental
Psychological

Animal
Characteristics

Energetics
Healing Sounds

Deer

Wood

Spring
Green
Dawn
Youth

East
Wind

Yin: Liver
Yang: Gallbladder
Joints, Tendons
Tears
Vision/Eyes

Benevolence/Kindness Ren
Anger, Shouting
Spirit
Patience & Subtlety

Gentleness
Calmness
Alertness
Herbivorous
Woodlands

Rise

Crane

Fire

Summer
Red
Morning
Childhood
Growth

South
Heat

Yin: Heart
Yang: Small Intestine
Blood Vessels
Muscles
Sweat
Touch

Propriety
Order Li
Joy, Laughing
Calmness
Control/Chaos
Heaven


Lightness
Omnivorous
Flying
Longevity
Steady/Balanced
Migratory
Marshlands

Radiate, Disperse, Scatter, Rise

"Hoo" as "Hook"

Monkey

Earth

Harvest
Yellow
Midday
Young Adult
Transformation

Center
Southwest
Humid

Yin: Spleen
Yang: Stomach
Spit
Muscles
Joints/Wrists
Taste, Mouth

Trust Xin
Pensiveness, Worry
Singing
Empathy
Humanity

Openness
Agility
Herbivorous
Curiosity

Knot

Tiger

Metal

Autumn
White
Afternoon
Dusk
Middle Age
Harvest

West
Dry

Yin: Lungs
Yang: Large Intestine
Nasal Mucus
Whole Body
Skin
Smell, Nose
Breathing

Righteousness
Integrity Yi
Grief/Sadness/Crying
Anxiety/Sorrow
Body

Ferocity
Strength
Awareness
Carnivorous

Speed
Leaping
Constrict

Bear

Water

Winter
Blue
Nighttime
Old Age
Storage

North
Cold

Yin: Kidneys
Yang: Bladder
Lower Back
Spit
Bones
Hearing , Ears

Wisdom Zhi
Honesty
Confidence/Worry
Fear
Earthiness
Inner Focus

Rootedness
Lumbering
Hibernating
Sensitive Smelling
Omnivorous

Gathering, Absorbing
Wavelike, Dropping

"Hooo" sounds like the word who.
I have reflected on and developed my own schemas and correspondences tables. Readers might want to look at my interpretations of the Trigrams of the I Ching.
I also developed a table of correspondences for the Baguazhang Qigong Animals circle walking practices. In the Bagua Qigong the two "Birds" are the Hawk and Phoenix: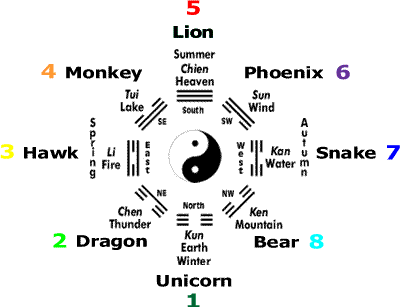 Animal Frolics Qigong (Daoyin): Deer Crane Monkey Tiger Bear Dragon

---



Waving Hands Like Clouds Homepage

Red Bluff, Tehama County, North Sacramento Valley, Northern California, U.S.A.
Cities in the area: Sacramento, Yuba City, Marysville, Oroville, Williams, Willows, Paradise, Durham, Chico,
Hamilton City, Orland, Corning, Rancho Tehama, Los Molinos, Tehama, Gerber, Red Bluff, Manton, Cottonwood,
Anderson, Shasta Lake, Palo Cedro, and Redding, CA
Come to Red Bluff and take a weekend Tai Chi or Qigong Workshop or Private Lessons with Mike Garofalo.

© Valley Spirit Qigong, Green Way Research, Red Bluff, California, 2003-2012
By Michael P. Garofalo, M.S., All Rights Reserved.

© Michael P. Garofalo, 2003-2012, All Rights Reserved
Parts of this webpage were first posted on the Internet in January 2003 at: http://www.egreenway.com/taichichuan/five.htm
Parts of this webpage were moved in June 2009 to: Animal Frolics Qigong, http://www.egreenway.com/qigong/animalfrolics.htm
This webpage was developed in March, 2010: http://www.egreenway.com/qigong/deer.htm
This webpage was last updated on March 19, 2012
Alphabetical Subject Index to the Cloud Hands Taijiquan and Valley Spirit Qigong Websites