Monday: 5:30 - 7:00 p.m. and Saturday: 9:30 - 11 a.m.
Outdoor Qigong Practice in Red Bluff, California
Monday, Friday, Saturday, and Sunday Mornings
Instructor
Michael P. Garofalo

Mike began learning Qigong and Taijiquan in 1986,
and has taught Qigong and Tai Chi since 2000.
YogaFit® Level IV Certified Yoga Instructor (236 Hours)
Teaching Yoga since 2004
Personal Fitness Trainer Certificate, AFAA, 2006-2008
M.S., B.A. Philosophy


Private Lessons are Available by Arrangement (530-200-3546)

Hatha and Raja Yoga Classes - Instructor: Mike Garofalo



Tehama Family Fitness Center
2498 South Main Street
South of the Interstate 5 and South Main Street Exit
Adjacent to the St. Elizabeth's Hospital and Medical Complex

Red Bluff, California
530-528-8656


This class is free for members of the Tehama Family Fitness Center (TFFC).
TFFC non-members can pay $5.00 for one Qigong/Yoga class; or, TFFC
non-members can take all classes and use the entire TFFC facility for $10 per day.

Our Qigong Class Content Varies: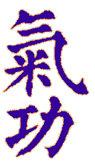 ---
© Green Way Research, Red Bluff, California, 2011
Wuji Standing (Zhan Zhuang) Meditation
Taoism: Bibliography, Links, Resources
Cloud Hands: T'ai Chi Ch'uan and Chi Kung Website
Disclaimer for the Valley Spirit Center Qigong Website
Qigong Studies by Mike Garofalo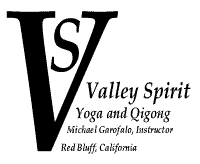 Red Bluff, Tehama County, North Sacramento Valley, Northern California, U.S.A.
Cities and small towns in the area: Oroville, Paradise, Durham, Chico, Hamilton City,
Corning, Rancho Tehama, Los Molinos, Vina, Tehama, Proberta, Gerber,
Manton, Cottonwood, Olinda, Cloverdale, Dairyville, Bend, Centerville, Summit City
Anderson, Shasta Lake, Palo Cedro, Igo, Ono, Redding, Shasta, Colusa, Willows,
Richfield, Fall River, Montgomery Creek, Alturas, McCloud, Dunsmuir, Yreka, Happy Camp,
Shingletown, Burney, Mt. Shasta City, Weaverville, Williams, Chester, Orland,
Susanville, Weed, Gridley, Marysville, Yuba City, NorCalifia, CA, California.