Walking Meditation

Contemplative or Spiritual Walking Practices
Labyrinth Walking, Pilgrimages, Quests
Kinhin (Japanese Zen), Bagua Qigong (Chinese Circle Walking), Kaihogyo
Buddhist Insight Meditation (Vipasanna), Mindfulness Meditation While Walking
Cankama (Sanskrit, India), Rlung-Sgom (Tibet)


Bibliography Links Resources Practices Quotations Notes Qigong Meditation
The Ways of Walking How to Live a Good Life Months Spirituality
Walking in a Sacred Circle Garden Cloud Hands Blog
Research by
Michael P. Garofalo

Walking Meditation
Bibliography, Links, Resources
Aligned, Relaxed, Resilient: The Physical Foundations of Mindfulness. By Will Johnson. Boston, Shambhala, 2000. 137 pages. ISBN: 1570625182. VSCL.

Alphabetical Index to the Cloud Hands Website

Anatomy of Hatha Yoga: A Manual for Students, Teachers and Practitioners. By H. David Coulter. Foreword by Timothy McCall. Honesdale, Pennsylvania, Body and Breath, 2001. Index, bibliography, appendices, 623 pages. ISBN: 0970700601. 2002 winner of the Benjamin Franklin Award for Health, Wellness and Nutrition. VSCL.

The Art of Pilgrimage: The Seeker's Guide to Makeing Travel Sacred. By Phil Cousineau. Conari Press, 2000. 288 pages. ISBN: 1573245097. VSCL.

Awake in the Wild: Mindfulness in Nature as a Path of Self-Discovery. By Mark Coleman. Introduction by Jack Kornfield. Novato, California, New World Library, 2006. Bibliography, 243 pages. ISBN: 9781930722552.

Awareness Through Movement; Health Exercises for Personal Growth. Easy to Do Health Exercises to Improve Your Posture, Vision, Imagination and Personal Awareness. By Moshe Feldenkrais. San Francisco, Harper Collins, 1972, 1977. 173 pages. ISBN: 0062503227. VSCL.

Bagua Qigong Circle Walking Chinese Qigong

Behind the Zhan Zhuang Training 7Kb.

The Benefits of Walking Meditation. By Sayadaw U. Silananda. Buddhist Publication Society, 1995. VSCL.

Body Learning: How the Mind Learns from the Body: A Practical Approach. By Ginny Whitelaw, Ph.D. New York, Perigee Book, Berkley Publishing Co., 1998. ISBN: 0399524061. VSCL.

BodyStories: A Guide to Experiential Anatomy. Expanded Edition. By Andrea Olsen in collaboration with Caryn McHose. Barrytown, New York, Station Hill Openings of Barrytown, Ltd., 1998. Index, bibliography, 168 pages. ISBN: 1581770235. VSCL.

Brahmacharis in Walking Meditation

Breathing: Bibliography, Links, Resources, Quotations, Notes

Breathwalk: Breathing Your Way to a Revitalized Body, Mind, and Spirit. Broadway Books, 2000. 256 pages. ISBN: 0767904931. Guru Charan's methods. VSCL.

Canes, Walking Sticks, Staffs, Poles

Case Studies of Walking Qigong on Chronic Diseases.

Center for Contemplative Mind in Society

Chi Walking: The Five Mindful Steps for Lifelong Health and Energy. By Danny Dreyer and Katherine Dreyer. New York, Simon and Schuster, A Fireside Book, 2006. Index, 258 pages.
ISBN: 0743267206. VSCL.

Circle Walking (Bagua) Chinese Qigong

Circle Walking, Sacred Circle Walking

Circling the Sacred Mountain: A Spiritual Adventure Through the Himalayas. By Robert Thurman and Tad Wise. New York, Bantam Books, 2000. 352 pages. ISBN: 0553378503. VSCL.

Cloud Hands Blog Posts about Walking Meditation

The Complete Guide to Chi-Gung: Harnessing the Power of the Universe. By Daniel Reid. Illustrations by Dexter Chou. Boston, Shambhala, 1998. Appendix, index, 326 pages. ISBN: 1570625433. VSCL.

The Complete Guide to Prayer Walking: A Simple Path to Body and Soul Fitness. By Linus Mundy. Crossroad Publishing Co., 1996. 168 pages. ISBN: 0824515463.

The Complete Guide to Walking for Health, Weight Loss, and Fitness. By Mark Fenton. Lyons Press, 2001. 288 pages. ISBN: 1585741906.

The Complete Idiot's Guide to Walking for Health. By Erika Peters. Indianapolis, Indiana, Alpha Books, Pearson Education Company, 2001. Index, 293 pages. ISBN: 0028640020. VSCL.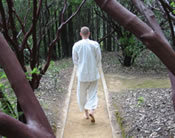 Cultivating Stillness: A Taoist Manual for Transforming Body and Mind. Translated with an introduction by Eva Wong. With a commentary by Shui-ch'ing Tzu. Illustrated
by Hun-yen Tsu. Boston, Shambhala Press, 1992. 156 pages. ISBN: 0877736871. VSCL.

"Daizong's Magic Walking Technique and Qigong." By Lan Blan. Internal Arts, Vol. 3, No. 6, November, 1988, p. 38.

Diabetes - Exercise Therapy: Taijiquan and Qigong

Discovering the Body's Wisdom. By Mirka Knaster. New York, Bantam, 1996.

A Discussion of Posture and Kinhin - A Somatic Practitioner's Perspective. By Hokaku Jeffrey Maitland. 11K

Earthwalks for Body and Spirit. By James Endredy and Victor Sanchez. Inner Traditions International, 2002. 200 pages. ISBN: 1879181789.

Ecoyoga: Practice and Meditations for Walking in Beauty on the Earth. By Henryk Skolimowski.

Ecstatic Body Postures: An Alternate Reality Workbook. By Belinda Gore. Foreword by Felicitas Goodman. Santa Fe, New Mexico, Bear and Company, 1995. Endnotes,
284 pages. ISBN: 1879181223. VSCL.

"Efficacy of Tai Chi, Brisk Walking, Meditation and Reading in Reducing Mental and Emotional Stress." By Jin P. Department of Psychology, La Trobe University, Bundoora,
Victoria, Australia. Psychosomatic Research. 1992 May;36(4):361-70. Abstract

Eight Section Brocade Qigong Eight Treasures Chi Kung. By Michael P. Garofalo. Instructions, notes, links, bibliography, quotations, and charts. 225Kb. Baduanjin,
Pa Tuan Jin, Eight Silken Treasures, Ba Duan Jin, Pal Dan Gum, Ba Duan Gin, Pa Tin Kam, Otto Pezzi di Tesoro. Between each of the eight postures is a period of Wu Ji.

Eight Eight Ways of Walking Suggestions by Mike Garofalo.

Empowerment Through Tai Chi Walking Meditation. Jennie Bev.

Exploring the Labyrinth: A Guide for Healing and Spiritual Growth. By Melissa Gayle West. Broadway Books, 2000. 224 pages. ISBN: 0767903560.

Five Steps: Meditative Sensation Walking. By Paul Crompton. Midpoint Trade Books, 1999. 80 pages. ISBN: 187425060X.

Free Your Breath, Free Your Life. How Conscious Breathing Can Relieve Stress, Increase Vitality, and Help You Live More Fully. By Dennis Lewis. Boston,
Shambhala Press, 2004. Index, recommended reading, 193 pages. ISBN: 1590301331.

Google Search - Walking Meditation

A Guide to Walking Meditation. By Thich Nhat Hanh. 12K

Guide to Walking Meditation. By Thich Nhat Hanh. Fellowship of Reconciliation, 1985. 60 pages. ISBN: 0911810757. VHS Video - 30 Minutes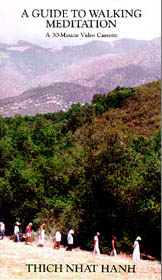 Guided Walking Meditation for Problem Solving for Children

The Healing Labyrinth: Finding Your Path to Inner Peace. By Helen Raphael Sands and Robert Ferre. Barrons Educational Series, 2001. 112 pages. ISBN: 0764153250.

The Healing Promise of Qi: Creating Extraordinary Wellness Through Qigong and Tai Chi. By Roger Jahnke, O.M.D.. Chicago, Contemporary Books, 2002. Index, notes, extensive
recommended reading list, 316 pages. ISBN: 0809295288. VSCL.

Index to the Cloud Hands Website

Insight Meditation (Vipassana), Mindfulness, Walking Meditation. Introductory reading.

Instructions for Walking Meditation. By Gil Fonsdal.

Internal Martial Arts and Walking

Kinhin Instructions. From Burning House Zendo.

Kinhin - Zen Walking Meditation 4K

Kinhin: "經行 (jap.: "kinhin" or "kyōgyō", chin.: jingxing) walking meditation is practiced between long periods of zazen. Practitioners walk clockwise around a room while holding their hands in shashu (left fist closed, while the right hand grasps the left fist). During walking meditation each step is taken after each full breath. The word kinhin means 'to go straight'. The beginning of kinhin is announced by ringing the bell twice (kinhinsho). The end of kinhin is announced by ringing the bell once (chukaisho)."
- Wikipedia Encyclopedia

Labyrinths: Bibliography, Links, Quotes, Resources, Notes

Labyrinths From the Outside In: Walking to Spiritual Insight. By Donna Schaper and Carole Ann Camp. Skylight Paths Press, 2000. 176 pages. ISBN: 1893361187.

Labyrinth Walking: Patterns of Power. By Patricia Telesco. Citadel Press, 2001. 208 pages. ISBN: 0806522178.

Living the Labyrinth: 101 Paths to a Deeper Connection with the Sacred. By Jill Kimberly Hartwell Geoffrion. Pilgrim Press, 2000. First published in 1985 by the United Buddhist Church. 104 pages. ISBN: 0829813721.

The Long Road Turns to Joy: A Guide to Walking Meditation. By Thich Nhat Hanh. Berkeley, California, Parallax Press, 1996. Revised edition. 74 pages. ISBN: 093807783X. VSCL.

The Magic of Labyrinths: Following Your Path, Finding Your Center. By Liz Simpson. Thorsons Publications, 2002. 176 pages. ISBN: 0007120478.

Magical Paths: Labyrinths and Mazes in the 21st Century. By Jeff Saward. Mitchell Beazley, 2002. 176 pages. ISBN: 1840005734.

The Man Who Walked Around the World

Meditation: Bibliography, Links, Resources, Quotations, Notes

Meditation for Beginners: Six Guided Meditations for Insight, Inner Clarity, and Cultivating a Compassionate Heart. By Jack Kornfield. Sounds True, book (88 pages) and audio-CD, 2004. ISBN: 1591791480.

Meditations for Walking. By J. Lynne Hinton. Smyth and Helwys Pub., 1999. 112 pages. ISBN: 1573122645.

Meditation Walking for Writers. Patricia Fry.

Mindful Hiker: On the Trail to Find the Path. By Stephen Altschuler. DeVorss Publishing, 2004. 180 pages. ISBN: 0875167977.

Mindful Nature Walking (One Step at a Time). By John Cianciosi.

Mindfulness Yoga: The Awakened Union of Breath, Body, and Mind. By Frank Jude Boccio. Boston, MA, Wisdom Publications, 2004. Index, bibliography, notes, 340 pages. ISBN: 0861713354. VSCL.

Mount Analogue. A Tale of Non-Euclidian and Symbolically Authentic Mountaineering Adventures. By René Daumal. Translated from the French by Carol Cosman. Woodstock, New York, Overlook Press, Tusk Ivories, 2004. 120 pages. ISBN: 1585673420. VSCL.

The Nia Technique. The High-Powered Energizing Workout that Gives You a New Body and a New Life. By Debbie Rosas and Carlos Rosas. New York, Broadway Books, 2004. Bibliography, glossary, 324 pages. Illustrated with photographs. ISBN: 0767917308. Nia is a newer fusion exercise system, and "Nia" stands for "Neuromuscular Integrative Action." VSCL.

On Pilgrimage: Sacred Journeys Around the World. By Jennifer Westwood. Hidden Springs, 2003. 310 pages. ISBN: 1587680157.

Opening the Energy Gates of Your Body (The Tao of Energy Enhancement. By Bruce Kumar Frantzis. Illustrated by Husky Grafx. North Atlantic Books, 1993. Second Edition. 174 pages. ISBN: 1556431643. VSCL.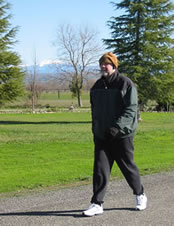 Pa Kua Chang Qigong Circle Walking Chinese Qigong

Pathways in the Green Valley Blog

Peace Is Every Step: The Path of Mindfulness in Everyday Life. By Thich Nhat Hanh. Foreword by Dalai Lama. New York, Bantam Books.

Philosophy in the Flesh: The Embodied Mind and Its Challenge to Western Thought. By Geogre Lakoff and Mark Johnson. Basic Books, Perseu Books, 1999. Index,
bibliography, 624 pages. ISBN: 0465056741. "The mind is inherently bebodied. Thought is mostly unconscious. Abstract concepts are largely metaphorical." VSCL.

Pilgrimage and Complexity: Adjustment Within a Representative Japanese Pilgrimage System. By Hiroshi Tanaka Shimazaki. Junrei = Pilgrimage

Praying at Every Turn : Meditations for Walking the Labyrinth. By Carole Camp. 2006.

Praying the Labyrinth: A Journal for Spiritual Exploration. By Jill Kimberly Hartwell Geoffrion and Lauren Artess. Pilgrim Press, 1999. 128 pages. ISBN: 0829813438.

Prevention's Complete Book of Walking: Everything You Need to Know to Walk Your Way to Better Health. Edited by Maggie Spilner and Elaine Ward. Rodale Press, 2000. 292 pages.
ISBN: 1579542360. VSCL.

Qigong (Daoyin, Chi Kung, Yangshengogn, Chinese Yoga): Links, Bibliography, Quotations, Notes

Quotations, Quips, Wisdom - Walking

Rediscovering the Laybrinth: A Walking Meditation. Grace Cathederal, San Francisco.

Relaxation: Bibliography, Links, Quotes, Notes

Resting in the River Thich Nhat Hanh. Shambhala Sun, March 1998.

Ripening Peaches: Taoist Studies and Practices

Rhythm Vision: A Guide to Visual Awareness. By Dennis Roth. Explore "Rhythm Walking."

Ripening Peaches: Daoist Studies and Practices

Sacred Circle Walking, Circle Walking

The Spirit of Gardening Over 3,800 quotations, poems, sayings and proverbs arranged by over 250 topics for gardeners and lovers of the Green Way.

Spirit: Walking Meditation: The Labyrinth. By Melanie Bowden.

The Spirited Walker: Fitness Walking for Clarity, Balance and Spiritual Connection. By Carolyn S. Kortge. Harper San Francisco, 1998. 272 pages. ISBN: 0060647361. VSCL.

Stepping in Suchness: The Prose of Walking Meditation. By Ronald S. Green. Palm Leaf Books, 2005. ISBN: B000BSZ51A..

Strength Training Anatomy. By Frederic Delavier. Champaign, Illinois, Human Kinetics, 2001. 124 pages. ISBN: 0736041850. Revised edition of "Guide des mouvements de
musculation" Paris, Ditions Bigot, 1998. An outstanding illustrated guide to muscles at work. Both male and female models are used. VSCL.

Subject Index to the Cloud Hands (Taijiquan and Qigong) Website

Sun Style of Taijiquan (Quick Steps Form)

T'ai Chi Ch'uan and Walking Links, quotations, lessons, notes.

Tai Chi Chuan: A Slow Dance for Health. By John Cheng, MD. "The Physician and Sports Medicine", Volume 27, No. 6, June, 1999. Excellent advice for older persons about walking and Tai Chi Chuan.

T'ai Chi Ch'uan: Guides, Bibliographies, Links, Quotations, Resources, Notes Tai Chi Chuang is a Chinese form of moving meditation. All Taijquan forms begin with Wu Ji, a period of time to compose oneself, relax, gain control of attention and concentration (Yi - Mind). All movements are done slowly, deliberately, gracefully, and will full meditative focus.

Tai Chi Walking. A Low-IMpact Path to Better Health. By Robert Chuckrow, Phd. Boston, YMAA, 2002. Index, 138 pages, 40 illustrations. ISBN: 188696923x. Read review and listen to recordings. VSCL.

Take a Mindful Hike Seven Steps to Quieting the Mind during a Walk through the Woods. By Stephen Altschuler.

Technique in Walking Meditation. Insight Meditation Online.

Technique in Walking Meditation with Ven. Pannyavaro

365 Days of Walking the Red Road: The Native American Path to Leading a Spiritual Life Every Day. By Terri Jean. Avon, Massachusetts, Adams Media Corp., 2003. 360 pages. ISBN: 1580628494. VSCL.

Thirteen Treasures Walking Qigong. By Michael P. Garofalo.

Thoreau, Henry David "Walking"

Transcendental Meditation Walking Technique for Children. "The benefits of meditation are numerous and far reaching. People from all cultures around the world practice meditation in their private homes and are enjoying the results in their daily lives. Transcendental Meditation (TM) is one form of meditation that is simple and easy for anyone to practice. Children learn a form of walking meditation called "word of wisdom" when they are 4 years old and then when they are 10 years they learn the sit down TM technique. I have fond memories of this technique when I was little and now I regularly practice TM and am loving life." - Asher Fergusson

Trees - Quotes, Poems, Sayings

Valley Spirit Center Red Bluff, California. Mike and Karen Garofalo.

VSCL = Valley Spirit Center Library, Red Bluff, California.

Vipassanā Meditation Guidelines. By Chanmyay Sayadaw.

Walking. By Henry David Thoreau. 1862.

Walking: A Complete Guide to the Complete Exercise. By Casey Meyers. Random House Paperbacks, 1992. 336 pages. ISBN: 0679737774.

Walking a Sacred Path: Rediscovering the Labyrinth as a Spiritual Tool. By Lauren Artress. Riverhead Books, 1996. 201 pages. ISBN: 1573225479.

Walking: Bibliography, Links, Notes, Resources

Walking Kung: Breathing for Health. By Sheng Keng Yun. Red Wheel/Weiser, 1997. 160 pages. ISBN: 087728895X.

Walking Meditation Dharma Talk by David Bennett. 16K.

Walking Meditation. By Steven Smith.

Walking Meditation. By Nancy J. Napier. Meditation exercises and experiences. 25Kb.

Walking Meditation By Sayadaw U. Pandita, abbot of Panditarama Monastery and Meditation Center in Rangoon, Burma. 51K.

Walking Meditation. The Center for Contempletative Mind in Society. 28Kb.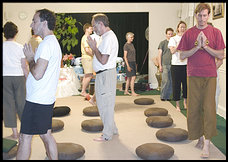 Walking Meditation. By Choalayna. 10Kb.

Walking Meditation. By Chris Arthur.

Walking Meditation. James H. Stout. 12Kb.

Walking Meditation. By Laurel Kallenback.

Walking Meditation. By Matthew Flickstein. Includes illustrations. 26Kb. Mirror

Walking Meditation. A Sermon for Seekers Church. By Muriel Lipp

Walking Meditation. On-line Instruction with Charles MacInerney. 17Kb.

Walking Meditation. By Rev. Kusala.

Walking Meditation: An Introduction. 12K. Includes a audio CD with instructions.

Walking Meditation and Feldenkrais. By Bob Murray and Alicia Fortinberry.

Walking Meditation and the Six Primary Elements. By Ven Sayadaw U Janaka.

Walking Meditation at Plum Villiage, France.

Walking Meditation: The Eighty Eight Ways of Walking. By Mike Garofalo.

Walking Meditation in the Thai Forest Tradition. By Ajahn Nyanadhammo. 38Kb.

Walking Meditation on Retreat. By Karen Burnett. 15Kb.

Walking Meditation: Pakua-The Martial Art of the I Ching. By Paul Crompton. Shaftesbury, England, Element Books, 1996. Glossary, resources, index, 163 pages. ISBN: 1852308974. VSCL.

Walking Meditation: Stride to Higher Awareness (Brain Sync Series) by Kelly Howell (Audio Cassette - May 1995)

Walking Qigong Developed in 1960 by Master Guo Lin. Taught for the Peaceful Dragon in Virginia by Kup Kup Fu.

Walking - Quotations, Quips, Poems, Sayings, Wisdom

Walking Quotations 1

Walking Quotations 2

Walking Quotations 3

Walking - Poems, Quotes, Sayings for Gardeners

Walking the Labyrinth: Bibliography, Links, Quotes, Resources, Notes

Walking: The Ultimate Exercise for Optimum Health. By Andrew Weil, M.D., and Mark Fenton. 2 CDs. Sounds True.

Walking Through Stress: Meditation in Motion. By Dick Harding. Cassandra Press, 1990. 181 pages. ISBN: 0945946090.

Walking Well with the Alexander Technique. By Charles J. Stein.

Walking with Frodo: A Devotional Journey Through the Lord of the Rings. By Sarah Arthur. Thirsty Books, 2003. 220 pages. ISBN: 0842385541.

Walking Yoga: Incorporate Yoga Principles into Dynamic Walking Routines for Physical Health, Mental Peace and Spiritual Enrichment. By Ila Sarley and Garrett Sarley. New York, Rireside Books, 2002. Index, 210 pages. ISBN: 0743421973. VSCL.

Warrior Walking: A Guide to Walking as Exercise, Meditation and Self Defense. By Josh Holzer. Unique Publications, 2000. 148 pages. ISBN: 1892515253. VSCL.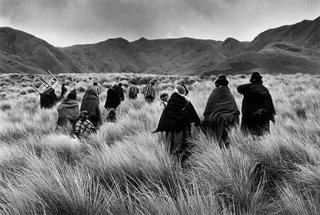 The Way of Energy: Mastering the Chinese Art of Internal Strength with Chi Kung Exercise. By Master Lam Kam Chen. New York, Fireside, Simon and Schuster, 1991. A Gaia Original. Index, 191 pages. ISBN: 0671736450. VSCL.

The Way of Qigong: The Art and Science of Chinese Energy Healing. By Kenneth S. Cohen. Foreword by Larry Dossey. New York Ballantine Books, 1997. Index, notes, appendices, 427 pages. ISBN: 0345421094. VSCL.

The Way of the Labyrinth: A Powerful Meditation for Everyday Life. By Helen Curry and Jean Houston. Penguin USA, 2000. 255 pages. ISBN: 014019617X.

Way of Walking: Eastern Strategies for Vitality, Longevity, and Peace of Mind. By Jacques Moramarco, O.M.D., L. Ac., with Rick Benzel. Chicago, IL, McGraw-Hill/Contemporary Books, 2000. Resources, 213 pages. ISBN: 0809225867. VSCL.

Ways of Walking: Quotes, Poems, Sayings, Lessons, Bibliography, Links, Resources

Wild Goose Qigong: Links, Bibliography, Quotes, Notes

Willpower: Quotes, Links, Bibliography, Resources

Wisdom of the Body Moving: An Introduction to Body-Mind Centering. By Linda Hartley. Berkeley, California, North Atlantic Books, 1989, 1905. Index, bibliography, 346 pages. ISBN: 1556431740.

Yin, Yang and Tai Chi Chuan Includes notes on Zen walking. 7K.

Yoga: Guides, Bibliographies, Links, Resources, Quotations, Notes

Yoga of the Mahamudra: The Mystical Way of Balance. By Will Johnson. Rochester, Vermont, Inner Traditions, 2005. 151 pages. ISBN: 0892816996. VSCL.

Zen Walking. By Jan Haag. 7K.

Zhan Zhuang Standing Like a Tree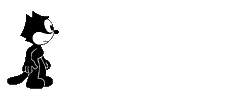 Walking Meditation
Quotations, Sayings, Poems, Facts, Information
"The rhythm of walking generates a kind of rhythm of thinking, and the passage through a landscape echoes or stimulates the passage through a series of thoughts. The creates an odd consonance between internal and external passage, one that suggests that the mind is also a landscape of sorts and that walking is one way to traverse it. A new thought often seems like a feature of the landscape that was there all along, as though thinking were traveling rather than making."
- Rebecca Solnit, Wanderlust: A History of Walking, p. 5.
"Walking meditation is learning to walk again with ease."
- Mirka Knaster

"Zen practice in the midst of activity
is superior to that pursued within tranquillity."
Hakuin, 1688-1769
"Each step we take creates a cool breeze, refreshing our body and mind.
Every step makes a flower bloom under our feet."
- Thich Nhat Hahn
"To find new things, take the path you took yesterday."
- John Burroughs
Walking Meditation
By Sayadaw U. Silananda
"Let us now talk specifically about the practice of walking meditation. If you are a complete beginner, the teacher may instruct you to be mindful of only one thing during walking meditation: to be mindful of the act of stepping while you make a note silently in the mind, "stepping, stepping, stepping," or "left, right, left, right." You may walk at a slower speed than normal during this practice.

After a few hours, or after a day or two of meditation, you may be instructed to be mindful of two occurrences: (i) stepping, and (ii) putting down the foot, while making the mental note "stepping, putting down." You will try to be mindful of two stages in the step: "stepping, putting down; stepping, putting down." Later, you may be instructed to be mindful of three stages: (i) lifting the foot; (ii) moving or pushing the foot forward; and (iii) putting the foot down. Still later, you would be instructed to be mindful of four stages in each step: (i) lifting the foot; (ii) moving it forward; (iii) putting it down; and (iv) touching or pressing the foot on the ground. You would be instructed to be completely mindful and to make a mental note of these four stages of the foot's movement: "lifting, moving forward, putting down, pressing the ground.

At first yogis may find it difficult to slow down, but as they are instructed to pay close attention to all of the movements involved, and as they actually pay closer and closer attention, they will automatically slow down. They do not have to slow down deliberately, but as they pay closer attention, slowing down comes to them automatically.

Although yogis pay close attention and slow down, they may not see all of the movements and stages clearly. The stages may not yet be well-defined in the mind, and they may seem to constitute only one continuous movement. As concentration grows stronger, yogis will observe more and more clearly these different stages in one step; the four stages at least will be easier to distinguish. Yogis will know distinctly that the lifting movement is not mixed with the moving forward movement, and they will know that the moving forward movement is not mixed with either the lifting movement or the putting down movement. They will understand all movements clearly and distinctly. Whatever they are mindful and aware of will be very clear in their minds.

As yogis carry on the practice, they will observe much more. When they lift their foot, they will experience the lightness of the foot. When they push the foot forward, they will notice the movement from one place to another. When they put the foot down, they will feel the heaviness of the foot, because the foot becomes heavier and heavier as it descends. When they put the foot on the ground, they will feel the touch of the heel of the foot on the ground. Therefore, along with observing lifting, moving forward, putting down, and pressing the ground, yogis will also perceive the lightness of the rising foot, the motion of the foot, the heaviness of the descending foot, and then the touching of the foot, which is the hardness or softness of the foot on the ground. When yogis perceive these processes, they are perceiving the four essential elements (in Pali, dhatu). The four essential elements are: the element of earth, the element of water, the element of fire, and the element of air. By paying close attention to these four stages of walking meditation, the four elements in their true essence are perceived, not merely as concepts, but as actual processes, as ultimate realities.

In the Great Discourse on the Foundations of Mindfulness, the Buddha taught walking meditation two times. In the section called "Postures," he said that a monk knows "I am walking" when he is walking, knows "I am standing" when he is standing, knows "I am sitting" when he is sitting, and knows "I am lying down" when he is lying down. In another section called Clear Comprehension, the Buddha said, "A monk applies clear comprehension in going forward and in going back." Clear comprehension means the correct understanding of what one observes. To correctly understand what is observed, a yogi must gain concentration, and in order to gain concentration, he must apply mindfulness. Therefore, when the Buddha said, "Monks, apply clear comprehension, " we must understood that not only clear comprehension must be applied, but also mindfulness and concentration. Thus the Buddha was instructing meditators to apply mindfulness, concentration, and clear comprehension while walking, while "going forward and back." Walking meditation is thus an important part of this process."
- Sayadaw U. Silananda, The Benefits of Walking Meditation
"Walking is the natural recreation for a man who desires not absolutely to suppress his intellect but to turn it out to play for a season."
- Leslie Stephen
"Wherever we walk, we can practice meditation. This means that we know that we are walking. We walk just for walking. We walk with freedom and solidity, no longer in a hurry. We are present with each step. And when we wish to talk we stop our movement and give our full attention to the other person, to our words and to listening.
Walking in this way should not be a privilege. We should be able to do it in every moment. Look around and see how vast life is, the trees, the white clouds, the limitless sky. Listen to the birds. Feel the fresh breeze. Life is all around and we are alive and healthy and capable of walking in peace.

Let us walk as a free person and feel our steps get lighter. Let us enjoy every step we make. Each step is nourishing and healing. As we walk, imprint our gratitude and our love on the earth.

We may like to use a gatha as we walk. Taking two or three steps for each in-breath and each out-breath,

Breathing in "I have arrived"; Breathing out "I am home"
Breathing in "In the here"; Breathing out "In the now"
Breathing in "I am solid"; Breathing out "I am free"
Breathing in "In the ultimate"; Breathing out "I dwell"
- Thich Nhat Hanh, Walking Meditation at Plum Village in France
"Singing the same song at a different tone,
In thoughts, destined to die, unknown.
Born unto a world not of our own,
We walked together, walking alone."
- Michael R. Anderson, Walking Alone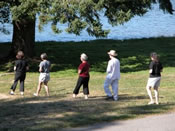 "In summary, the walking process involves four stages: lifting, raising, shifting, and dropping. Your inhalation is coordinated with the lifting movement of the heel of your foot and your exhalation with keeping your foot lifted, while your toes are still touching the ground. Your inhalation is coordinated with the raising and shifting movements and your exhalation with the dropping of your foot. While you are coordinating your breath with your physical movements, remember to pay bare attention to what is taking place; avoid making judgments, decisions, or comments.
Observe the impermanent nature of your walking experience: the intention that precedes each movement, the movement itself, and every breath which rises and falls from moment-to-moment. When your mind shifts to another object of awareness, focus on seeing that it is also impermanent. Then, gently but firmly, place your attention back on your walking movements, coordinating them with your breath."
- Matthew Flickstein, Journey to the Center: A Meditation Workbook. Boston, Wisdom Publications, 1998. pp.127-132.
"I have two doctors, my left leg and my right."
- G. M. Trevelyan
"While walking and noting the parts of the steps you will probably find the mind still thinking. Not to worry, keep focused on the noting of the steps if the thoughts are experienced just as 'background thoughts'. However, it you find you have been walking 'lost in thought' you must stop and vigorously note the thinking as 'thinking', 'thinking', 'thinking'. Then re-establish your attention on the movement and carry on. Also be careful that the mental noting does not become so mechanical that you lose the experience of the movement.
Try to do a minimum walking period of half an hour and build it up to a full hour. Strategically it is better to do a walking period before a sitting session as it brings balance into the practice. If you can alternate the walking and sitting sessions without any major breaks it will develop a continuity of awareness that naturally carries through into the awareness of your daily activities."
- Insight Meditation: Walking Meditation Practices
"My father considered a walk among the mountains as the equivalent of churchgoing."
- Aldous Huxley
"Start out walking a little faster than normal, and gradually slow down to a normal walking speed, and then continue to slow down until you start to feel artificial or off balance. Speed up just enough to feel comfortable, physically and psychologically. At first you may need to walk fairly fast to feel smooth in your gait, but with practice, as your balance improves, you should be able to walk more slowly. Be mindful of your breathing, without trying to control it. Allow the breath to become diaphragmatic if possible, but always make sure your breathing feels natural, not artificial. Allow the breath to become circular, and fluid.
Walk with 'soft vision' allowing the eyes to relax and focus upon nothing, while aware of everything. Smile softly with your eyes. Gradually allow the smile to spread from your eyes to your face and throughout your body. This is called an "organic smile" or a "thalamus smile". Imagine every cell of your body smiling softly. Let all worry and sadness fall away from you as you walk.
Walk in silence, both internal and external. Be mindful of your walking, make each step a gesture, so that you move in a state of grace, and each footprint is an impression of the peace and love you feel for the universe. Walk with slow, small, deliberate, balanced, graceful foot steps."
- Charles MacInerney, Walking Meditation
[Inner Smile meditation practice of Master Mantak Chia.]
"It is not talking but walking that will bring us to heaven."
- Matthew Henry
"Walking meditation benefits you in many ways:
* Teaches you to stay centered and aware in the midst of other activities so that you're less influenced
by chaos around you in other situations.
* Increases your sensory awareness, including the profound delights of the sights and sounds of
the great outdoors.
* Gets you out into fresh air and sunlight.
* Helps you develop a deep meditative awareness of motion, something we often take for granted.
* Focuses your attention on rhythm, including your breath and your gait. By walking meditatively, you become
aware of how your hips move, how your feet touch the ground, and how your torso and arms sway.
* Integrates exercise and your emotional state. The purpose of a walking meditation is to simply be, not to
reach a destination or increase your cardiovascular capacity - although it may have that benefit. Play with
the tempo of what feels good. If you feel energized, walk quickly. If you feel quiet and inward, walk slowly.
* Increases your sense of joy in knowing that walking is good for your body and spirit."
- Camille Maurine and Lorin Roche, "Meditation Secrets for Women" (HarperSanFrancisco, 2001).
"If you look for the truth outside yourself,
It gets farther and farther away.
Today walking alone, I meet it everywhere I step.
It is the same as me, yet I am not it.
Only if you understand it in this way
Will you merge with the way things are."
- Tung-Shan
"Think of it like this... you are starting off on a trek, and you just landed in Katmandu, You are going up to Mustang Valley....you are going to trek up one of these mountains, and there is the goal of reaching the top, there's the desire to get there, and then there's the realization that there is a whole process of getting there, and, along the way, more and more, there is the realization that the process is the goal. At first, you don't have your walking body...you have been busy and confined, muscles aren't loose, bones are a bit stiff.... it takes a while for there to be a rhythm between mind and body, to get into that rhythm, to be carried by that rhythm, so that the experience becomes being carried by the mountain, and then the second winds come...and the body just feels in flow, it feels in harmony, it feels in sync with the mountain itself and the movements up and down."
- Steven Smith
"All truly great thoughts are conceived by walking."
- Friedrich Nietzsche
"According to Jon Kabat-Zinn Director of the Stress Reduction Clinic at the University of Massachusetts Medical Center, one simple way to bring awareness into your life is through walking meditation. "This brings your attention to the actual experience of walking as you are doing it, focusing on the sensations in your feet and legs, feeling your whole body moving, " Dr. Kabat-Zinn explains. "You can also integrate awareness of your breathing with the experience."
To do this exercise, focus the attention on each foot as it contacts the ground. When the mind wanders away from the feet or legs, or the feeling of the body walking, refocus your attention. To deepen your concentration, don't look around, but keep your gaze in front of you.
"One thing that you find out when you have been practicing mindfulness for a while is that nothing is quite as simple as it appears, " says Dr. Kabat-Zinn. "This is as true for walking as it is for anything else. For one thing, we carry our mind around with us when we walk, so we are usually absorbed in our own thoughts to one extent or another. We are hardly ever just walking, even when we are just going out for a walk'. Walking meditation involves intentionally attending to the experience of walking itself."
- Walking Meditation Techniques
"Walking around
an early spring garden--
going nowhere.
- Kyoshi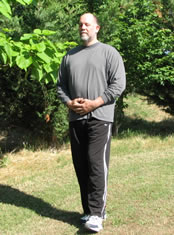 Mike Garofalo walking in the back yard at his home.
"Walking meditation means to enjoy walking without any intention to arrive. We don't need to arrive anywhere. We just walk. We enjoy walking. That means walking is already stopping, and that needs some training. Usually in our daily life we walk because we want to go somewhere. Walking is only a means to an end, and that is why we do not enjoy every step we take. Walking meditation is different. Walking is only for walking. You enjoy every step you take. So this is a kind of revolution in walking. You allow yourself to enjoy every step you take.
The Zen master Ling Chi said that the miracle is not to walk on burning charcoal or in the thin air or on the water; the miracle is just to walk on earth. You breathe in. You become aware of the fact that you are alive. You are still alive and you are walking on this beautiful planet. That is already performing a miracle. The greatest of all miracles is to be alive. We have to awaken ourselves to the truth that we are here, alive. We are here making steps on this beautiful planet. This is already performing a miracle. But we have to be here in order for the miracle to be possible. We have to bring ourselves back to the here and the now."
- Thich Nhat Hanh, Resting in the River
"There is this to be said for walking: It's the one mode of human locomotion by which a man proceeds on his own two feet, upright, erect, as a man should be, not squatting on his rear haunches
like a frog."
- Edward Abbey
"Walking meditation is best practiced on a designated path rather than casually walking about. The path should be straight, level, and have a reasonably smooth surface. It is also helpful if the path has a beginning and an end. You practice meditation by walking between these two points, being attentive and mindful of each step. Although the length of the path is primarily determined by individual preference, I have found that a path in the range of 10 to 20 yards is most useful. I suggest you experiment with paths of different lengths and find one most suitable for your practice.
Choosing a path with a beginning and an end is important because these two points provide structure for the meditation and foster sharper awareness. Each time you come to the end of the path, you are automatically reminded to check to see whether the attention is indeed with each step or whether the mind has wandered. In this way, you can re-establish focus more quickly and thus sustain awareness."
- John Cianciosi, Mindful Nature Walking
"Happy is the man who has acquired the love of walking for its own sake!"
- W.J. Holland
"Combining a walk with meditation is an efficient and healthy way to relax. You can use this technique anywhere — in a tranquil forest, on a city sidewalk or even inside a building where you work. When you use this method, slow down the pace of walking so that you can focus on each movement of your legs or feet. Don't focus on a particular destination. Concentrate on your legs and feet, repeating action words such as "lifting," "moving" and "placing" as you lift each foot, move your leg forward and place your foot on the ground. You can substitute other words if you like. Some people prefer to signal the beginning and end of a walking meditation with a ritual, such as the ringing of a bell, a ceremonial bow, silent prayer or spoken words of thankfulness."
- Mayo Clinic
"The press of my foot to the earth springs a hundred affections."
- Walt Whitman
"I have just returned from a walk alone. A walk so wonderful that I feel like reducing it to a universal rule, that all people ought to take a walk every evening all alone, . . . and that during this entire walk they ought to talk with God . . . and let God do most of the talking."
- Frank Laubach, Letters by a Modern Mystic
"You may also want to bring the practice of wogging into your life. Half slow walking (going uphill) and freely surrendered, speedy jogging (going downhill), it may become your preferred meditation posture or form of dance. The goal of the practice is not to condition the body aerobically; that happens as a natural byproduct. The goal of the practice is to open to and merge with the breath, letting your natural, surrendered breath determine how fast or slow your body moves, to stay as loose and relaxed as possible, to let every part of the body move as fluidly as possible, to surrender to the sensation and energies of the body as you keep playing with balance, to keep emptying the mind and staying in clear perception of vision and sound. Full-bodied breath comes easier during a wog than during any other activity. Sensations can be felt through the entire body. Vision can become very clear, and the mind can stay very empty."
- Will Johnson, Yoga of the Mahamudra, 2005, p. 134
"Research conducted at Harvard Medical School's Mind/Body Medical Institute has found that focused walking meditations are highly effective for reducing anxiety and producing
what's called the "relaxation response."
- Borgess Health
"Walking meditation is walking in full awareness of breath, body and everything the senses present. It is not an aerobic exercise - though it would be a fine lead-in to aerobic walking. Rather, walking meditation is done slowly and consciously, with each step fully feeling the earth. During this precious time, body and mind come together, joined in the present moment. Although the benefits of walking meditation will deepen over time, even from the start, you can experience some measure of the relaxation, balance and quiet energy that builds through this practice."
- Ginny Whitelaw, Body Learning, p. 55.
"Now, walk gently, at a deliberate but "normal" pace, to the end of the path. Stop. Focus on the body standing for the period of a couple of breaths. Turn, and walk back again. While walking, be aware of the general flow of physical sensations, or more closely direct your attention to the feet. The exercise for the mind is to keep bringing its attention back to the sensation of the feet touching the ground, the spaces between each step, and the feelings of stopping and starting.
Of course, the mind will wander. So it is important to cultivate patience, and the resolve to begin again. Adjust the pace to suit your state of mind -- vigorous when drowsy or trapped in obsessive thought, firm but gentle when restless and impatient. At the end of the path, stop; breathe in and out; "let go" of any restlessness, worry, calm, bliss, memories or opinions about yourself. The "inner chatter" may stop momentarily, or fade out. Begin again. In this way you continually refresh the mind, and allow it to settle at its own rate.
Walking brings energy and fluidity into the practice, so keep your pace steady and just let changing conditions pass through the mind. Rather than expecting the mind to be as still as it might be while sitting, contemplate the flow of phenomena. It is remarkable how many times we can become engrossed in a train of thought -- arriving at the end of the path and "coming to" with a start! -- but it is natural for our untrained minds to become absorbed in thoughts and moods. So instead of giving in to impatience, learn how to let go, and begin again. A sense of ease and calm may then arise, allowing the mind to become open and clear in a natural, unforced way. "
- Introduction To Insight Meditation, Amaravati Buddhist Centre, UK
"Walking with even breathing
Clears my mind
And now I'm feeling fine."
- Walking Meditation for Children
"Walking meditation (cankama) has been one of the popular methods for mind development in Buddhism, ever since the Buddha's time up until the present time, because of its advantages for both physical and mental health. Cankama literally means 'steady walking', that is to say, walking along with mindfulness (sati). Because of the many benefits of Walking Meditation, the Buddha and his disciples used it regularly. The Buddha, even though already freed from defilements, still used Walking Meditation for his physical exercise as evident in many written documents on Buddhism.
Take for example the Buddha's Walk (Path) in Jeta's Grove in Savatthi (Sanskrit : Sravasti), which at present is in the northeast of India. This Walk is still apparent as one walks near the Buddha's residence (Gandha-Kuti). Anatha Pindhika, a millionaire who was the Buddha's Noble Disciple, had this Walk made especially for the Buddha at the time he built the temple. The Walk was made of bricks and was about 2 meters wide, 75 centimeters above the ground, and approximately 25 paces long. The temple was deserted for hundreds of years and the Walk stayed buried underground until 150 years ago when the British Government, which ruled India at that time, ordered the ancient remains at Jeta's Grove to be restored. Hence, many of the ancient remains have been well-preserved until now. The author has visited this Walk four times while paying homage to the Buddhist sacred places in India."
- Walking Meditation
"My God is the God of walkers. If you walk hard enough you probably don't need any other God."
- Bruce Chatwin
"Walking meditation is not just for stretching our legs. It is a technique just as powerful as sitting. Within the Buddhist world there are many styles of walking meditation: the formal kinhin of Zen, the kaihogyo of Mt. Hiei, the rlung-sgom of Tibet, etc.
Walk slowly but naturally. Try to register as much information as possible about the sensation in each foot as it moves. Break the movement into distinct components and note each one. Distinguish the lifting, swinging and down-tread. Experience each change in tactile sensation against the floor as you lift and touch down. Try to feel the many tiny jerks of muscles involved in the foot's seemingly smooth motion. Try to see that each component and sub-component of the foot's motion has its own distinct beginning, middle and end.
At first you may want to make explicit mental note of the components by saying to yourself something like "Begin lift, lifting, end lift, begin swing, swinging, end swing, begin coming down, coming down, begin touching ground, touching..." However, as you become more and more aware of subtle events, you will not have time to characterize each with words. In any event, keep an unbroken stream of awareness about the foot. If your attention wanders, be aware of that fact and return to the foot. Remember, it is very important to keep the rest of the body relaxed while you do this.
Our sense of solidity and separateness comes about because we habitually grasp and freeze each moment of sensation. The vipassana walking exercise is designed to so completely flood your consciousness with reality moments that there simply is no time left for grasping and freezing. As soon as a piece of data is registered, move on to the next piece of data without allowing the memory of the former piece of data to congeal."
- Walking Meditation, Shinzen Young
"The ability to walk upright is one of the key characteristics which separates us from our nearest evolutionary cousins. Looking at those charts which show how humans evolved from a chain of hunched and swarthy hominids - Australopithecus, Pithecanthropus, Neanderthal man and so on - our path follows a line of increasing uprightness, as if seeking out the posture of the walker. In the last frame, where Homo sapiens has finally emerged, naked, tall, unhairy, recognizable as us, it's as if we had stood up straight and walked away from hunched, uncertain beginnings, a long hatching from some unimaginable egg, slow progress from a string of crawling, crouching, scampering metamorphoses. What a weight of history has been carried forward on our steps! We may be clumsy beside the grace of a gazelle, slow when compared to the speed of a sabre-toothed tiger's spring, feeble if measured against the massive tread of dinosaurs or mammoths (or of elephants and rhinos), but our walking has outpaced them all. We have walked our way across the world and beyond it; our steps have led to civilisations, commerce, art, science, warfare."
- Chris Arthur, Walking Meditation
"Life's work is nothing but the slow trek to rediscover, through the detours of art, those two or three great and simple images in whose presence one's heart first opened."
- Albert Camus
"In walking naturally the lifting movement, pushing movement, dropping movement of the foot is very prominent, very distinct to your mind so that you can easily note it.
When the object of meditation is prominent or predominant then you can easily note it. You can easily watch it. Because you can easily watch it your mind becomes very quickly concentrated on it. Then that concentration becomes also deep so it will last very long. One of the benefits of walking is to attain a long lasting concentration of the mind. Naturally some of you practice walking meditation systematically and diligently so you have had some concentration of the mind which is somewhat deep, better than you have had in sitting meditation. You know it through your experience.
That's what the Buddha said, you can attain long lasting concentration by means of walking. So when you are aware of each individual movement of the foot, and sometimes the intention too, then the mind becomes gradually concentrated on the movement of the foot very well. And the more energetically you note the movement the more deep is the concentration of the mind. Then when concentration becomes deeper and deeper you feel your feet become light as they automatically lift, automatically push forward, automatically drop down. You come to realize it. Sometimes you get startled at the experience of this automatic lifting and pushing and dropping of the foot. and as soon as you feel it you say to yourself, 'Hah, what's that? Am I mad or not?' In this way you get startled at the unusual experience of the movement of the foot."
- Ven. Sayadaw U Janaka, Walking Meditation.
"Now raise your hands up up
And hear the tones go higher
Now drop your hands down down
And hear the tones go lower
Then listen to your body most carefully
It's a natural little scale
Which your striding gait can play
Where the legs will mark the meter
And the arms will play the tune
It's a changing moving music
Which will make the body sway
It's the Dao Re Mi
That sets you on the way
On the way on the way on the way."
- The Dao Re Mi, by Dennis Roth
"It is solved by walking."
- Latin Proverb
"Tung Hai-Chuan (1813-18820 became a member of the Chuan Chen (Complete Truth) sect of Taoism. This sect was part of the Lung Men (Dragon Gate) school of Taoism which was originated by Chou Chang-Ch'uan. Interestingly enough, Chou also invented a method of meditation whereby the practitioner would walk in a circle and, wouldn't you know, this method was practiced by the Chuan Chen sect. Delving further into this Taoist connection, Professor K'ang Kuo Wu was able to find a section in the Taoist Canon which reads:
'A person's heart and mind are in chaos.
Concentration on one thing makes the mind pure.
If one aspires to reach the Tao, one should practice walking in a circle.'
This bit of evidence inspired Professor K'ang Kuo Wu of Beijing to try and find out more about the circle walk meditation method practiced by the Chuan Chen Taoists. What he discovered was that this practice, which the Taoists called Chuan T'ien Tsun (Rotating in Worship of Heaven) is very similar in principle to the circle walk practice of Pa Kua Chang.
Researching Wang Chun-Pao's book, 'Taoist Method of Walking the Circle,' Professor K'ang found that while walking, the Taoists repeated one of two mantras. The first of these mantras was used in the morning practice and translates to mean 'When Rotating in Worship of Heaven, the sound of thunder is everywhere and transforms everything.' The second mantra was used in the evening practice and translates to mean 'When Rotating in Worship of Heaven, the great void saves us from the hardship of existence.' It was said that the practitioner should repeat the mantra with each movement in the circle walk practice so that 'one replaces one's myriad thoughts with a single thought in order to calm and ease one's mind.' The Taoists said that in walking the circle the body's movements should be unified and the practitioner strives for stillness in motion. This practice was described as a method of training the body while harnessing the spirit."
- Jiang Hao-Quan Chinese Martial Arts Institute
"According to Native American tradition, "Walking the Red Road" is a metaphor for living within the Creator's rules—a life of truth, friendship, respect, spirituality, and humanitarianism. For centuries, Native American elders, parents, teachers, and spiritual leaders have handed down their wisdom and values from generation to generation, leading others down the path of self-discovery and enlightenment."
- 365 Days of Walking the Red Road, by Terri Jean.
"One step at a time is good walking."
- Chinese Proverb
"Today I have grown taller from walking with the trees."
- Karle Wilson Baker
"The Buddhist pilgrimage to the eighty-eight temples on Shikoku Island, Japan is a representative circular pilgrimage covering nearly 1400 kilometres (960 miles). Associated with K. B. Daishi (774-835 A.D.), the Shikoku pilgrimage has been popular since the beginning of the seventeenth century and continues to attract increasing numbers of pilgrims from all walks of life. Its endurance and undiminished social significance is due in part to its having been able to accommodate those changes necessary to keep pace with modernization while not abandoning traditional ties. Exploration of the adjustments that have been made by pilgrims, pilgrim leaders, priests, area residents and transportation providers alike in the attempt to resolve the conflict between tradition and modernization reveals the underlying strength of the ongoing popularity of this pilgrimage. The emergence of the pilgrimage as a spatial-symbolic system, the changing nature of the way in which the pilgrimage is made (acceptance of modern modes of transportation, order of temple visits, establishment of miniature pilgrimages), changes in the ritual conduct at each sacred site, and the responsive maintenance of temples reflect Japanese cultural preference."
- Hiroshi Tanaka Shimazaki, Pilgrimage and Complexity:
A night mountain walk, kaihogyo, with the Shugendo marathon monks on Mt Hei.
"Who will tell whether one happy moment of love or the joy of breathing or walking on a bright morning and smelling the fresh air, is not worth all the suffering and effort which life implies."
- Erich Fromm
"Every year, thousands make a pilgrimage to Mount Kailash following a tradition going back hundreds of years. Pilgrims of several religions believe that circumambulating Mount Kailash on foot is a holy ritual that will bring good fortune. The peregrination is made in a clockwise direction by Hindus and Buddhists. Followers of the Jain and Bönpo religions circumambulate the mountain on foot in a counterclockwise direction. The path around Mount Kailasa is 52 km (32 mi) long.

Some pilgrims believe that the entire walk around Kailas should be made in a single day. This is not easy; a person in good shape walking fast would take perhaps 15 hours to complete the 52 km trek. Many of the devout do accomplish this feat, little daunted by the uneven terrain, altitude sickness and harsh conditions faced in the process.
According to Hindu mythology, Shiva, the God of destruction and regeneration, resides at the summit of a legendary mountain named Kailasa. This Kailasa is regarded in many sects of Hinduism as paradise, the ultimate destination of souls and the spiritual center of the world."
- Mount Kailash, Wikipedia
Walking on Air
Walking on Eggshells
Walking on Cloud Nine
Walking on Water
Walking the Red Road
Walking through Walls
Walking Wisely

Journey Within
Life is a Journey
"Like breathing meditation, walking meditation is a simple and universal practice for developing calm, connectedness, and awareness. It can be practiced regularly, before or after sitting meditation or any time on its own, such as after a busy day at work or on a lazy Sunday morning. The art of walking meditation is to learn to be aware as you walk, to use the natural movement of walking to cultivate mindfulness and wakeful presence.

Select a quiet place where you can walk comfortably back and forth, indoors or out, about ten to thirty paces in length. Begin by standing at one end of this "walking path," with your feet firmly planted on the ground. Let your hands rest easily, wherever they are comfortable. Close your eyes for a moment, center yourself, and feel your body standing on the earth. Feel the pressure on the bottoms of your feet and the other natural sensations of standing. Then open your eyes and let yourself be present and alert.

Begin to walk slowly. Let yourself walk with a sense of ease and dignity. Pay attention to your body. With each step feel the sensations of lifting your foot and leg off of the earth. Be aware as you place each foot on the earth. Relax and let your walking be easy and natural. Feel each step mindfully as you walk. When you reach the end of your path, pause for a moment. Center yourself, carefully turn around, pause again so that you can be aware of the first step as you walk back. You can experiment with the speed, walking at whatever pace keeps you most present.

Continue to walk back and forth for ten or twenty minutes or longer. As with the breath in sitting, your mind will wander away many, many times. As soon as you notice this, acknowledge where it went softly: "wandering," "thinking," "hearing," "planning." Then return to feel the next step. Like training the puppy, you will need to come back a thousand times. Whether you have been away for one second or for ten minutes, simply acknowledge where you have been and then come back to being alive here and now with the next step you take.

After some practice with walking meditation, you will learn to use it to calm and collect yourself and to live more wakefully in your body. You can then extend your walking practice in an informal way when you go shopping, whenever you walk down the street or walk to or from your car. You can learn to enjoy walking for its own sake instead of the usual planning and thinking and, in this simple way, begin to be truly present, to bring your body, heart, and mind together as you move through your life."
- Jack Cornfield, A Path With Heart
"What is there that confers the noblest delight? What is that which swells a man's breast with pride above that which any other experience can bring to him? Discovery! To know that you are walking where none others have walked"
- Mark Twain
"The Philosopher's Walk is a cherry-tree lined 2 km public path located in Kyoto, Japan. It gets its name because Japanese philosopher Kitaro Nishida used to walk the path to meditate."
- Wikipedia
"If you want to know if your brain is flabby, feel your legs."
- Bruce Barton
"Begin by walking your normal walk a little more slowly. Become aware of your breath, breathing through you nose, and count the number of steps that you go with your inhale. Count the number of steps that you go with your exhale. Continue for several minutes in this way, blending your breathing with your walking, and your walking with your breathing.
Drop your shoulders and keep your back straight. Let the tension in your body fall to your center, where it blends with your breathing. Let your breathing sink to your center as your muscles relax. Use the same kind of breathing pattern as you practiced in lying-down meditation: relax on the inhale, set the hara as the start of the exhale. Practice bringing this rhythm into your walking. To set the hara for walking, place your hand on your lower abdomen (below your navel). Keeping your knees slightly flexed, tuck your tailbone ever so slightly forward. This should have the effect of rocking your hand slightly inward, creating a sense of roundness in your lower abdomen. Don't tuck too much, otherwise walking will be uncomfortable. With the slightest tuck, imagine your center becoming a perfectly round globe, which then becomes the center of your walking motion.
Allow the number of steps that go with each breath to increase as feels natural; as your body relaxes, your breathing will tend to slow down. In particular, let your exhale lengthen, growing two or three times as long as your inhale. Don't force your breath to lengthen; simply invite it to stretch out. Continue to breathe with your walk, allowing your body to move evenly from your center.
Feel your feet touch the earth. Feel the stability of each step as your weight rolls from heel to toe, from heel to toe.
Keep your head erect. Don't watch your feet or the ground as you walk. Let you eyes take in all that is around you, keeping your vision as broad as possible. Rather than focusing narrowly on each object with the center of your eye, see everything all at once by using peripheral vision. Take in the sounds, the smells, the beautiful, the not-so-beautiful; take in everything evenly - and be caught in none of it. If you find your attention wandering off, come back to your breath and blend it back with your step. Come back to your center. Come back to your feet feeling the earth. Come back to your senses.
Continue to walk. Enjoy your breath, body and mind - moving in this simple harmony, alive in this moment, and awake to what this moment offers."
- Ginny Whitelaw, Body Learning, (Berkeley Pub. Co., 1998), p. 56.
"The real voyage of discovery consists not in seeing new landscapes but in seeing with new eyes."
- Marcel Proust
"One known Taoist who created a type of circular meditative walk was Qiu Chang Chun, founder of the Long Men (Dragon Gate) sect. Followers of this branch were interested in blending with the earth's surroundings to absorb chi energy from nature. They believed that movement during meditation would help achieve these goals. In addition, their philosophy held that nothing in nature stands still, so their circular walks were simply mimicking the way of the world.
Another Taoist, Dong Men-Lin, from the Jiu Hua Mountains, is said to have taught circular walking practices to several students. Dong was known as The Yellow Cape Taoist within religious circles.
Depending on the source, either Qiu or Dong was the teacher of Tung Hai Ch'uan, the man who is most credited with transforming the early Taoist circular walks into the ba gua martial arts form in the nineteenth century."
- Jacques MoraMarco, The Way of Walking, p. 124
"Give me the strength to walk the soft earth, a relative to all that is."
- Black Elk
"The Steps of Yü the Great: Yü the Great has power over the hundred spirits. This was because he knew how to dance the steps of the celestial year. If you dance the steps of the celestial year, you will be able to escape these three destructive forces: thunder in the sky and lightening striking the earth; evil spirits inhabiting the mountains and rivers; and poisonous snakes and insects. Those who cultivate the Tao must be able to overcome these dangers. If you know the pattern of the celestial steps, you can climb to the clouds and wander in the three realms. No matter where you go, the immortals will protect you. Use the steps of Yü when you ascend the altar to make sky offerings. Dance the steps before you enter deep into the mountains. First, tap the teeth together to produce a series of clicking sounds. Next close your eyes and visualize the sun and moon. Now you can begin the dance. Extend the right arm along the north-south axis. Make a fist with the left hand leaving the second finger extended. Walk toward the east. When you step with the right foot, the finger should be pointing to the southeast, and you should be facing the east. Next, make a fist with the right hand, again leaving the second finger extended. Now, take a step with the left foot. The finger should be pointing to the northeast, and again you should be facing and walking toward the east. Make sure the guardians of the three realms are present before you begin to dance the steps."
- T'ai-hsüan pao-tien (The Sacred Treatise on the Great Mystery), late Sung Dynasty, Taoist Canon, Southern Branch of Complete Reality Taoism
Translated by Eva Wong, Nourishing the Essence of Life: The Outer, Inner and Secret Teachings of Taoism, 2004, p. 102.
"A person's heart and mind are in chaos.
Concentration on one thing makes the mind pure.
If one aspires to reach the Tao,
one should practice walking in a circle."
- Taoist Canon
"In Bodh Gaya, India, there is an old Bodhi tree that shades the very spot where the Buddha is believed to have sat in meditation on the night of his enlightenment. Close by is a raised walking path about 17 steps in length, where the Buddha mindfully paced up and down in walking meditation after becoming enlightened, experiencing the joy of a liberated heart.

In his teachings, the Buddha stressed the importance of developing mindfulness in all postures, including standing, sitting, lying down, and even walking. When reading accounts about the lives of monks and nuns in the time of the Buddha, you find that many attained various stages of enlightenment while doing walking meditation.

In walking meditation, the primary object of attention is the process of walking itself. In other words, to sharpen awareness and train the mind to concentrate, you pay close attention to the physical act of walking, the way you take one step after another. Thus the object is more obvious and tangible than in the more refined meditation techniques, such as focusing on the breath or a mantra, which are often used in traditional sitting meditation. Focusing the mind on this more obvious object helps to avoid sleepiness (or restlessness) that meditators sometimes experience during their sitting meditation.

The guidelines for walking meditation are similar to that of sitting meditation: Choose an appropriate time and decide how long to meditate; for beginners 15 to 30 minutes may be suitable. The walking path can be either inside or outside, depending upon your preference and the area available. Also, whenever possible, it is better to practice in bare feet, although this is not essential.

Stand at one end of the path and hold your hands gently together in front of your body. The eyes remain open, gazing down along the path about two yards ahead. The intention is not to be looking at anything in particular but simply to see that you remain on the path and know when to turn around.

You should now try to center yourself by putting aside all concern for the past and future. In order to calm the mind and establish awareness in the present, abandon any preoccupation with work, home, and relationships, and bring the attention to the body. The meditation exercise is simply to walk at a slow, relaxed pace, being fully aware of each step until you reach the end of the path. When you arrive at the end of the path, stop for a moment and check to see what the mind is doing. Is it being attentive? If necessary, reestablish awareness. Then turn and walk back to the other end in a similar fashion, remaining mindful and alert. Continue to pace up and down for the duration of the meditation period, gently making an effort to sustain awareness and focus attention on the process of walking."
- John Cianciosi, Yoga Journal
"Many of the Anglican meditation manuals used by Druids in the early years of the Revival gave special instructions for meditating while walking in a garden or some other quiet area. To meditate while walking, choose a route over level ground where you won't have to bend, climb stairs, duck around trees, or do anything else that will interrupt your thoughts. A paved or gravel path in a garden is ideal. It should lead in a circle, so that you can keep walking as long as necessary. Walk slowly and smoothly, taking relatively small steps at a steady rhythm. As with the seated posture, you spine should be straight without being stiff, the crown of your head level, and your eyes lowered. Let your arms move easily and naturally at your sides."
- John Michael Greer, The Druidry Handbook: Spiritual Practice Rooted in the Living Earth, p. 210
"We're fooling ourselves a bit to think that we're meditating as we're gardening or waling or out on the golf course or volunteering or even reading "spiritual books." Those are all cause and conditions that, with the right mindset - a mindset based on wise intention and anchored to a committed sitting practice - can enable us to relax, to be more at peace, to have some insights, to even have an occasional experience of oneness with all that is. But those activities, in and of themselves, with anchoring in strong intention and committed sitting practice, are unable to transform and free our minds. They are not in themselves, the necessary causes of awakening, let's not deceive ourselves in the time we have left.
"In theory there is no difference between theory and practice.
In practice there is."
- Yogi Berra
We need the focused, concentrated energy of awareness that seems only to be cultivated with a daily practice if we wish to walk through the world with clarity and compassion. We need to carve out the time to sit if we have not yet done so, , or carve out more time if we have already begun. Sitting - the silent, noble stilling of the body and the mind for the purpose of liberating awareness into beyond-self, into deeper, more illuminated consciousness - allows an opening in the limited, limiting paradigm of separate self and only form.
Sitting practice is where transformation is effected, where neural connections are rewired. Sitting practice is the lauching pad for piercing insight, direct knowing, and the opening of the heart. It is the base of operations."
- Kathleen Dowling Singh, "The Grace in Aging: Awaken as You Grow Older," Wisdom Publications, 2014, p. 33
Blog Post by Mike Garofalo on 8/12/2014: Is Sitting Meditation the Best?
Many Taijiquan, Qigong, and Yoga teachers strongly recommend seated meditation as part of a rigorous mind-body-spirit practice.
"Practice is the seedbed of miracles."
- Michael Murphy


Undoubtedly, many people find the consistent, daily, and serious practice of seated meditation of great benefit to mind, body, and spirit. Only practice and experience will reveal and bear fruit.


I favor keeping the "mindset" Ms. Singh admirably describes while walking, gardening, practicing mind-body arts, reading, writing, and sitting. There are many useful paths to enlightened awareness, mystical experiences, openness, cultivating loving kindness, or the Eightfold Path. The practice of enlightened living is cultivated in our daily lives, relations with other beings, and in our understanding of the changing and impermanent circumstances of our being-in-the-world. I find the desired "mindset" or "no-mind-set" while sitting in my garden, sometimes listening to music, sometimes reading poetry (see R. H. Blyth), or "spiritual books," sometimes just sitting and listening to bird songs and the rustling of leaves in the morning breeze. It is my personal preference to not regard seated meditation as the highest and most effective and most superior pathway to enlightenment and whatever "enlightenment" means. To each is own!
Walking Meditation
Standing Meditation
Lifestyle Advice from Wise Persons
"In theory there is no difference between theory and practice.
In practice there is."
- Yogi Berra
"Basho used to sit cross-legged from morning till night in constant meditation. His master Nagaku saw him and asked: "Why are you sitting cross-legged in meditation?" "I am trying to become a Buddha," he answered. The master picked up a brick and began polishing it on a stone nearby. "What are you doing, Master?asked Basho. "I am trying to turn this brick into a mirror," was the answer. "No amount of polishing will turn the brick into a mirror, sir." "If so, no amount of sitting cross-legged will make you into a Buddha," retorted the master."
-
Games Zen Masters Play: The Writings of R. H. Blyth.
,
p.13.

Walking Meditation
Notes and Observations, Questions, Leads
Walking Meditation Practices
Bagua Zhang Circle Walking Qigong

Eighty Eight Ways of Walking Qigong

Qigong, Dao Yin, Yang Shen Gong: Chinese Health Practices

Tai Chi Chuan Moving Meditation

---
Green Way Research, 2004 - 2015, Valley Spirit Center, Gushen Grove, Red Bluff, California
This webpage was last modified or updated on March 4, 2015.
This webpage was first published on the Internet in 2004.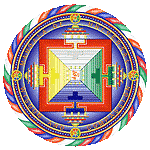 Wuji Standing (Zhan Zhuang) Meditation
Taoism: Bibliography, Links, Resources
Alphabetical Index to the Cloud Hands Website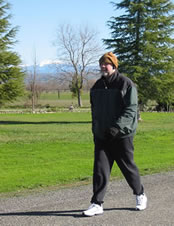 My very best wishes for your good health, happiness, and well being.