Qigong Classes 2016-2017

Instructor: Mike Garofalo, M.S.
Mike Retired on July 1, 2016.
He will no longer be teaching Tai Chi in Red Bluff.
He will be moving to the Vancouver, Washington area in 2017.

Mondays 5:30 - 6:30 p.m. Yoga and Qigong
Tuesdays: 5:30 p.m. - 6:30 p.m. Yoga and Qigong
Tuesdays: 6:30 p.m.- 7:30 p.m. Qigong and Taijiquan
Thursdays: 5:30 p.m. - 6:30 p.m. Yoga and Qigong
Thursdays: 6:30 p.m. - 7:30 p.m. Qigong and Taijiquan
Private Lessons Available (Email or Phone: 530-200-3546)
Qigong
Chi Kung, Yangshengong, Qigong, Dao Yin, Yang Sheng Fa
Chinese Warm-up Exercises, Chinese Yoga, Chi Kung,
Energy Development, Energy Work, Neijia (Inner Development)
Dao Yin (Guide and Pull) Exercises
Yang Sheng Fa (Taoist Longevity Methods)
Eight Section Brocade Qigong (Ba Duan Gin)
Five Animal Frolics Qigong (Wu Qin Xi)
Swinging Hands Exercises (Bai Bi Yun Dong)
The Magic Pearl Qigong Medicine Ball Exercise Routine
Entering Tranquility: A Standing Meditation Method (Zhan Zhuang)
Silk Reeling and Circles in Taijiquan
Muscle-Tendon Changing Qigong (Yi Jin Jing)
Luohan Eighteen Buddha Hands Qigong
Ripening Peaches: Taoist Studies and Practices
Index to the Valley Spirit Qigong Website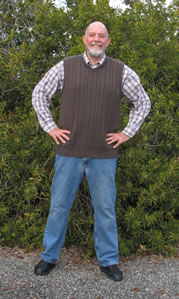 Instructor
Michael P. Garofalo, M.S.

I have been walking or jogging outdoors since 1973.
I began learning Yang Style Taijiquan and Qigong in 1986-1990 from Sensei Frank McGorick.
I studied Lui Ho Ba Fa and Qigong with Sifu Robert Moore from 1986-1990.
I have taught over 950 classes of Taijiquan and Qigong in Red Bluff, California, since 2000.
I also practice the Chen Style of Taijiquan and Sun Style of Taijiquan, the cane weapon, and many Qigong forms.
Tai Chi for Diabetes Instructor Trained and Certified by Dr. Paul Lam in 2003.
Tai Chi for Arthritis Level 2 Instructor (Sun Style) Trained and Certified by Troyce Thome in 2006.
Advanced Tai Chi and Qigong training at workshops or classes led by Robert Moore, Paul Lam, Ken Cohen, Yang Jun,
Patricia Long, Elaine Waters, Bill Helm, Doc Fai-Wong, Sher K. Lew, Kevin Weaver, and Troyce Thome.
I have taught Hatha and Vinyasa Yoga in Red Bluff since 2003 for over 1,300 hours of classes.
YogaFit® Level IV Certified Yoga Instructor (Standard 200 Hour Yoga Alliance Curriculum Completed)
Over 130 hours of additional yoga training with Dr. Paula Barros, Desiree Rambaugh, and at the Ananda Yoga Center.
All of my Yoga Classes Include Some Qigong (Chinese Yoga) Practices
Personal Fitness Trainer Certified by AFAA 2007
Mat Pilates AFAA Certified 2005
Spin Cycling AFAA Certified 2005
Aerobics and Fitness Association of America (AFAA) Certifications
SilverSneakers® Trained Instructor 2012
CPR and AED certified from 1999-2014.
Emergency 30-Day Substitute Teaching Permit, 4/1999 - 4/2014
Certified by the State of California Commission on Teacher Credentialing
M.A. Education, 40 units, CSU Chico; M.A., Philosophy, 30 units at CSU Los Angeles.
M.S., Library and Information Science, University of Southern California, 1968
B.A. Philosophy, CSU Los Angeles, 1967

Tehama Family Fitness Center
2498 South Main Street
Red Bluff, California
530-528-8656


The TFFC is located .1 mile south of the Interstate 5 and South Main Street (Highway
99 West) Exit; and immediately north of St. Elizabeth's Hospital and Medical Complex.
These yoga classes are free for members of the Tehama Family Fitness Center (TFFC).
TFFC non-members can pay $8.00 to participate in one Yoga class; or, TFFC
non-members can take all classes and use the entire TFFC facility for $15 per day.
---
Red Bluff, Tehama County, North Sacramento Valley, California
Red Bluff, Tehama County, North Sacramento Valley, Northern California, U.S.A.
Cities and small towns in the area: Oroville, Paradise, Durham, Chico, Hamilton City,
Corning, Rancho Tehama, Los Molinos, Vina, Tehama, Proberta, Gerber,
Manton, Cottonwood, Olinda, Cloverdale, Dairyville, Bend, Centerville, Summit City
Anderson, Shasta Lake, Palo Cedro, Igo, Ono, Redding, Shasta, Colusa, Willows,
Richfield, Fall River, Montgomery Creek, Alturas, McCloud, Dunsmuir, Yreka, Happy Camp,
Shingletown, Burney, Mt. Shasta City, Weaverville, Williams, Chester, Orland,
Susanville, Weed, Gridley, Marysville, Yuba City, NorCalifia, CA, California.

© Green Way Research, Red Bluff, California, 2001-2015
This Webpage was last changed on March 1, 2015.

Paths to Fitness and Well Being
T'ai Chi Ch'uan (Taijiquan) Internal Marital Art
Subject Index to the Valley Spirit Hatha Yoga Website