My Home Altar
Altars, Nemetons, Sacred Spaces, Ritual Centers, Fetishes, Symbols, Power Centers
By Michael P. Garofalo
Valley Spirit Center, Red Bluff, California
Four Quarters Altar Indoors Gushen Grove Nemeton Buddhist Goddess Tara Altar
"The religion of one age is the literary entertainment of the next."
- Ralph Waldo Emerson
I am not a Druid, Taoist, Buddhist, Tantric or Neo-Pagan believer or worshipper. I, Mike Garofalo, investigate these subjects out of literary, philosophical, historical, aesthetic, moral, and sociological curiosity. I am a student of comparative religions. I don't believe in supernatural beings and don't belong to any religious organization. I find the topics listed below interesting from a metaphorical, figurative, literary, imaginative, and aesthetic viewpoint.
Two areas that I have designated at our home for spiritual ceremonies and rituals include, beforehand, various physical representations of the Quarters. These objects help remind me of the essential ideas, symbols, myths, Elementals and Nature Spirits, Deities, and magickal concepts related to the Sacred Circle and the Quarters. They are "temples" for the central ideas of spiritual presence within the Sphere of the World. The themes are my eclectic drawing from the Deep Well of ancient Pagan and Neopagan lore. I hope I can taste just three drops from the Well of Uror from which the Three Norns draw the healing Waters of Life each day to pour on the Roots of Yggdrasil, or just three drops of the Holy Brew from the Cauldron of Cerridwen.
My indoor home altar includes objects which represent the Quarters. A picture of a oak tree, a picture of Athena, colorful rocks, a bowl of earth, green candle, and salt for the North. A feather, ritual knife, yellow crystal, and yellow candle for the East. A magickal oak wand, a red candle, and an incense burner for the South. A small iron cauldron, a small cup with water, and a blue candle for the West. Various small flags and posters on the walls of the ritual room, appropriate to the Quarters, are also used.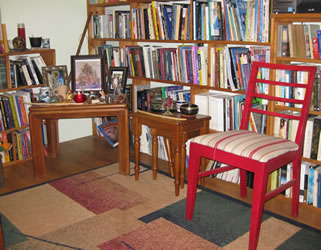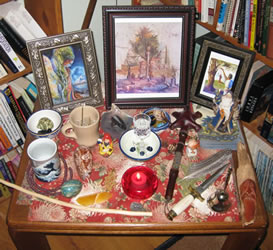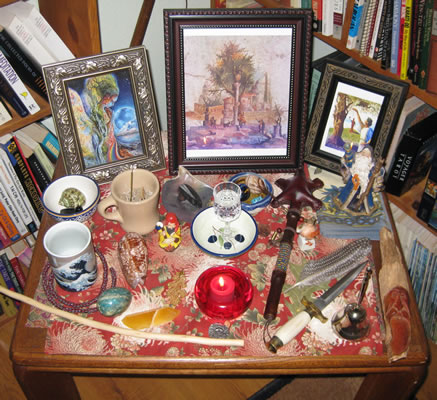 Return to the Index at the Top of this Webpage

Goddess Tara Altar
Tibetan Buddhist Goddess Tara
Green Tara, White Tara, Liberator, Savioress, Star Goddess
Mahadevi, Shakti, Bodhisattva, Buddha

Information coming in September 2012.
Return to the Index at the Top of this Webpage

Outdoor Sacred Space
Nemeton, Sacred Circle Garden, Gushen Grove
Our outdoor home altar, a Sacred Circle Garden, like the indoor altar, includes many objects with represent the Quarters, Cross Quarters, and Sacred Space. Refer to the table and photographs below for more details.
Looking towards the Southeast, 2006 Looking towards the Northwest, 2009
Sacred Circle Garden, Red Bluff, California Sacred Circle Garden, Red Bluff, California
More photographs of our Sacred Circle Garden.
Return to the Index at the Top of this Webpage

Table of Correspondences
A Sacred Circle
From Sacred Circles by Michael P. Garofalo, Librarian of Gushen Grove

Sacred Circle at the Valley Spirit Grove
Chart of Associations, Attributions, Elementals, Spirits, and Symbolism
Research by the Librarian of Gushen Grove
Red Bluff, California


Valley
Spirit
Sacred
Circle
Symbolism


Western
Cosmos
Magick

Daily Cycle
Human Age

Annual Cycle
Neo-Pagan and Secular Holidays
Liturgical Rites

Deities
Spirits
Ancients
Elementals

North
Green
Earth
Winter
Body
Oaks

Body, Flesh, Beings
Sensations
Touch
Secrecy and Darkness
Earth, Soil, Stone
Birth and Death
Night
New Moon
Pentacle, Coins
North
North Star, Big Dipper
Winter
Trees and Shrubs
Salt
Green Candle
Oak Trees


Midnight
12 am - 3 am

Conception to Birth
to 10 Years Old:
Babies,
Childhood,
and 90-100+ Years Old

Birth and Death


December 21st -
March 19th
Yule
New Year
Christmas

Goddess
Mother
Earth
Ceres, Demeter
Hera
Gaea, Rhea
Niflheimr
Dionysos
Great Bear of Night
Pan
Watcher of the North
Formalhaut
Gnomes
Earth Elemental
Uriel Archangel
Northeast
Lime Green
Cypresses


Early Morning
Sunrise
3am - 6am

10 to 20 Years Old

February 2nd - March19th
Imbolc
Chinese New Year
Midwinter
East
Yellow
Air
Spring
Mind
Spirit
Olives


Mind
Thinking
Air
Smell
Metal, Swords
Childhood and Youth
Dawn
Crescent Moon
Spring
East
Knife, Athame
Incense, Bells
Yellow Candle
Olives, Aspens

Morning
6am - 9am

20 to 30 Years Old
Young Adults

March 20th - June 20th
Spring Equinox, Ostara, Eostre
Memorial Day

Son
Aradia
Athena
Minerva
Hermes
Air
Hawk of Dawn
Watcher of the East
Aldebaran
Zeus
Sylphs
Air Elemental
Raphael Archangel


Southeast
Orange
Junipers

Mid-Morning
9am - 12pm

30 to 40 Years Old

May 1st - June 20th
Beltane
Walpurgis Night
Beginning of Summer Season

South
Red
Fire
Summer
Will
Action
Bay Laurel


Will, Spirit
Intuition
Wood
Fire
Sight
South
Adult and Middle Age
Midday
Summer
Full Moon
Staff, Stave
Magic Wand
Red Candle
Almonds
Walnuts

Noon
12 pm - 3pm

40 to 50 Years Old

June 21st - September 21st
Summer Solstice
Lithia
Labor Day
Midsummer
Father
Hestia
Zeus, Jupiter
Vesta
Hades
Fire
Muspellheimr
Horus Vulcan
Jotunheimr
Stag of Noon
Watcher of the South
Regulus
Salamanders
Fire Elemental
Michael Archangel

Southwest
Purple
Redwoods

Afternoon
3pm - 6 pm

50 to 60 Years Old

L

August 1st - September 21st
First Harvest Festival,
Mid-Summer Harvest Festival,
Lughnasadh, Lammas
Lithia
Labor Day

West
Blue
Water
Autumn
Emotions
Intuition
Evergreen Shrubs

Water, Cups
Taste
Middle and Old Age
Evening
Emotions, Feelings
Intuition, Dreams
Waning Moon
West
Autumn
Cauldron, Chalice
Blue Candle
Willows, Laurels
Blood
Divination, Prophesy
Spirit Journeys


Late Afternoon
Sunset
6 pm - 9pm

60 to 70 Years Old
Wise Elders

September 22nd -
December 20th
Autumnal Equinox
Mabon

Daughter
Aphrodite
Poseidon
Nestis, Persephone
Watcher of the West
Vanaheimr, Freyja
Antares
Water
Salmon of Dusk
Neptune
Undines, Ondine
Water Elemental
Gabriel Archangel

Northwest
Turquoise
Liquid Ambers

Evening
9pm - 12 pm

70 to 80+ Years Old
Wise Elders

October 31st -
December 20th
Halloween
Samhain
Thanksgiving
Beginning of Winter Season


Center
White



Center of Circle
Wholeness
Wisdom
Holy, Sacred
Harmony
Interdependence
Individual Self
Web
White Candle
White - All Colors
Aether


Year
Annual Cycle
A Human Life
Cosmos
Now, Present, Eternal Now

Human Being
Human Consciousness
Sentient Being
Midgardh
Middle Earth
Ego, Self
Aether
Vertical Axis

Infinity
Universe
Nine Worlds
World Tree
Yggdrasil
Return to the Index at the Top of this Webpage

Seasonal Celebrations and Festivals
Wheel of the Year, Circle of the Year
Honoring the Goddesses, Gods, Nature Spirits, Kindred, and Great Ones
Sacred Liturgy of the Year, Pagan Liturgy
Eight Neo-Pagan Feasts: Quarters and Sabbats (Sacred Times)
American Holidays


One Old Druid's Almanac
The Green Wizard's Ritual Year
Personal Reminder for Honoring the High Days
Notes from the Librarian at Gushen Grove

Months and Seasons
Quotes, Poems, Sayings, Verses, Lore, Myths, Holidays
Celebrations, Folklore, Reading, Links, Quotations
Information, Weather, Gardening Chores
Compiled by Mike Garofalo

Bibliography Links Home Cloud Hands Blog Eightfold Model
Eight Neopagan Seasonal Celebrations

1. Imbolic, Brigid's Day, February 2nd
2. Spring, Vernal Equinox, Ostara, Rebirth, Athena-Minerva, Resurrection, March 21st
3. Beltane, May Day, Floralia, Vernalia, Walpurgis Nacht, Spring, May 1st
5. Lughnasadh, Lammas, Midsummer Feast, August 1st
6. Mabon, Autumn Equinox, Alban Elfed, September 21st
7. Samhain, Halloween, Day of the Ancestors, October 31st
8. Yule, Winter Solstice, Saturnalia, New Year, December 20th-31st
Eight Trigrams of the I Ching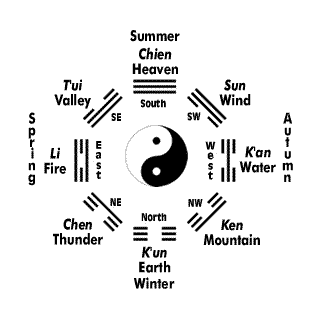 Valley Spirit Center Activities
Red Bluff, California

Gushen Grove Sacred Circle Eightfold Worlds Correspondences

Valley Spirit Center Sacred Circle Garden Photographs

Lifestyle Advice from Wise Persons

One Old Druid's Final Journey: Notebooks of the Librarian of Gushen Grove

---
© 2004 - 2012, Green Way Research, Red Bluff, California
Karen and Michael Garofalo, All Rights Reserved
This information on this webpage was first published on the Internet on August 23, 2012.
This webpage was last updated or changed on August 23, 2012.
Valley Spirit Center
Red Bluff, California

Red Bluff, Tehama County, North Sacramento Valley, Northern California, U.S.A.
Cities and small towns in the area: Sacramento, Davis, Woodland, Vacaville, Marysville, Yuba City,
Williams, Colusa, Willows, Orland, Oroville, Paradise, Durham, Chico, Hamilton City,
Corning, Rancho Tehama, Los Molinos, Vina, Tehama, Proberta, Gerber, Red Bluff,
Manton, Cottonwood, Olinda, Cloverdale, Dairyville, Bend, Centerville, Summit City,
Anderson, Shasta Lake, Palo Cedro, Igo, Ono, Redding, Shasta, Richfield, Fall River,
Montgomery Creek, Alturas, McCloud, Dunsmuir, Yreka, Happy Camp,
Shingletown, Burney, Mt. Shasta City, Weaverville, Chester, Susanville,
Weed, Gridley, NorCalifia, CA, California.
Months: Quotations, Poetry, Lore, Garden Chores
One Old Druid's Final Journey: Notebooks of the Librarian of Gushen Grove
Return to the Main Index on this Webpage