Olive Trees
Olives, Olive Oil
(Olea Europaea )

Information, History, Folklore, Uses
Bibliography, Links, Quotes, Notes



Compiled by
Michael P. Garofalo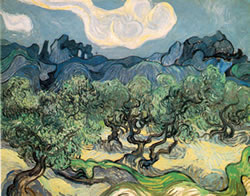 Olive Trees with the Alpilles in the Background
Vincent Van Gogh
1889
Olive Trees
(Olea Europaea L.)

Bibliography, Links, Resources
You can easily check out our high quality actualtests which prepares you well for the real certkiller You can also get success in real testking 640-802 exam with the quality testking and testking 200-120.

California: Crop Profiles for Olives

California: The Olive in California: History of an Immigrant Tree. By Judith M. Taylor and Kevin Starr.
Ten Speed Press, 2000. 316 pages. ISBN: 1580081312.

California Olive Industry Facts

California Olive Industry Information

California Olive Industry, Producers of California Ripe Black Olives

California Olive Oil Events, News, Information The Olive Oil Source.

California Olive Oil Producers Olive Source

California Olive Oil Producers California Olive

California: Olive Pit, Corning, California

California: The Olive Production Manual. A publication of the University of California, Division
of Agriculture. By Louise Ferguson. ANR Publications, 1994. 160 pages.
ISBN: 1879906155.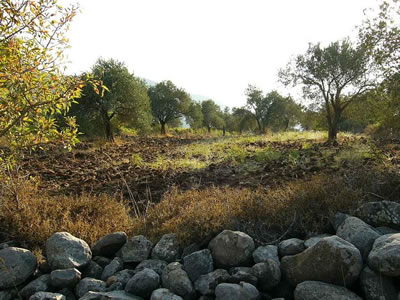 Olive Trees in Syria
Courtesy of Kevork

Divrei Torah - Olive Oil in Jewish Ceremonies

The Essential Olive Oil Companion. By Anne Dolamore and Madeleine David.
Interlink Pub. Group, 1999. 159 pages. ISBN: 1566563348.

Feast of the Olive: Cooking with Olives and Olive Oil. By Maggie Blyth Klein and
Mary Rich. Chronicle Books, 1994. Second edition. 200 pages.
ISBN: 0811805239.

Fruit Trees: Myth, Lore, Magick, Esoterica, Legends

Green Way Blog. By Michael P. Garofalo

Labyrinths: Bibliography, Links, Resources, Quotes, Notes

Mount of Olives (New Testament) Sermon 2

Mystical World Wide Web: Trees

Ode to Olives: Olive Lovers Unite 35Kb. History, recipes, facts, olive oil, books ...

Olive. Fruit and Nut Research and Information Center.

Olive - Botanical.com (A Modern Herbal) 9Kb.

Olive Fruit Facts 16Kb

The Olive in California: History of an Immigrant Tree. By Judith M. Taylor and Kevin Starr.
Ten Speed Press, 2000. 316 pages. ISBN: 1580081312.

Olive Oil: From the Tree to the Table. By Apostolos K. Kiritsakis, Elizabeth B. Lenart,
Walter C. Willet, and Ruben J. Hernandez. Second Edition. Foor and Nutrition Press,
1998. 348 pages. ISBN: 0917678427.
Olive Grove in the Springtime

Olive Oil Cookbook. By Louise Pickford. Smithmark Pub., 1995. Reprint Edition.
96 pages. ISBN: 0831762578.

Olive Oil: From Tree to Table. By Peggy Knickerbocker and Laurie Smith. Chronicle
Books, 1997. 168 pages. ISBN: 0811813509.

The Olive Oil Source Information, recipes, products, newsletter, supplies, presses and more.

Olive - Olea europaea 10Kb.

Olive - Olea europaea Facts, cultivation, history, folklore. By Mark Rieger. 15Kb

Olive Pit, Corning, California

The Olive Production Manual. A publication of the University of California, Division
of Agriculture. By Louise Ferguson. ANR Publications, 1994. 160 pages.
ISBN: 1879906155.

The Olive Tree - Significance Throght the History of Greece and Crete. 65Kb.

Olives and Olive Oil Recipes and Cooking Information

Olives and Olive Oil Recipes and Cooking Information. 30Kb.

Olives - Folklore, Myths, Magick, Esoterica

Olives - Greece - History Hellenic Republic, Ministery of Foreign Affairs, 32Kb.
"The sacred olive tree of Athens, the first olive tree given to the Greeks by the goddess
Athena, grew in the Acropolis and in the area of the Academy there were the 12 sacred
olive trees, 'moriai', and the sacred olive grove from which the olive oil given as a prize
to the winners of Panathenea was taken. In 480 BC, when the Persians occupied
Athens, they burnt down the sacred tree and this was considered by the Athenians
a bad sign. But the next day, sorrow was replaced by joy seeing that the burnt
trunk had already budded."

Olives - Red Bluff, California

The Olives Table. By Todd English and Sally Sampson. Simon and Schuster,
1997. 368 pages. ISBN: 0684815729. Todd English, chef/owner of Olives, a well-known
Boston restaurant, likes Mediterranean-inspired food with strong flavor combinations,
what he characterizes as "refined rustic."

Olives: The Life and Lore of a Noble Fruit. By Mort Rosenblum. North Point Press, 1998.
336 pages. ISBN: 0865475261.

Planting a Small Olive Grove in Australia

Pruning and Training Systems for Modern Olive Growing. By Riccardo Gucci and Claudio
Cantini. Csiro Pub., 2000. 160 pages. ISBN: 0643064435.
Paintings:
Olive Art. A collection of art works featuring the olive tree.
Olive Garden by Kathleen Parr McKenna.
Olive Trees by Vincent Van Gogh: Winter, Autumn, Winter

Mark Rieger's Fruit Crops Facts, information, cultivation, folkore, botany.

Sacred Trees. By Nathaniel Altman. San Francisco, Sierra Club Books, c 1994.
244 pages, index, bibliography, list of organizations, illustrations, drawings, black
and white photos. ISBN: 0882666207.

Saffron, Garlic and Olives. By Loukie Werle. Perseus Pub., 1999. 137 pages.
ISBN: 1555611842.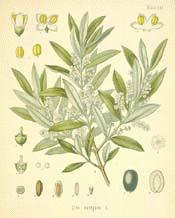 The Spirit of Gardening. Over 2,700 quotes arranged by over 135 topics. Complied by
Michael P. Garofalo.

Tree Medicine - Tree Magic. By Ellen Evert Hopman and Diana Green. Custer,
Washington, Phoenix Pub., 1992. 176 pages. ISBN: 0919345557.

Trees for Healing: Harmonizing with Nature for Personal Growth and Planetary Balance.
By Pamela Louise Chase and Jonathan Pawlik. North Hollywood, California, Newcastle
Publishing Co., Inc., 1991. 257 pages. Notes, bibliography, list of organizations. The lore
and magical aspects of trees. ISBN: 0878771573. MGC. Organized by areas of the
United States. Includes a bibliography.

Trees - Quotes for Gardeners I 70Kb.

Trees - Quotes for Gardeners II 120Kb. Includes a bibliography and links.

Trees - Quotes for Gardeners III 46Kb.

Trees - Quotes for Gardeners IV 48Kb. Includes quotations about wild trees and forests.

Trees: Lore, Spirituality, Wisdom, Magic, Folklore

The Wisdom of Trees. By Jane Gifford. New York, Sterling Publishing, 2000.
160 pages. ISBN: 0806927852.
Olive Trees
Quotes, Poems, Lore, Notes
"The olive originated in the Eastern Mediterranean area, and has been cultivated by man
since ancient times. Trees are extremely long-lived (up to 1000 yr) and tolerant of drought,
salinity and almost total neglect, and so have been reliable producers of food and oil for
thousands of years. Oil was used for cooking as well as burning in lamps; several references
are made to olive oil lamps in the Bible and other ancient writings. The olive was spread
throughout Mediterranean Europe and North Africa very early, due to its ease of propagation
by seed, cuttings, or "ovules" (callus growths on trunks which produce rooted shoots).
The olive is often mentioned in mythology and the Bible. Athene, the goddess for which Athens
was named, is said to have won this right by placing the world's first olive tree on the Acropolis
in Athens. The olive is associated with peace, probably from the passage in Genesis (8:11)
where the dove (another peace symbol) returns to Noah's ark with an olive leaf in its beak
when God had made peace with man and stopped the flood. In contrast, olives were sometimes
items of aggression; Odysseus jabbed an olive branch into the Cyclops' eye to blind him and
thus escape being eaten. Olive crowns were awarded to brave Roman soldiers."
- Mark Rieger, The Olive
"The whole Mediterranean, the sculpture, the palm, the gold beads, the bearded heroes,
the wine, the ideas, the ships, the moonlight, the winged gorgons, the bronze men, the
philosophers - all of it seems to rise in the sour, pungent taste of these black olives
between the teeth. A taste older than meat, older than wine. A taste as old as cold water.
Only the sea itself seems as ancient a part of the region as the olive and its oil, that like
no other products of nature, have shaped civilizations from remotest antiquity to the present"
- Lawrence Durrell (1912-1990), Prospero's Cell (1945)
"The olive is native to the Mediterranean region, tropical and central Asia and various parts
of Africa. The olive has a history almost as long as that of Western civilization, its development
being one of civilized man's first accomplishments. At a site in Spain, carbon-dating has shown
olive seed found there to be eight thousand years old. O. europaea may have been cultivated
independently in two places, Crete and Syria. Archeological evidence suggest that olives were
being grown in Crete as long ago as 2,500 B.C. From Crete and Syria olives spread to
Greece, Rome and other parts of the Mediterranean area."
- Olive Fruit Facts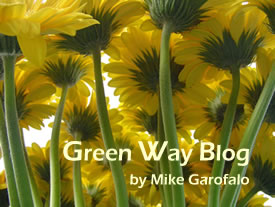 "O olive tree, blessed be the earth that nourishes you
and blessed be the water you drink from the clouds
and thrice blessed He who sent you
for the poor man's lamp and the saint's candle-light".
- Folk song from Crete
"The olive tree is surely the richest gift of heaven."
Thomas Jefferson
"Spain is the world's largest cultivator of olives, producing 970,000 tons
of olives annaully. The principal olive producting regions in Spain are
Catalonia and Andalusia. Spain and Italy together account for 54% of the
total amount of olive oil produced worldwide."
- Guinness World Records 2005

"It is easier to raise a legion of olive trees in Galilee
than to bring up one child in the land of Israel."
- The Talmud
"…I like them all, but especially the olive. For what it symbolizes, first of all, peace
with its leaves and joy with its golden oil."
- Aldous Huxley
"Angels with long braids and hearts of olive oil."
- Federico Garcia Lorca
"Not mine own fears nor the prophetic soul
Of the wide world dreaming on things to come
Can yet the lease of my true love control,
Supposed as forfeit to a confined doom.
The mortal moon hath her eclipse endured,
And the sad augurs mock their own presage,
Incertainties now crown themselves assured,
And peace proclaims olives of endless age."
- William Shakespeare, Sonnet 107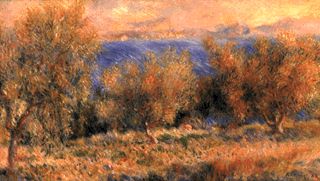 Les Oliviers de l'Estaque, 1882
Pierre Auguste Renoir
"The Jews, and then the Christians, began using olive oil to anoint kings, priests
and believers. In fact, the word "Christ" means "anointed, consecrated." The prophet
Malachea mentions that rivers of oil flowed during libations, and Samuel refers to the
consecration of Saul with a jar of oil."
- Sacred Meaning of the Olive Tree
"The Greeks were the first to be involved in the full-scale cultivation of the olive. Between
the 7th and 3rd centuries BC ancient philosophers, physicians and historians undertook
its botanical classification and referred to the curative properties of olive oil (Dioscorides,
Diocles) and its history (Anaxagoras, Empedocles 5th century), while Aristotle elevated
olive cultivation to a science. It was even protected by the legislation of the time. The first
Olive Protection Law was introduced by Solon (639-559 BC); in one of his statutes he
prohibited the cutting down of more than two trees a year in each olive grove."
- Olive Oil History
"The Christians continued the ancient custom of using oil in the burial ceremony. Olive oil
has put its seal on the Greek traditions with which it is irrevocably connected. Being the
sacred symbol of the cycle of life, it is used in every important moment and ceremony -
birth, christening, marriage and death. For the Orthodox Christians, oil, as well as
wheat and wine, has the significance of a religious good as it is connected with the
mysteries of Confirmation and Holy Unction. The faithful consider the oil sanctified
by the church to be a talisman and a source of help in every difficult moment.
According to another tradition, "ladadelfia" (oil-siblings), people having received
the oil of christening from the same godfather or godmother, are not allowed to
get married to each other."
- Hellenic Republic, Ministery of Foreign Affairs, Olives
"And wine that maketh glad the heart of man,
and oil to make his face to shine,
and bread which strengtheneth man's heart.".
- David, Psalm 93
There is no oil without squeezing the olives,
No wine without pressing the grapes,
No fragrance without crushing the flower.
So when you are pressed,
It is life bringing out the best in you.

"To be able to survive in a hot and dry climate, olive trees have small leaves with a protective
coating and hairy undersides that slows transpiration. An olive tree tends to grow dense, thin
branches. To produce more fruit, the tree is pruned heavily. Olives ripen through the autumn
and into the winter. As the oil content increases, the olives change color from green to violet
to nearly black. The green olives are harvested first. Olives can be hand picked, gathered
with a special wooden rake-like tool, or brought down by hitting the branches with long poles.
A net is laid down on the ground to catch the harvest."
- Olive - Olea europaea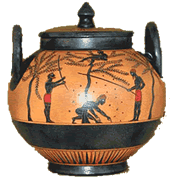 Wild olives out of red earth
(Blood of past praise and death)
first tasted in a crooked orchard
that clung on crumbling terraces -
the peculiar taste of wild olives
all the green of the world
in their green smooth skins.
High above that valley
where the roofs of Soller
swam in incalculable light
it was a taste
bitter as Spain's history
yet simple as poetry.
- William Oxley, The Peculiar Taste of Wild Olives
I am the honoured olive tree,
Wherever I may find my home,
My fruit will surely grow,
And deep into my great old age,
I find no shame in labour.

....................................
California Olive Industry Facts

Two varieties of olives were planted in Corning, California in 1904 – the
Mission variety and Sevillanos from the vicinity of Seville, Spain. Mission trees
soon bore the traditional small fruit Much later, the Sevillanos started producing
the Queens – the largest olives yet seen.
- Information from the Olive Pit in Corning, CA. Olives in Red Bluff, California
"Over 99% of the olives grown in the United States are grown in California. Approximately
1,000 growers farm 35,300 acres of olives in California. California is primarily a table olive
industry producing the "California black ripe" table olive. This is a product unique to California
and is unlike the Mediterranean styles. In 1998 the crop totaled 99,663 tons valued at
approximately $23,834,925. California grows almost 11.2 % of the total world production
of table olives and 0.1% of the olive oil. The majority of olive acreage in California (65%)
is located in the San Joaquin Valley, primarily in Tulare County (53% of the total). The
other production area is the Sacramento Valley, primarily Glenn and Tehama counties."
- California: Crop Profiles for Olives, 1999
"Today, the California olive industry consists of two canneries, which process 86,000 to
160,000 tons of olives annually. There are about 1,200 growers, with orchards varying
from as few as five acres to multi-crop farms with more than 1,000 acres. In 2001,
Tulare County in the central San Joaquin Valley accounted for 56.4 percent of olive
revenue. Fresno and Madera counties accounted for 11.4 percent. In the Sacramento
Valley, Glenn and Tehama counties represented 29.2 percent of total receipts.
California produces four main varieties of olives—Manzanillo, Mission, Sevillano,
and Ascolano. In 2002, Manzanillo olives accounted for 68,000 tons, or 66 percent
of the production."
- Olives Information, November 2003
....................................
A toast to the cocktail party: where olives are speared, and friends are stabbed.
If they squeeze olives to make olive oil, how do they make baby oil?

"Italians...seemed never to die. They eat olive oil all day long...and that's what does it."
- William Kennedy
"Fossilized olive trees, which are 50,000-60,000 thousand years old, were found in the
volcanic rocks of Santorini. Olives have always been a distinctive element of the Greek
country. Olive cultivation started in the pre-historic times -in the Stone and Bronze Age. .
Olive oil production held a prominent position in the Minoan and Mycenaean society
and economy as it shown by excavations and findings (e.g., earthenware jars, recordings
on tablets, and remains of oil mills). During the Minoan Period, olives were treated and
oil was produced which in turn was stored in earthenware jars and amphorae. Quite often
it was exported to the Aegean islands and mainland Greece. Apart from the financial
gains, though, the olive tree was worshipped as sacred and its oil, besides being offered
to the Gods and the dead, was also used in the production of perfumes, medicine and
in daily life as a basic product in the diet, for lighting and for heating."
- Olives - Greece - History
"There is no other food that can rival the olive for its role in cultures throughout history. The
olive tree is revered as sacred and immortal; its branches symbolize peace; its fruit
regarded an indispensable food, and its oil signifies prosperity, purity and has been an
essential element in religious ritual across cultures.
The Egyptians cultivated olive groves, as can be seen from an inscription on a temple to
the god Ra, from the time of Ramses II (1197-1165 BC), which told that the olive groves
around the city of Heliopolis gave pure oil, the best quality in all of Egypt, for lighting the
lamps in sacred places."
- Olives Through Time
See there the olive grove of Academe,
Plato's retirement, where the Attic bird
Trills her thick-warbled notes the summer long.
- John Milton, Paradise Regained (Bk. IV, l. 244)


Except for the vine, there is no plant which bears a fruit
of as great importance as the olive.
- Pliny (23-79 CE)

"Among Aristotle's works, the "Athenaeon Politeia" also shows the significance of olive oil in
ancient greek life. For the ancient Greeks, the olive tree represented, among other things, power
and peace: power, because of its longevity and its ability to flourish on the most barren terrain.
And it represented peace, possibly because of its solitary tranquility. For this reason, the winners
of the ancient Olympic Games, who represented the same ideals of strength and peace, were
awarded the "kotynos", a wreath made from a branch of wild olive. The ambassadors of peace
as well, in order to indicate their intentions, offer an olive branch to their interlocutors."
- Greek Olive Oil
"When Poseidon and Athena contended for the future city, an olive sprang from the barren
rock at the bidding of the goddess, the patron of those arts that were to bring undying
influence to the rising state. That this myth has some relation to the first planting of the
olive in Greece seems certain from the remarkable story told by Herodotus of the
Epidaurians, who, on their crops failing, applied for counsel to the Delphic oracle,
and were enjoined to erect statues to Damia and Auxesia (symbols of fertility) carved
from the wood of the true garden olive, then possessed only by the Athenians, who
granted their request for a tree on condition of their making an annual sacrifice to
Athena, its patron; they thus obeyed the command of the Pythian, and their lands
became again fertile. The sacred tree of the goddess long stood on the Acropolis,
and, though destroyed in the Persian invasion, sprouted again from the root--some
suckers of which were said to have produced those olive trees of the Academy
in an after age no less revered."
- Olive Information, Online Encyclopedia
Athena is Pallada Athena (Greek) and Minerva (Roman)
Panathenaea
"Long ago in Greece, King Cecrops established a city. It was predicted that the city would
become very famous and prosperous. Many gods wanted to become the special patrons
of the city. In the end there were two contestants left--Athena and Poseidon. To resolve the
conflict each one was supposed to give some kind of a gift to the city, and whoever
presented the greater gift would win the contest. Poseidon made a (water) spring appear
in the city and promised a strong navy to the city. Athena made the olive tree. She told
everyone how olives could be used for food, for cleansing, offerings, to light fires, and
many other uses. Athena won the contest and the city was called Athens in her honor."
- Ani's Greek Mythology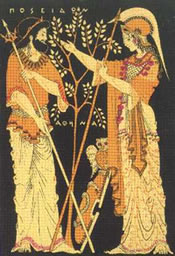 The Goddess Athena Blessing the Olive Tree
I am the Daughter of the Sun;
I am the Olive Tree,
The Blessed One.
- K. Palamas
---
Valley Spirit
Green Way

Red Bluff, Tehama County, North Sacramento Valley, Northern California, U.S.A.
Cities and small towns in the area: Oroville, Paradise, Durham, Chico, Hamilton City, Orland,
Corning, Rancho Tehama, Los Molinos, Tehama, Proberta, Gerber, Manton, Cottonwood,
Anderson, Shasta Lake, Palo Cedro, Igo, Ono, Redding, CA, California.


© 2004, Green Way Research, Red Bluff, California
Michael P. Garofalo, All Rights Reserved
This webpage was started on August 22, 2004.
Cuttings by Michael P. Garofalo
The History of Gardening Timeline
Cloud Hands: Taijiquan and Qigong
Valley Spirit Journal by Michael P. Garofalo
Months: Poems, Quotes, Lore, Chores
Pulling Onions by Michael P. Garofalo
Valley Spirit Photography Gallery