Yggdrasil
World Tree, Sacred Tree, Tree of the Cosmos, Cosmic Tree, Magickal Tree
Universal Tree, Tree of Life
Research by Michael P. Garofalo
The Librarian of Gushen Grove
Bibliography Links Quotations Home
World Tree
Bibliography, Links, Glossary, Resources
Amethyst's Wicca - Lore of the Trees

Casting the Circle, Calling on the Quarters, Invoking the Elementals

The Deva Handbook: How to Work with Nature's Subtle Energies. By Nathaniel Altman. Destiny Books, 1995. 176 pages. ISBN: 0892815523. VSCL.

Druidry, ADF, Three Sacred Ritual Tools and Symbols: Tree, Well, and Fire

Earth Spirit Living: Bringing Heaven and Nature into Your Home. By Ann Marie Holmes. Atria Books, Beyond Worlds, 2007. 288 pages. ISBN: 1582701504. VSCL.

Elementally Speaking: The Nature Spirit's Guide to their World. By Cheri Barstow. Trafford Pub., 2006. 156 pages. ISBN: 1412072719.

Elves, Wights, and Trolls: Studies Towards the Practice of Germanic Heathenry, Volume I. By Kveldulf Gundarsson. iUniverse, Inc., 2007. 184 pages. ISBN: 0595421652. VSCL.

Enchantment of the Faerie Realm: Communicate with Nature Spirits and Elementals. By Ted Andrews. Llewellyn Pubs., 2002. 240 pages. ISBN: 0875420028.

Findhorn Book of Practical Spirituality: A Down-to-Earth Guide to a Miraculous Life. By Kathy Gottberg. Findhorn Press, 2003. 128 pages. ISBN: 1844090078.

Green Witchcraft: Folk Magic, Fairy Lore, and Herb Craft. By Ann Moura (Aoumiel). St. Paul, Minnesota, Llewellyn Publications, 1996. Index, appendices, bibliography, 274 pages. ISBN: 1567186904. An good introductory text on the way of the old religion. Insightful observations on the history of religion by a historian. All aspects of the Green Craft are covered: philosophy, magick, rituals, seasonal celebrations, folk lore, herbals, craft tools, etc. For Aoumiel, the Green Craft involves pantheism, polytheism, reverence for nature, non-dogmatic beliefs and practices, home arts, and mostly solitary practice. VSCL.

Four Elements, Four Elementals, Four Watchers: Table of Correspondences

Green Man Bibliography, Links, Quotations, Resources, Lore, Myths

The Green Wizard's Reading List and Bibliography

Invoking the Elementals, Casting the Circle, Calling on the Quarters

Magic of Trees: Lore, Myths, Sacred Stories, Nature Spirits in Trees

Months and Seasons: Quotes, Poems, Lore, Mythology

Nature-Speak: Signs, Omens, and Messages in Nature. By Ted Andrews. Jackson, Tennessee, Dragonhawk Publishing, 2004. Index, 445 pages. ISBN: 1888767375. VSCL.

Nature Spirits and Elemental Beings: Working with the Intelligence in Nature. By Marko Pogacnik. Scotland, Findhorn Press, 2009. This is a revised, updated and expanded version of the 1997 edition. Bibliography, 253 pages. ISBN: 9781844091751. VSCL.

Nature Spirits and What They Say: Interviews with Verena Stael Holstein. Edited by Wolfgang Weirauch. Floris Books, 2005. 236 pages. ISBN: 086315462X.

Nature Spirits - Google Search

Nature Spirits of the Trees: Interviews with Verena Stael Von Holstein. Edited by Wolfgang Weirauch. Illustrated by Gundrun Hofrichter and Jesus Perez. Translated by Matthew Barton. Floris Books, 2009. 228 pages. ISBN: 0863157033.

Nature Spirits: Selected Lectures. By Rudolf Steiner. Rudolf Steiner Press, 2001. 197 pages. ISBN: 1855840189.

One Old Druid's Final Journey: The Notebooks of the Librarian of Gushen Grove

Planting Trees to Honor the Sacred Path, OBOD

Pathways in the Green Valley Blog

Plant Spirit Shamanism: Traditional Techniques for Healing the Soul. By Ross Heavern, Howard G. Charing, and Pablo Amaringo. Destiny Books, 2006. 280 pages. ISBN: 1594771189.

Pulling Onions by Mike Garofalo Aphorisms of a gardener. I have composed a number of Triads.

Ripening Peaches: Taoist Studies and Practices

Sacred Circles: Bibliography, Links, Quotations, Resources, Sacred Circle Garden

The Secret Life of Nature: Living in Harmony with the Hidden World of Nature Spirits from Fairies to Quarks. By Peter Tompkins. Harper One, 1997. 240 pages. ISBN: 0062508474.

Spirits of the Earth: A Guide to Native American Nature Symbols, Stories, and Ceremonies. By Robert Lake-Thom. Plume, 1997. 224 pages. ISBN: 0452276500.

The Spirit of Gardening 3,500 quotes arranged by 130 Topics

Tree Lore, Tree Magic, Tree Myths, Nature Spirits in Trees

Trees - Quotes for Gardeners I

Trees - Quotes for Gardeners II Includes a bibliography and links.

Trees - Quotes for Gardeners III

Trees - Quotes for Gardeners IV Includes quotations about wild trees and forests.

Tree Spirits: What are Tree Spirits. Louise Heyden.

World Tree
Quotations, Sayings, Aphorisms, Wisdom Lore
"We the largest Pines, the last of our kind, are Elders. We rule this forest and beyond. For untold winters and summers, many deer, moose, bear and grouse have paused and rested here. The big rock was dropped here long ago by the great Ice Spirit. It was a gift to the dwellers of this Land. Its power has helped us spread our seed to replenish our kind when your people cut us down. But our purpose is more than this and that is what your kind may never know. For you live in your bubble world of your machines and partial knowledge, a world bereft of spirit, ignorant of truth. As Elders, our link is with Spirit. Unbeknown to you we help bring spring's life force into the creek dogwoods, into the hillside maples, into the trilliums in the rich valleys. We bring the regenerative force of Spirit through the power of the great granite block so that all may benefit from the warm breath of April and the strong sun of summer."
- William Bradley
"In relation to the world tree Yggdrasill, Jafnhárr (Odin) tells Gylfi that Niflheimr is located under the third root, where Ginnungagap (Yawning Void) once was: The Ash is greatest of all trees and best: its limbs spread out over all the world and stand above heaven. Three roots of the tree uphold it and stand exceeding broad: one is among the Æsir; another among the Rime-Giants, in that place where aforetime was the Yawning Void; the third stands over Niflheim, and under that root is Hvergelmir, and Nídhöggr gnaws the root from below."
- Niflheim

One Old Druid's Final Journey

The Notebooks of the Librarian of Gushen Grove
Neo-Pagan, Druid, Roman Hearth, and Green Spirituality
Contemplative and Magical Arts
Advice from the Guides for a New Druid's Journey
Wheel of the Year, Seasonal Celebrations
Roman Hearth Neo-Pagan Religion
Lifestyle Advice for Wise Persons
Pathways in the Green Valley Blog
The Green Wizard's Reading List
String Figures, String Art, Sting Games
Who is the Librarian of Gushen Grove?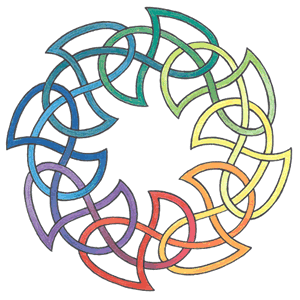 TAGS

Yggdrasil, Wold Tree, Sacred Tree, Divine Tree, Cosmic Tree, Tree of the Cosmos,

June 16, 2010
First published on the Internet on June 16, 2010.