Strength Training:
T'ai Chi Ch'uan, Chi Kung, Kung Fu and Yoga

Compiled and Indexed By
Michael P. Garofalo

March 24, 2004
Bibliography and LInks
Strength Taining and T'ai Chi Ch'uan, Yoga, and Qigong
ACE Personal Trainer Manual. The Ultimate Resource for Fitness Professionals.
By the American Council on Exercise. 3rd Edition. Edited by Cedric X. Bryant
and Daniel J. Green. San Diego, California, American Council on Exercise, 1996,
2003. Index, 589 pages. ISBN: 1890720143. MGC.

Anatomy of Hatha Yoga: A Manual for Students, Teachers and Practitioners.
By H. David Coulter. Foreward by Timothy McCall. Honesdale, Pennsylvania,
Body and Breath, 2001. Index, bibliography, appendices, 623 pages.
ISBN: 0970700601. MGC. 2002 winner of the Benjamin Franklin Award for
Health, Wellness and Nutrition.

Anatomy of Movement. By Blandine Calais-Germain. Seattle, Washington,
Eastland Press, 1985, 1993. Translated from the French by Nicole Commarmond.
Index, 289 pages. ISBN: 0939616173. MGC.

Ancient Way to Keep Fit. Compiled by Zong Wu and Li Mao. Translated by Song Luzeng,
Liu Beijian, and Liu Zhenkai. Paintings by Zhang Ke Ren. Foreward by Kumar
Frantzis. Bolinas, California, Shelter Publications, 1992. 211 pages, glossary.
ISBN: 0679417893. Outstanding illustrations by Zhang Ke Ren. MGC.

Arthritis Therapy - Exercise - Tai Chi Chuan and Qigong Bibliography, links,
notes, quotes, and references to medical studies. 23Kb.

Ashtanga Yoga " Practice Manual" An Illustrated Guide to Personal Practice. The Primary and
Intermediate Series plus Three Short forms. By David Swenson. Foreward by K. Pattabhi Jois.
Ashtanga Yoga Productions, 1999. 263 pages. MGC. ISBN: 1891252089.

Ashtanga Yoga: The Definitive Step-by-Step Guide to Dynamic Yoga. By John Scott.
Foreward by Shri K. Pattabhi Jois. New York, Three Rivers Press, 2000. Index, bibliography,
143 pages. MGC. ISBN: 0609807862.

Ba Gua Zhang: Links, bibliography, quotes, and notes. Circle walking internal
martial arts.

"Bodhi Building." By Fernando Pages Ruiz. Yoga Journal, August 2000, p. 84-91+.

Chen Style Taijiquan: Links, bibliography, quotes, notes.

Cheng Man-ch'ing (1901-1975) Links, bibliography, a list of the movements in
the 37 movements short form of Master Cheng, quotations, and notes.

C'hi: The Power Within. By Geoff Pike and Phyllis Pike. Chi Kung Breathing Exercises
for Health, Relaxation and Energy. Boston, Charles E. Tuttle Co., 1993. Index, 272
pages. ISBN: 0804830991. MGC. A man in is 40's overcomes poor health and cancer through
the daily practice of Chi Kung and martial arts. Many yoga practices are found in this book.

Clinical Trails Show How Tai Chi Chuan Helps Heart, Arthritis, and Motor Function.
By Bill Gallagher, PT, MS

The Complete Book of Tai Chi Chuan: A Comprehensive Guide to the Principles
and Practice. By Wong Kiew Kit. Shaftesbury, Dorset, Element, 1996. Index,
bibliography, 316 pages. ISBN: 1852307927. MGC.

Cross-Training for Dummies. By Tony Ryan and Martica K. Heaner. Foster City,
California, IDB Books, 2000. Index, appendices, 350 pages. ISBN: 0764552376.

Diabetes Therapy - Exercise - Tai Chi Chuan and Qigong Bibliography, links,
notes, quotes, and references to medical studies. 30Kb+

Eight Section Brocade Qigong Eight Treasures Chi Kung. By Michael P. Garofalo.
Instructions, notes, links, bibliography, quotations, and charts. 180Kb+.

The Essence of Tai Chi Chi Kung: Health and Martial Arts. By Yang Jwing-Ming. Jamaica
Plain, Massachusetts, 1990. Glossary, 148 pages. ISBN: 0940871106.

Essentials of Anatomy and Physiology. By Frederic Martini and Edwin F. Barholomew.
New York, Prentice Hall, 1999. Second Edition. Index, 648 pages. ISBN: 0130821926.

Fabulously Fit Forever. By Frank Zane. Palm Springs, CA, Zananda, Inc., 1993,
Revised 2nd Edition, 1995. Notes, 334 pages. ISBN: 0963616714. A championship
bodybuilder and psychologist gives us sage advice about fitness and health. MGC.

Facing Your Fifties: Every Man's Reference Guide to Mid-Life Health. By Gordon Ehlers,
M.D., and Jeff Miller. New York, M. Evans and Co., 2002. Index, 370 pages.
ISBN: 0871319543.

Factsheet on Tai Chi Chuan for Persons with Disabilities. NCPAD is part of the
Department of Disability and Human Development in the College of Applied Health Sciences
at the University of Illinois at Chicago.

The Healer Within. Using Traditional Chinese Techniques to Release Your Body's Own
Mediciine - Movement, Massage, Meditation and Breathing. By Roger Jahnke, O.M.D.
Harper San Francisco, 1999. 288 pages. ISBN: 0062514776.

The Healing Promise of Qi: Creating Extraordinary Wellness Through Qigong and Tai Chi.
By Roger Jahnke, O.M.D.. Chicago, Contemporary Books, 2002. Index, notes, extensive
recommended reading list, 316 pages. ISBN: 0809295288.

Joe Weider's Ultimate Bodybuilding: The Master Blaster's Principles of Training and
Nutrition. By Joe Weider with Bill Reynolds. Chicago, Illinois, Contemporary Books,
1989. Index, 508 pages. ISBN: 0809247151. MGC.

Kinesiology of Exercise. By Michael Yessis. Masters Press, 1992.

Knocking at the Gate of Life and Other Healing Exercises from China. Official Manual of the
People's Republic of China. Translated by Edward C. Chang. Pennsylvania, Rodale Press, 1985.
Index, 202 pages. ISBN: 0878575820. The Eight Section Brocade, Pa Tuan Chin: pp. 24-29.
MGC.

Kuo Lien Ying and Kwang Ping Yang Taijiquan Links, bibliography, quotes, notes.

Mind Over Matter: Higher Martial Arts. By Shi Ming with Siao Weijia. Translated by Thomas
Cleary. Berkeley, California, Frog, Ltd., 1994. 102 pages. ISBN: 1883319153.

Movements of Magic: The Spirit of T'ai Chi Ch'uan. By Bob Klein. North Hollywood,
CA, Newcastel Publishing Co., 1984. 158 pages. ISBN: 0878770720.

Older Persons and T'ai Chi Ch'uan

Overview of Internal Exercise. By Gaofei Yan and Jude Smallwood. 29K.

Pa Kua Ch'uan: Bibliography, Links, Quotes, Notes. Circle walking internal martial arts.

"Peak Performers" by Matthew Solan and Phil Catalfo. Yoga Journal, October, 2001, p. 89+.
How the practice of yoga has helped many top level athletes.

Power to the People. By Ravel Tsatsouline. Dragon Door Publications, 1999.

Push Hands (Tui Shou) in Tai Chi Chuan. Links, bibliography, quotes, notes. 25Kb.

Qigong: Links and Bibliography

Relaxation (Song) and Tai Chi Chuan Quotes, links, bibliography, notes.

Short Form 24 Taijiquan, Beijing, Yang

Short Form 37 Taijiquan, Cheng Man-ch'ing, Yang

Silk Reeling (Chan Ssu Jin): Links, bibliography, quotes, notes.

Simple Fitness Exercises : Traditional Chinese Movements for Health & Rejuvenation.
By Jiawen Miao. Llewellyn Publications, 2000. 111 pages. ISBN: 1567184952. MGC.

Solo Training: The Martial Artist's Guide to Training Alone. By Loren W. Christensen.
Turtle Press, 2001. 304 pages. ISBN: 1880336596.

Stretch and Strengthen. By Judy Alter. Houghton Mifflin, 1986.

Strength Training Anatomy. By Frederic Delavier. Champaign, Illinois, Human Kinetics,
2001. 124 pages. ISBN: 0736041850. Revised edition of "Guide des mouvements de
musculation" Paris, Ditions Bigot, 1998. An outstanding illustrated guide to muscles
at work. Both male and female models are used.

Sun Style Tai Chi Chuan Links, bibliography, notes, quotes.

"T'ai Chi and Musculoskeletal Pain." By Devin J. Starlanyi. T'ai Chi, Vol. 25,
No. 4, August 2001, pp. 53-55.

T'ai Chi Ch'uan For Health and Self-Defense. Philosophy and Practice.
By Master T. T. Liang. Edited and with a foreword by Paul B. Gallagher.
Revised, expanded edition, 1977. New York, Vintage Books, 1974, 1977.
133 pages. ISBN: 0394724615.

"T'ai Chi's Cardiovascular Benefits." By Soraya Lingbeek, M.D., Ph. D. T'ai Chi: The
International Magazine of T'ai Chi Chuan. Vol. 27, No. 4, August,
2003, pp. 6-9.

Taiji Sword (Jian): Links, bibliography, quotes, notes.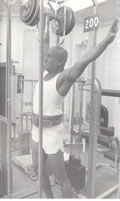 The Tao of Health, Sex and Longevity: A Modern Practical Guide to the Ancient
Way. By Daniel P. Reid. New York, a Fireside Book, Simon and Schuster, 1989.
Index, 405 pages. ISBN: 067164811X. MPG.

The Tao of Tai-Chi Chuan: Way to Rejuvenation. By Jou, Tsung, Hwa. Edited by Shoshana
Shapiro. Warwick, New York, Tai Chi Foundation, 1980. 263 pages. First Edition.
ISBN: 0804813574. Excellent textbook. A Third Edition is now available.

Thirteen Treasures Walking Qigong. 35Kb.

Valley Spirit Tai Chi Chuan Club Red Bluff, California.

Valley Spirit Tai Chi Chuan Journal. A journal with reflections, notes, suggestions,
references, questions and answers, links and quotations. By Michael P. Garofalo.

The Way of Harmony By Howard Reid. A guide to self-knowledge through the Arts of Tai
Chi Chuan, Hsing I, Pa Kua, and Chi Kung. London, Gaia Books Limited, 1988. Index,
191 pages. ISBN: 0671666320. Instructions and illustrations of the Ba Duan Jin set can
be found on pages 26 - 33.

The Way of Qigong: The Art and Science of Chinese Energy Healing. By Kenneth S. Cohen.
Foreword by Larry Dossey. New York Ballantine Books, 1997. Index, notes, appendices,
427 pages. ISBN: 0345421094. One of my favorite books: comprehensive, informative,
practical, and scientific.

Way of Walking: Eastern Strategies for Vitality, Longevity, and Peace of Mind. By Jacques
Moramarco and Rick Benzel. McGraw-Hill/Contemporary Books, 2000. 256 pages.
ISBN: 0809225867. MGC.

Weight Training: Steps to Success. By Thomas R. Baechle and Barney R. Groves.
Human Kinetics Publishers, 2nd Edition, 1992.

Working Out, Working Within: The Tao of Inner Fitness Through Sports and Exercise.
By Jerry Lynch and Chungliang Al Huang. New York, Jeremy P. Tarcher/Putnam, 1998.
264 pages. ISBN: 0874779138. MGC.

Yang Style Long Form Taijiquan
---



Waving Hands Like Clouds Homepage
Valley Spirit Tai Chi Chuan Club



Red Bluff, Tehama County, North Sacramento Valley, Northern California, U.S.A.
Cities in the area: Oroville, Paradise, Durham, Chico, Hamilton City, Orland, Corning,
Rancho Tehama, Los Molinos, Tehama, Proberta, Gerber, Manton, Cottonwood,
Anderson, Shasta Lake, Palo Cedro, and Redding, CA

© Michael P. Garofalo, 2004, All Rights Reserved
Cuttings: Haiku and Short Poems
Cloud Hands: T'ai Chi Ch'uan and Chi Kung Website
Tai Chi Chuan, Taijiquan, T'ai Chi Ch'uan, Tai Chi, Tai Ji Quan, Taiji, Tai Ji Chuan, Tie Jee Chewan

Chi Kung, Qi Gong, Qigong, Chee Gung, Qi, Chi, Tu Na, Dao Yin, Yi, Neigong, GongFu, Kung Fu, Yoga
Strength Training, Weight Training, Pumping Iron, Weightlifting, Gym, Barbells, Dumbells
Muscle Building, Iron Men, Bodybuilders, Martial Arts